5 Must Eats in Kuching
If you haven't yet gathered, I hail from Cat City (Kuching) located in the state of Sarawak.
Growing up here I was spoilt for choice in terms of food. I never truly appreciated it until I moved. While food in good ol' New Zealand is nice, I still constantly crave Malaysian styled food. It was actually that need for Malaysian food that led me to start cooking. Trust me, I couldn't cook even if my life depended on it 7 years ago. I don't post many Malaysian food recipes because, my cooking has not quite reached the required standard. I have to say that I am nearly there with some recipes so will post them when ready

.
Anywho, I am currently back in Kuching and thought I'd write some local tips in terms of food, shopping and sightseeing. I will split it into a few posts.
Today I will be recommending dishes that I MUST have when I am back in town. They are readily available around town and pocket friendly. Also, you can eat it at anytime of the day. Generally, dishes here are not specific to a meal time. So if the stall is open, you can have it no matter the time of day.
Disclaimer: The following are solely my own opinions.
Right, lets get started.
1. Sarawak Kolo Mee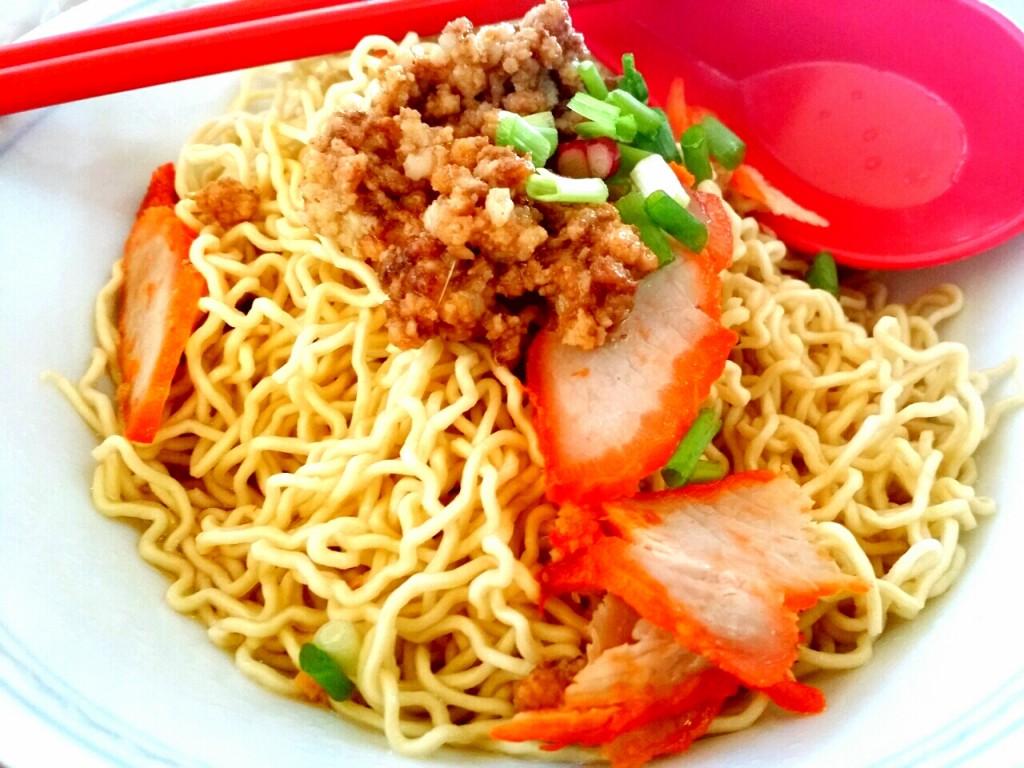 Yes yes, this is a recommendation made all over the internet when you Google about Kuching must eats. But it is there for good reason. It is simply the BEST. To me there is no breakfast in the world that can replace Kolo Mee. It is such a staple here that it has it's own Facebook page. I frequent this page to get Kolo Mee recommendations and salivate over photos when I am in New Zealand, check it out.
What makes it good is the noodles. If cooked right, the noodles have a nice springy texture which is IMO, how noodles should always be. It is relatively cheap to eat as it ranges from RM2 to RM4 (I think). The market I frequent (Kenyalang Market) has 2 stalls that sells this dish for RM2. The bowl above is made by a stall called Shang Kee. There are other variations where you have black vinegar or dumplings in it. Heck, now they even have spinach noodles. But nothing ever beats the original in my books.
I am well aware that this is a Non-Halal dish as there is pork lard, honeyed pork and pork mince. However, there are now quite a few stalls in town that sell it Halal! And it is actually really good. Typically the pork is substituted for beef (sapi).
2. Sarawak Laksa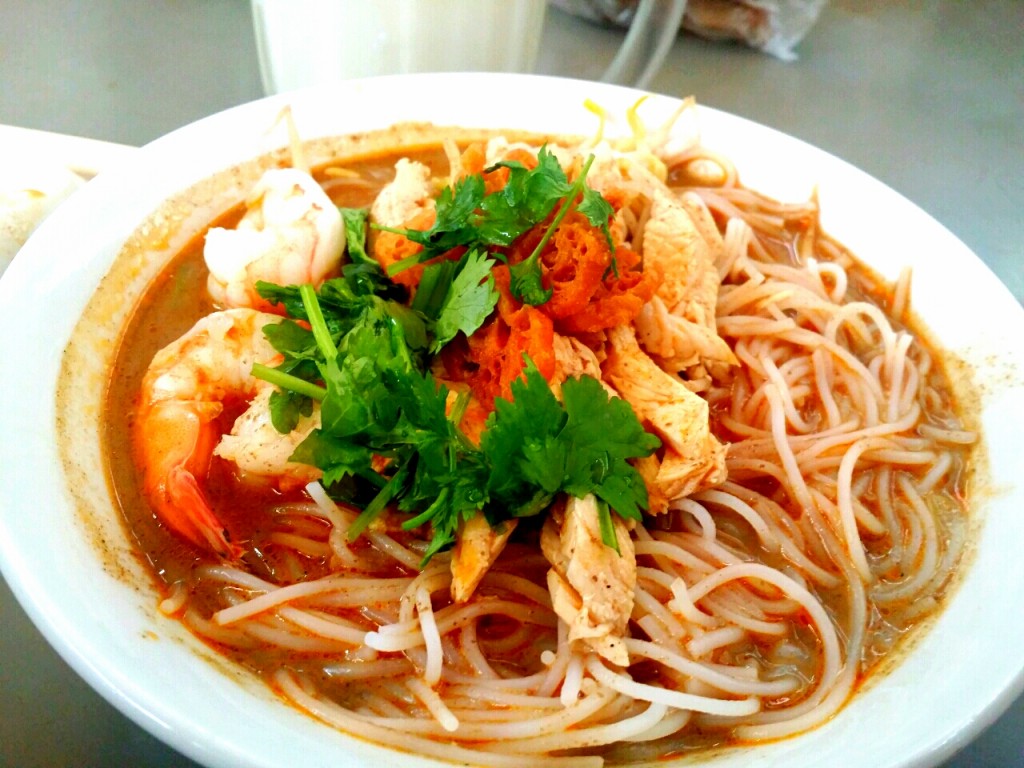 I must emphasize that Laksa is different all around Malaysia. Every state has their own variation but I must say, Sarawak Laksa is the best. Malaysians' from other states are probably going to hate on me for that statement but

. Laksa from other states are nice to just that it will never be better than Sarawak Laksa in my books. Please don't kill me.
It is a very scrumptious dish with a flavourful coconut broth made from prawn stock, chicken stock and Laksa paste. I cannot tell you where to find the best Laksa as it is a very arbitrary question IMO. To me, all Laksa is good. There is only bad Laksa which I elaborated on here.
You should expect to pay at least RM4.50 for a 'normal' bowl as above (bought from Mr.Law Laksa at Kenyalang Market). There are usually options of bigger/more prawns which make it more expensive. So if you pay like RM11 or something, expect big ass prawns.
3. Char Kueh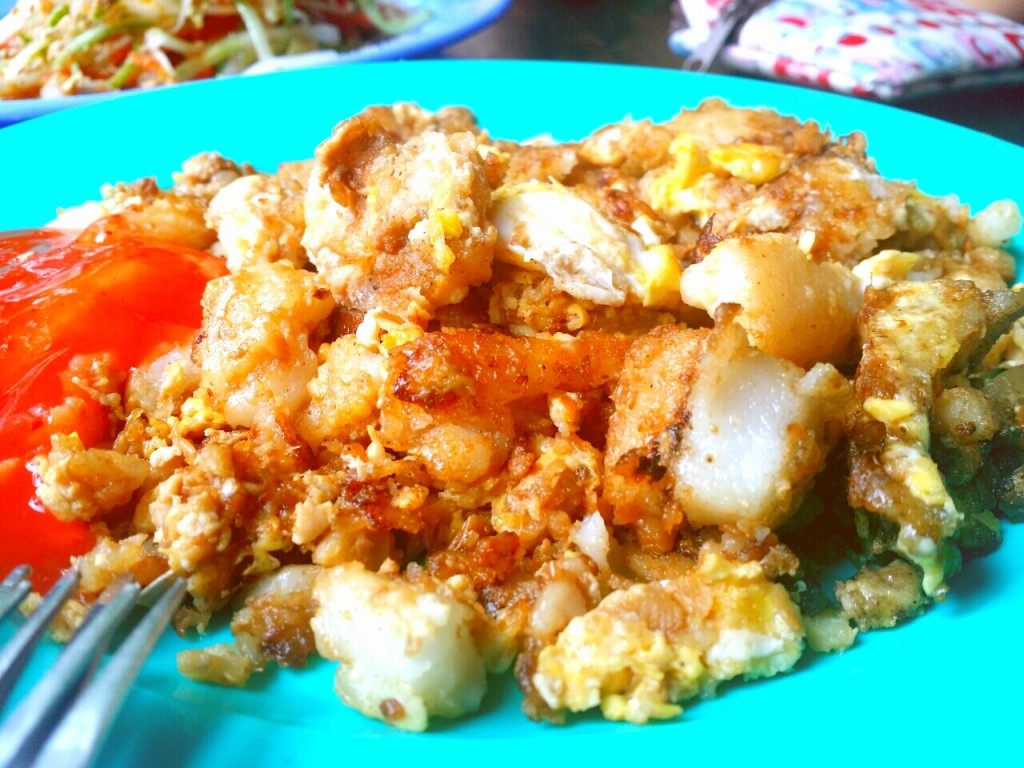 This is a popular tea time snack or supper here. It is sold in most places but finding a good place to eat it is key. Char kueh is fried carrot cake. For those who have visited Singapore you may have tried it as it is popular there. However the Char Kueh here is slightly different in texture.
IMO, Char Kueh has to be fried so that it is crispy on the outside but nice and soft on the inside. When you order, there are two types you can request – Sweet (Black) or Savoury (White). The photo above is the Savoury version.
A great place to get this perfectly cooked Char Kueh is a place locally known as Song Kheng Hai. It is a food court with plenty of different stall and is in a very central location being just off Jalan Padungan. The concoction of Sugar Cane + Cocounut water sold there is also an excellent thirst quencher. One thing to note is that the food court operates by a weird seating area basis. So if you are seated beyond a certain area, you won't be able to order from certain stalls.
Price wise, I think you should expect to pay about RM4 for a small portion.
Update: I have been told that this is something you can find in other states and in Singapore. But trust me. The way it is cooked here is different! Even the texture of the Kueh is different. Let me know if you notice the difference too!
4. Fried Mee Sua with Manicai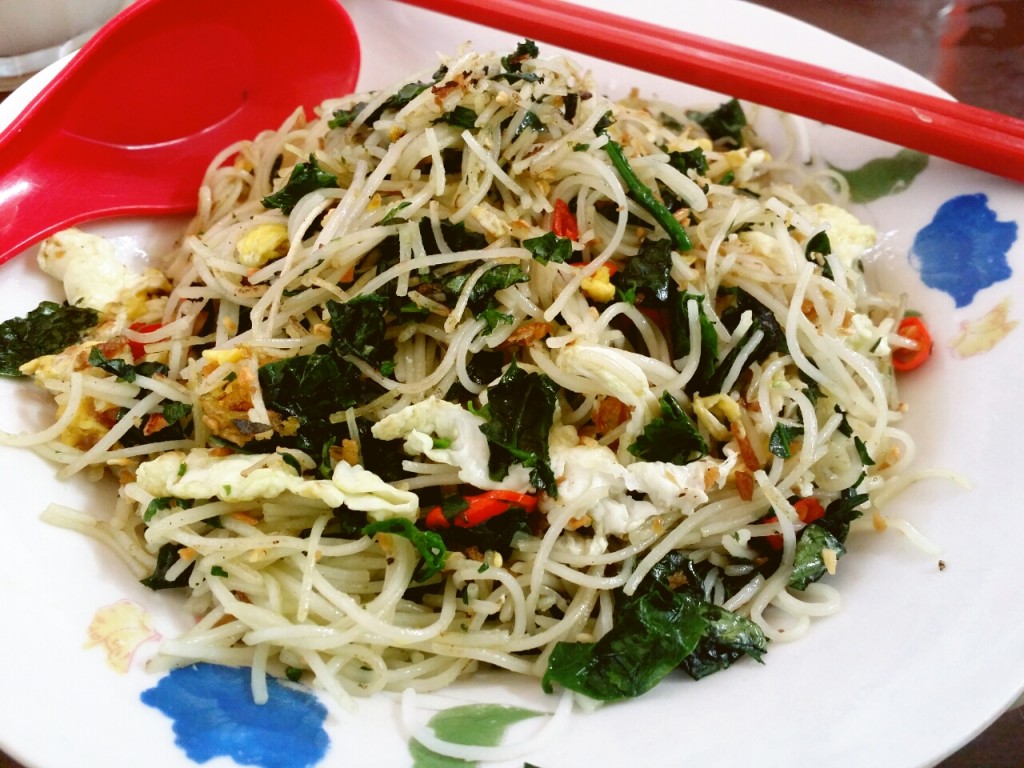 I think this is a very unsung and underrated dish. To be honest I am unsure if this is a unique Kuching dish. Main thing is that it is available throughout Kuching so there should not be a probably finding it.
I like this dish because it looks so simple yet it packs a punch – especially if you ask them to make it spicy. Unlike other fried noodle dishes this is not laden in soy sauce. It is also fried with lots of dried shrimp and sometimes, dried turnip. The flavours of the dish comes from these instead of soy sauce. Additionally it is also jam packed with Manicai (a local vege) so it has to be healthier right?

Expect to pay about RM4 – RM5 for this dish.
5. Midin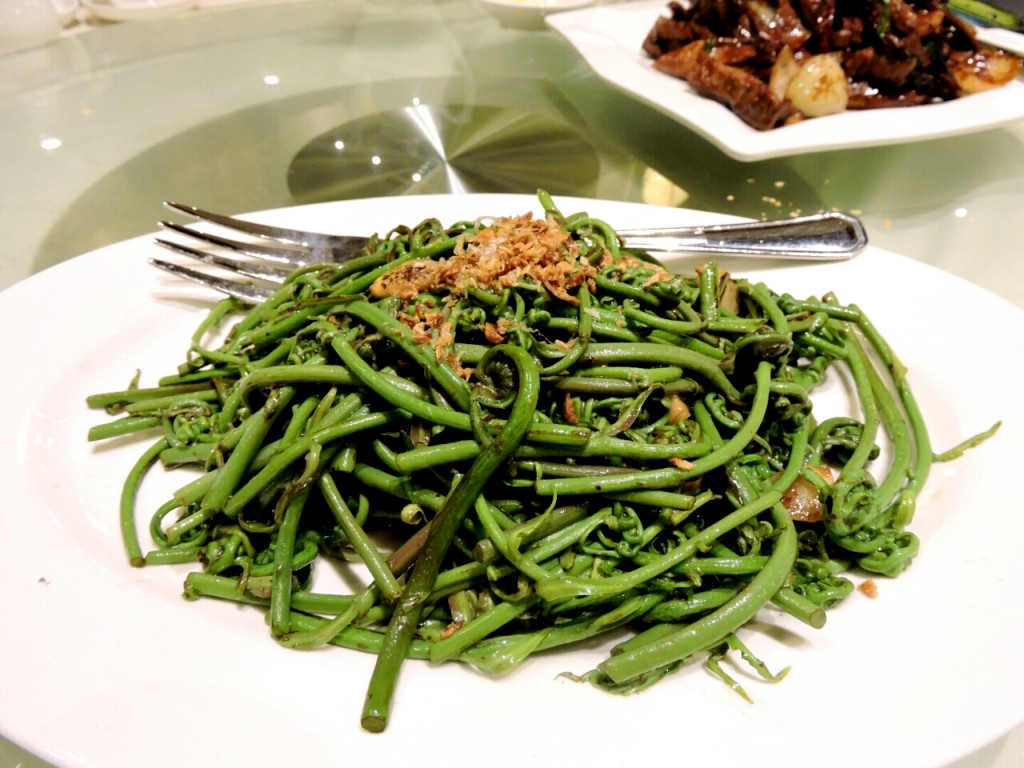 When I first saw Koru in New Zealand I got super excited. The plant looks so similar! I was gutted when I found out it was not widely eaten in New Zealand. If you are wondering if I have tried eating Koru in New Zealand, the answer is no. Is it even served anywhere??
Midin is a type of fern that is commonly stir fried with garlic, red wine or a shrimp paste.It is my favourite vegetable of all time but it can be a bitch to prepare. Midin has to be very fresh in order for it to taste nice. As such, it is often picked and cooked on the same day! It does not really have any acquired taste or smell and is crunchy. However, it does have a slightly slimy texture similar to Okra.
It is served just about everywhere in Kuching. You can even find it served in fast food stalls but more often, the fast food stalls serve Paku (another type of Fern).
Depending on where you have it, a small plate in a restaurant may cost RM12 or more.
Bonus Selection:
1. Tomato Kueh Tiaw/Mee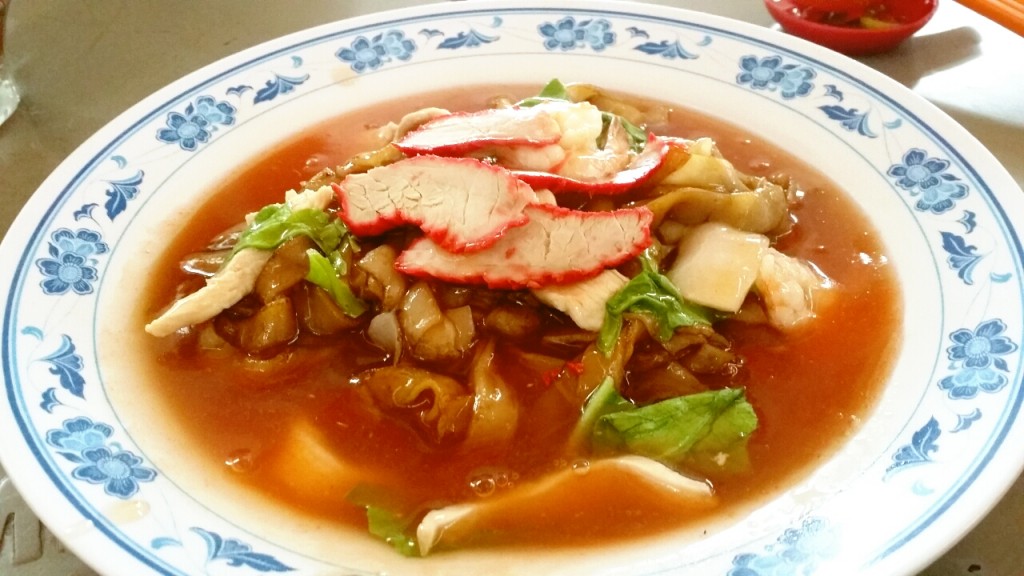 I am pretty sure that this is a Kuching only dish! Correct me if I am wrong.
So the name of the dish says it all. The gravy is made of tomato sauce and it tastes good. I do not really have this dish often but when I do I prefer Kueh Tiaw (flat rice noodles). The noodles are usually deep fried so that is is crispy then the gravy is ladled all over it.
Why is this not a must eat for me? Well, I am not the biggest fan of tomato sauce to begin with so it never appealed to me as much. I have to be a in a certain mood to eat it.
For the tomato sauce lover, this is a dream.
2. Sotong Kangkung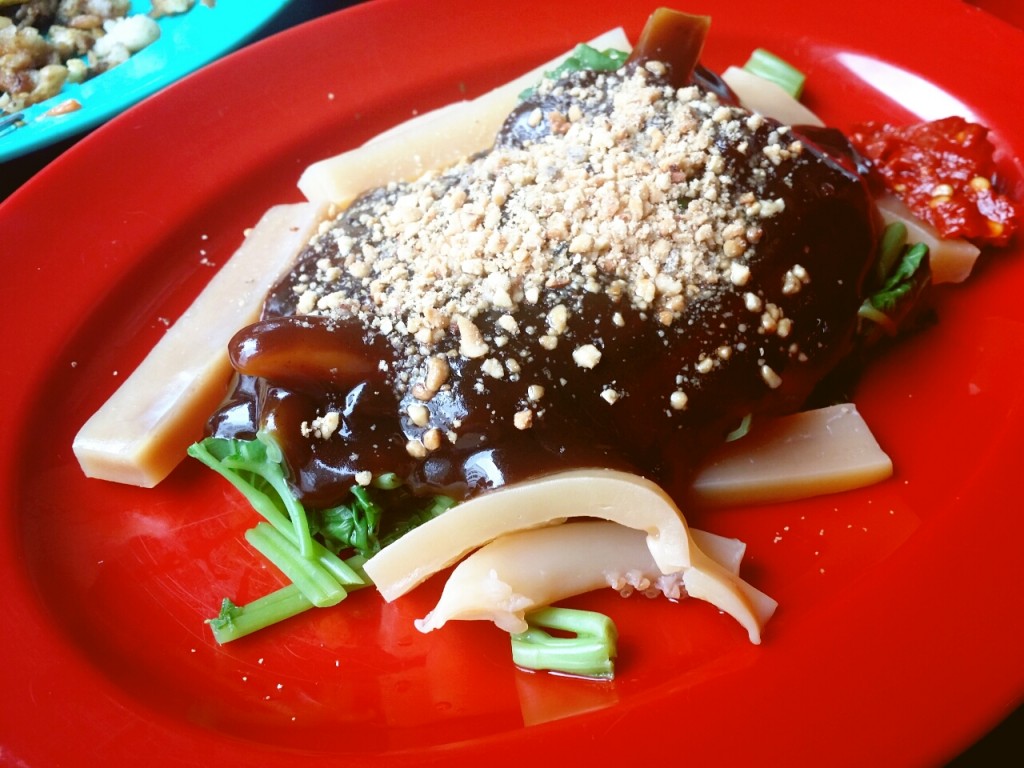 This dish is losing popularity now. It is something I used to have very often and was also quite cheap. Now, it is a fairly expensive dish due to the increasing prices of Sotong (cuttlefish). Additionally it is also hard to find somebody who prepares it well. The hawker at Song Kheng Hai Food Court makes a mean Sotong Kangkung but it is not always available.
The sauce is sweet with a slight tang. Mixed together with the Sotong and Kankung (Water Spinach) it is a match made in heaven. I admit that it is not for everyone. But hey, you gotta try to know right?
3. Umai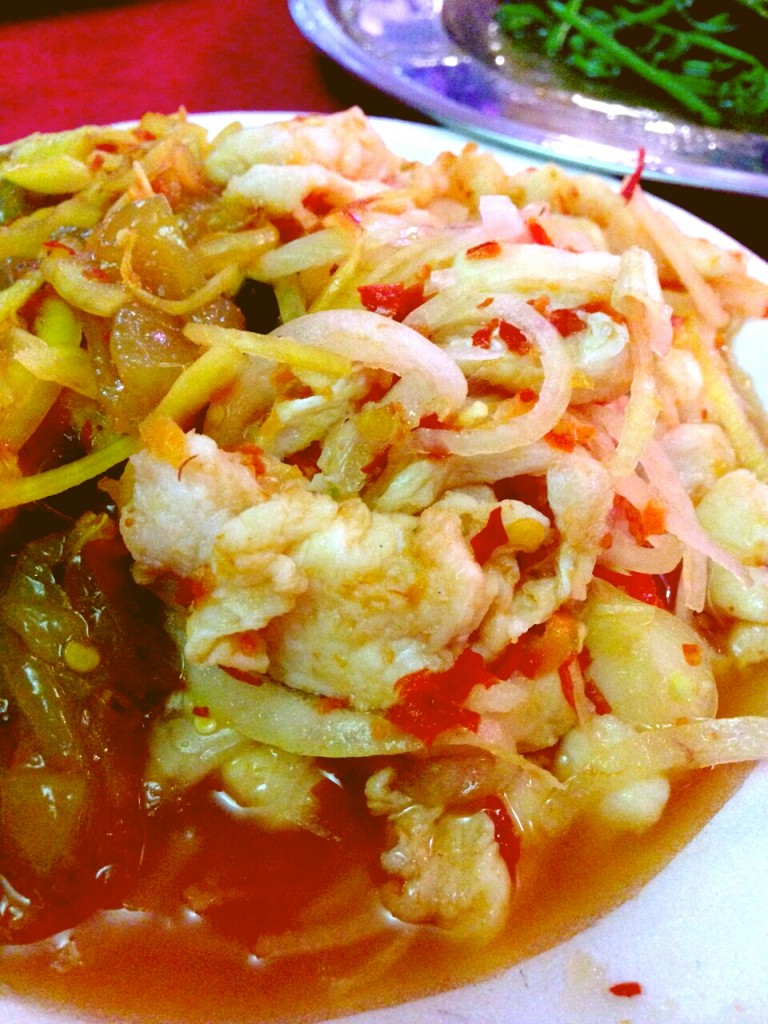 Please excuse this grainy shot. What do you think of this dish? Looks spicy? Well it can be….
Umai is basically raw fish or jellyfish 'cooked' in a mixture of lime juice, chilli and onions. I guess like Sashimi, it is an acquired taste. However it is not widely available throughout Kuching so I don't get a chance to have it that often. But more and more traditional food establishments are cropping up across the city so availability should improve in time. I had this at TopSpot (great place for seafood!) last night.
Chances are if you like Sashimi and do well with a little heat, you will like this dish.
So that concludes my 5 Must Eats in Kuching with some bonus recommendations. There are of course more dishes in Kuching that are worth trying but it would be impossible to finish in a short trip! I have lived here most of my life and I am yet to finish trying everything. How could I when new things crop up every year or so?
Hope you find this useful! Feel free to drop a comment if you have any questions and I will try my best to answer.

5 Things, Affordable, delicious, Eating Out, Kuching, Must Eats, Sarawak