Apple Banana Crumble (ABC) Muffins Recipe
I am finally back with another recipe. It took me ages to post this recipe up because I wanted to make sure that I got it RIGHT!
One day, I was at a cafe deciding whether I should order the muffin or the cupcake. While waiting in line and staring at the choices before me, this random thought crept into my head.
[blockquote author="" link="" target="_blank"]"Why do Muffins never look as pretty as Cupcakes? It's not that hard to make them look pretty right? Or is it…."[/blockquote]
And so I told myself that I would try make muffins look pretty enough to be presented as gift too – just like cupcakes.
Today I am happy to announce that I have succeeded (IMO) in making a muffin that not only tastes good, looks good but is also pretty easy to make!
The ABC muffin recipe is one that I randomly found in a magazine yonks ago and it was AMAZING. It has since been stored in my brain but today I shall end my selfish run. I refashioned the recipe to make these beautiful muffins! I have broken down the recipe into 3 parts – hopefully its easier to follow.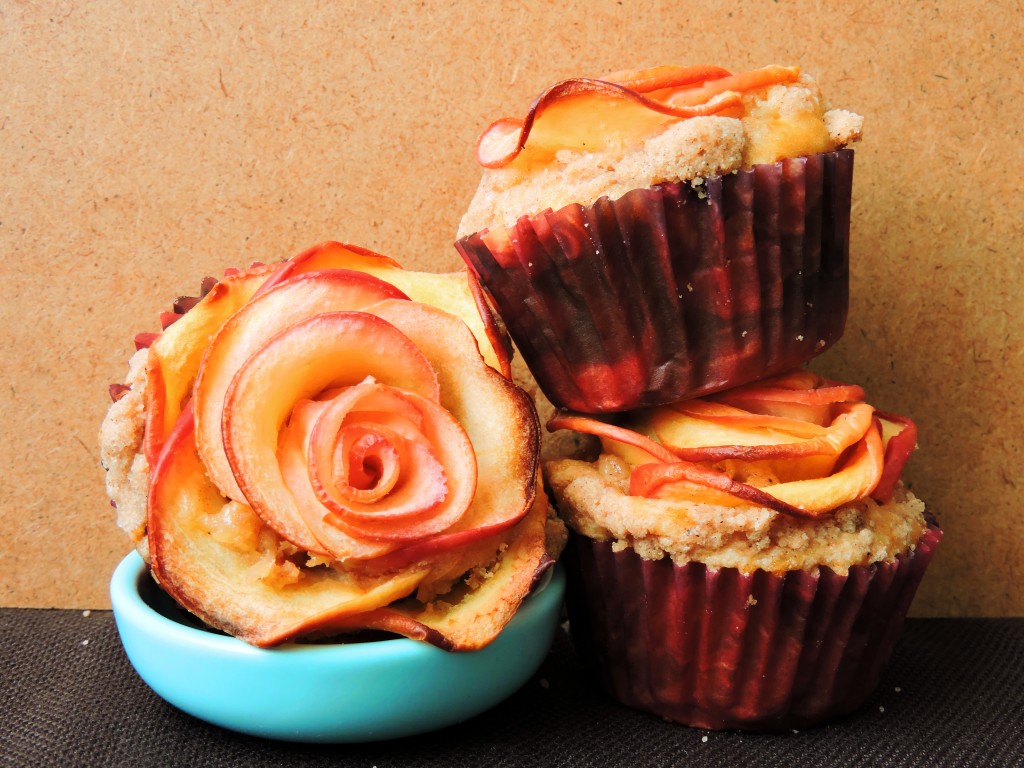 Apple Banana Crumble (ABC) Muffins Recipe
2015-08-20 02:43:03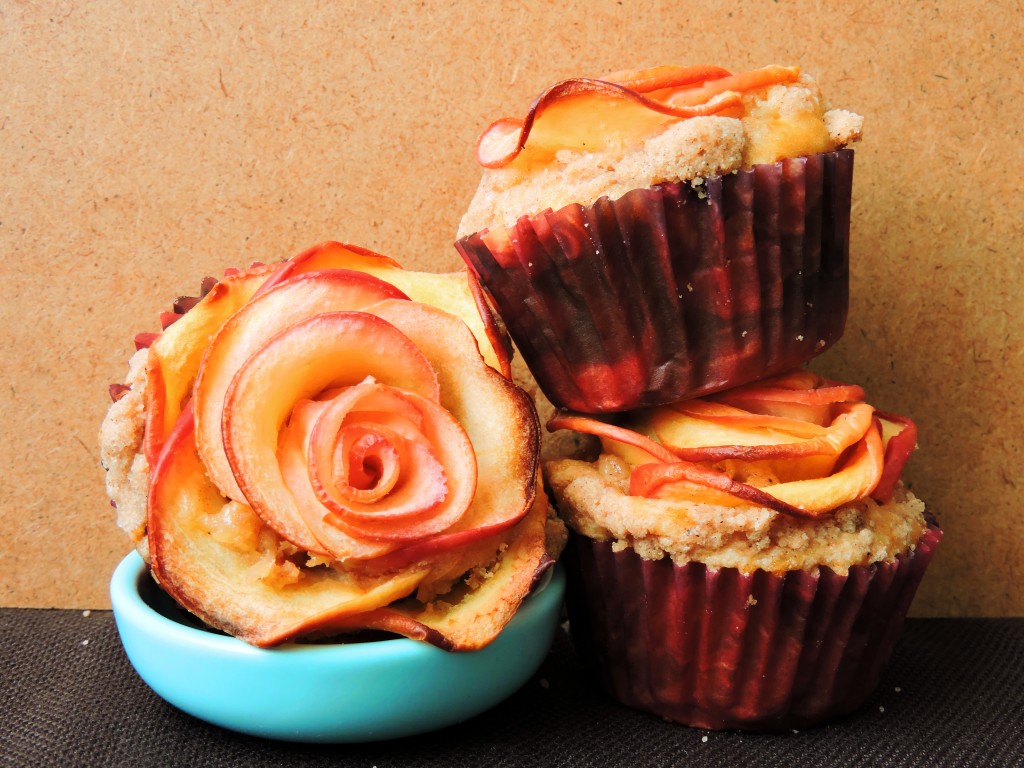 Muffin Batter
2 cups all-purpose flour
2 teaspoons baking powder
1/2 teaspoon salt
3/4 cup sugar
120g (1/2 cup) unsalted butter, melted and cooled
1/2 cup whole milk
2 large eggs
2 large bananas, mashed (if small, use 4)
Cinnamon Crumble Mixture
50g cold butter, cubed
¾ cup all-purpose flour
2 tsp ground cinnamon
½ cup sugar
Apple Roses
4 apples
1 lemon juice
5 cups water (or enough to cover all apple slices)
First we make prep the roses…
Place lemon juice and water into a pot. Set aside.
Wash the apples and then cut them in half lengthwise.
Core the halves then slice crosswise. Ideally we would like them to be about 1mm thick.
Place the apple slices into the lemon juice mixture as you cut - this is to prevent them from yellowing.
Set the pot of sliced apples in lemon water aside.
Time to make the Muffin batter…
Line 12 muffin cups with paper liners or coat with nonstick cooking spray. Set aside.
Preheat oven to 150°c.
In a bowl, whisk together the flour, baking powder, and salt.
In another bowl, whisk together the sugar, butter, milk, and eggs.
Add the liquid ingredients to the flour mixture and stir to combine.
Fold in the mashed bananas. Careful not to overmix!
Set aside.
Then it's time to Crumble…
Remember the pot of sliced apples? Now is time to put it to boil while you work on the crumble mixture. Boil till the apple slices are malleable, strain away the water and set aside. Back to the crumble.
Place cold cubed butter into a bowl.
Sift in in flour, cinnamon and sugar.
Rub butter into the mixture with your fingertips until it resembles breadcrumbs. Set aside.
Get the muffin batter and divide it among the prepared muffin cups. About ¾ full for each cup.
Sprinkle the crumble mixture generously on top of each cup.
Pop the muffin tray into the preheated oven for 10 minutes (or when it starts to skin) and remove.
Lastly, we add on the roses.
Remove par-baked muffins, leaving the oven on. Try to work as quickly as possible from this point!
Take a smaller apple slice and start rolling it into a tight spiral, forming the center of the rose.
Continue adding and rolling slices onto the 'rose center' you now have. Try to arrange and roll the slices in a concentric pattern to build the rose.
When you get to your desired rose size, hold it tight and push it into the center of muffin. Make adjustments if needed using a skewer, teaspoon, chopstick etc.
Repeat until all muffins have a rose top.
Return the muffins into the oven. Place it on the middle tray of the even.
Bake until muffins are golden brown. Should take a further 15 minutes or so – use the skewer test if in doubt.
Notes
If you have a mandolin slicer - use it for the apples. It makes things so much easier.
When muffins are done, take them out of the muffin pan to cool. Cover them with a piece of cloth. This allows the muffins to be moist while the crumble remains erm, crumbly.
The Chai Ninja https://thechai.ninja/
If you can't understand the instructions regarding the roses, I filmed a video – just c
lick here
!
And there you have it! Pretty muffins with a few additional steps. I

them as they are super easy to make and look really impressive. What do you guys think? Did I succeed in my quest to make muffins pretty? Hit like or leave a comment to let me know your thoughts.