Bako National Park Adventures
Back again (as promised) to tell you guys about the adventures we had at beautiful Bako! We visited during our recent trip there and it was a visit of many 'firsts' for me. Not too sure about M because he grew up in a semi-rural environment unlike me who grew up surrounded by concrete.
Bako is pretty close to Kuching city and really accessible. It is around a 45 minutes drive away from town to the main jetty and an additional 10 to 15 minutes to the park by speedboat. Being so close to town, I do wonder why my parents never brought me there when it seems to be something most Kuchingnites have done at some point of their lives. Oh well, better late than never!
If you have a car, it is really easy to get there! Basically you take the BCCK Highway and follow the signs. I can be geographically challenged at times so, if I managed to get there and back without a GPS, you will be fine. If you are reliant on public transport, there is a bus but I am not sure how long or how frequent the bus runs. All I can say is that there is a bus that goes there for a very cheap fare. If the scheduling is anything like the normal public buses in town however, I would proceed with caution. You may be better off joining a tour which will save you the hassle of arranging the speed boat as well. Driving only gets you as far as Kampung Bako where you then have to take a boat.
There is NO way for you to get to the park by land. If you suffer from motion sickness…you should be fine? I suffer from it and made the trip without puking. Basically the speed boat is arranged upon arrival at the jetty. You have the choice of using the scheduled boats or hiring one. If you hire a boat, they will leave when you are ready and take you back to the main jetty when you are done exploring.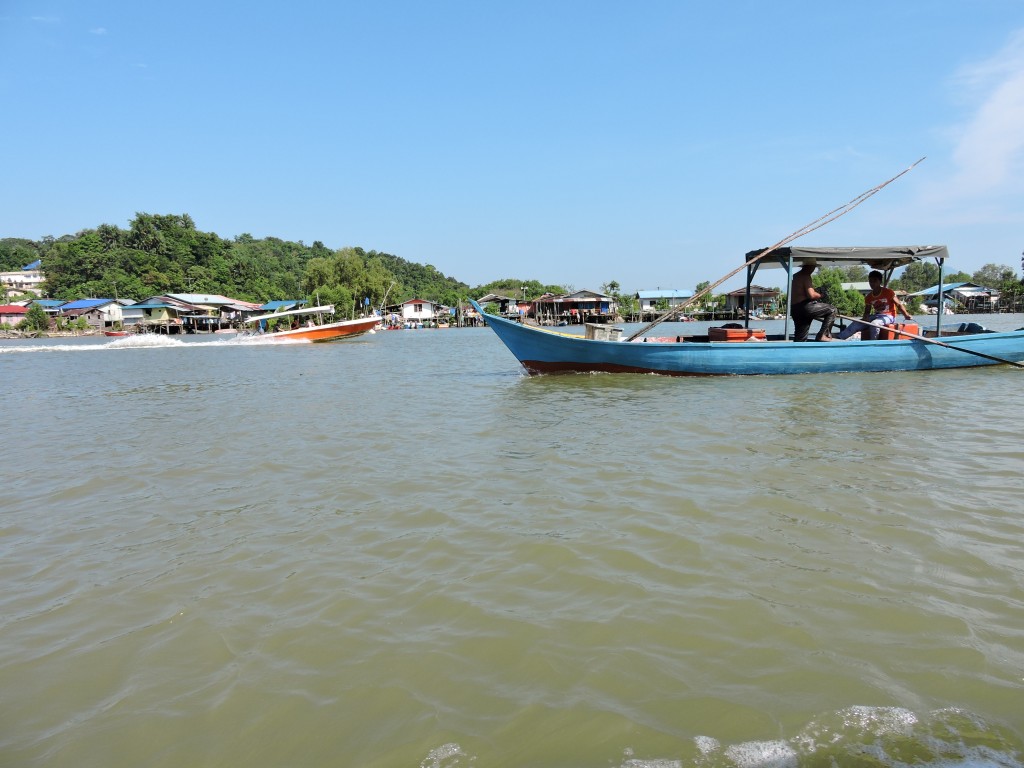 Some fisherman we passed on our way to the park by speedboat.
IMO, one of the trippiest bits of this trip was working out the cost. If you have gone with a tour package, you won't need to worry about any of this except for the entry fee (I think). Here is the basic cost list:
Land transportation: Dependent on your choice
Boat Hire (return trip on general schedule): +/- RM35 pp
Park Entry Fee: RM10 pp (double for foreigners)
Options: Walking Guide (RM100+) and viewing of Sea Stacks (Rm15 pp – refer picture below)
Seems pretty straightforward right? However you will be pretty surprised to know that it actually worked out BETTER for our group to HIRE a boat! We went as a group of 6. Paying the same amount of money for the return trip plus the ride out to view the Sea Stacks cost us RM1 less than if we were to purchase it separately. I know RM1 is not a huge difference but doing this also meant that we did not have a schedule to follow! We could go when we wanted to and leave when we wanted. How cool is that?! So what I am trying to say is….work out your options. The people there can be a little pushy but just take the time to work it out as it may be better for you to hire.
After you have sorted out your transportation, they will press you to get a guide. We didn't get a guide as we decided that we won't be taking the longer trails. If you are going to walk a longer trail that ventures deeper into the forest – I would suggest you get a guide. However, we only went on the Paku Trail plus half of the Delima Trail (easiest ones) and fared just fine without a guide. You will also be told that you are more likely to spot wildlife with the help of a guide. This could be true but it still isn't 100%. So really, it is up to you to weigh up. Ultimately we didn't get one for the following reasons:
One of our group members had been there before.
We decided on easy trails close to the HQ in case of an emergency.
We were OK with not spotting any wildlife.
Oh! Before I forget – you can actually spend a night there and it is highly recommended for trekking enthusiasts. We decided against spending the night because this city girl is unable to cope with the thought of staying in a place surrounded by wild animals

.
Right, now that I've dumped the details/information on you here is a rough guide of our day there. We headed out to the Sea Stacks before heading to the park itself.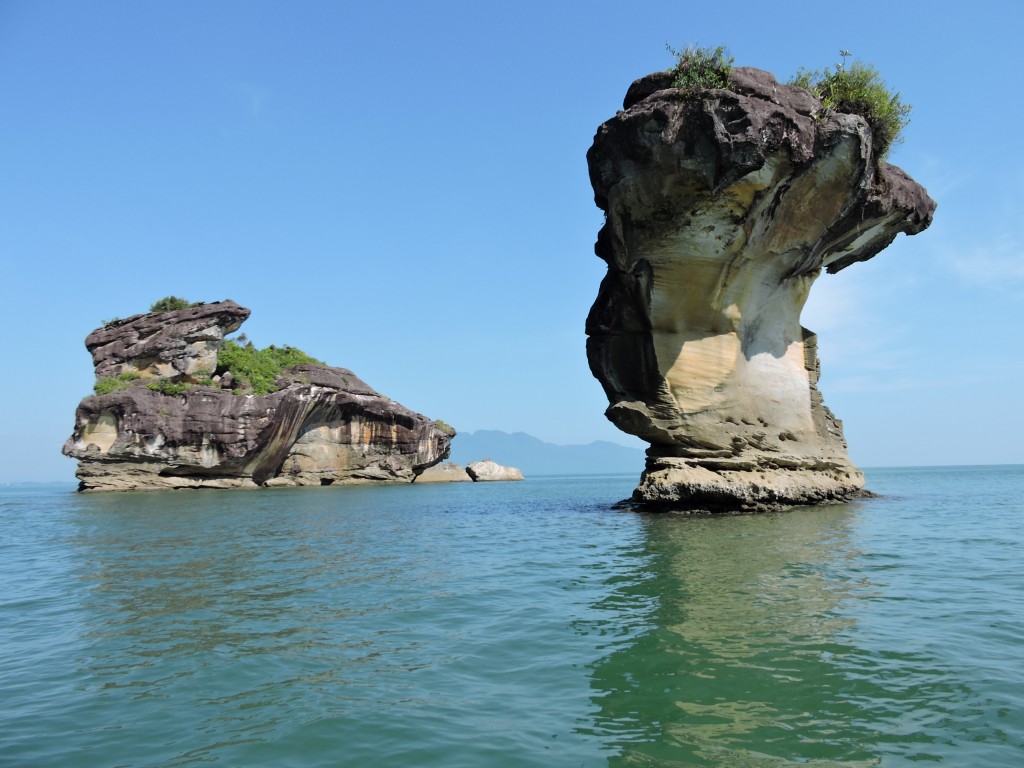 Postcard perfect Bako Sea Stacks.
To be brutally honest….in reality it was not much to shout about (unless you are a geologist). It is however a real icon of Sarawak and a visit there will allow you to say that you've been there to take this postcard worthy picture.
After we were done snapping photos of the stacks, we headed to the park! This was our welcoming view.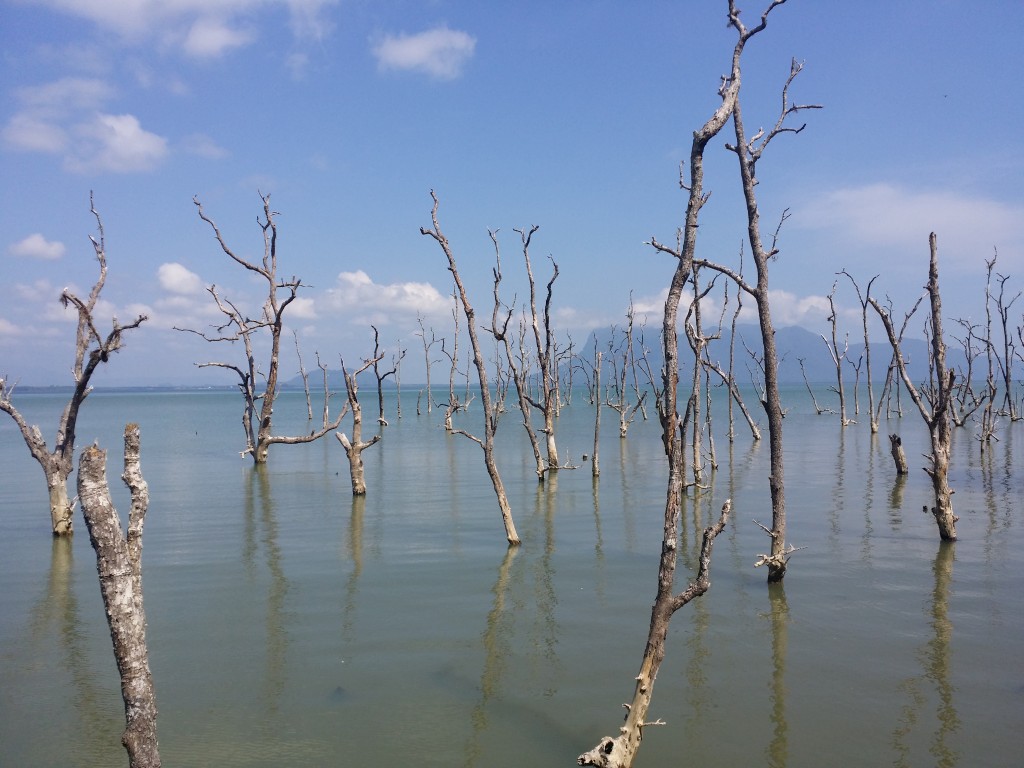 Aye, a whole of of mangrove trees.
To many these mangrove trees are nothing. To me, it was my geography knowledge coming to reality! I learned all about them when I was in school and never saw one till that day. I was pretty embarrassing when the tide went out and I got all excited to see the roots sticking out of the mud.
Apparently this mangrove area is where many of the Proboscis Monkey usually laze but the weather was too hot while we were there so they remained in the forest. Needless to say, we did not get to see any of them because they were really deep within the forest – somewhere we were not prepared to go. But our trip was not futile because we spotted these animals.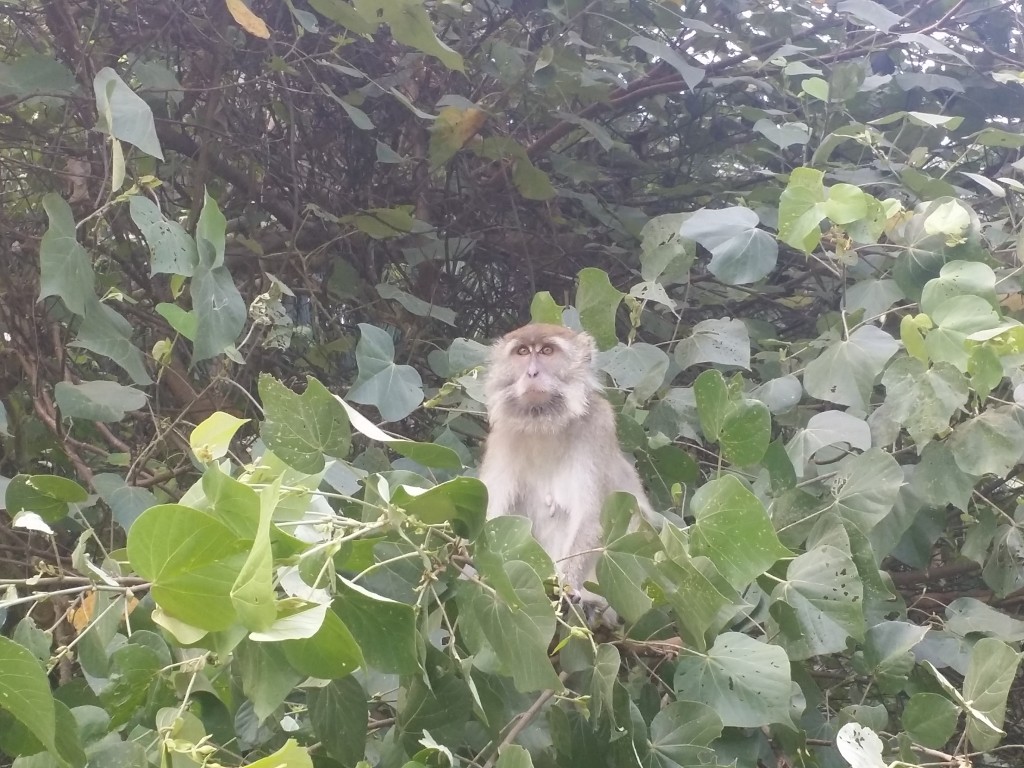 Hello! What are you eyeing there monkey? Food?
Beware of these monkeys by the way. Cute as they are…they are known for stealing food. According to the ranger at the HQ these monkeys see plastics bags = food. So keep any plastic bags out of sight at all times.
We also saw big big hermit crabs. We saw one that was tennis ball sized but it scurried away so quickly! I had to make do with a photo of this one instead.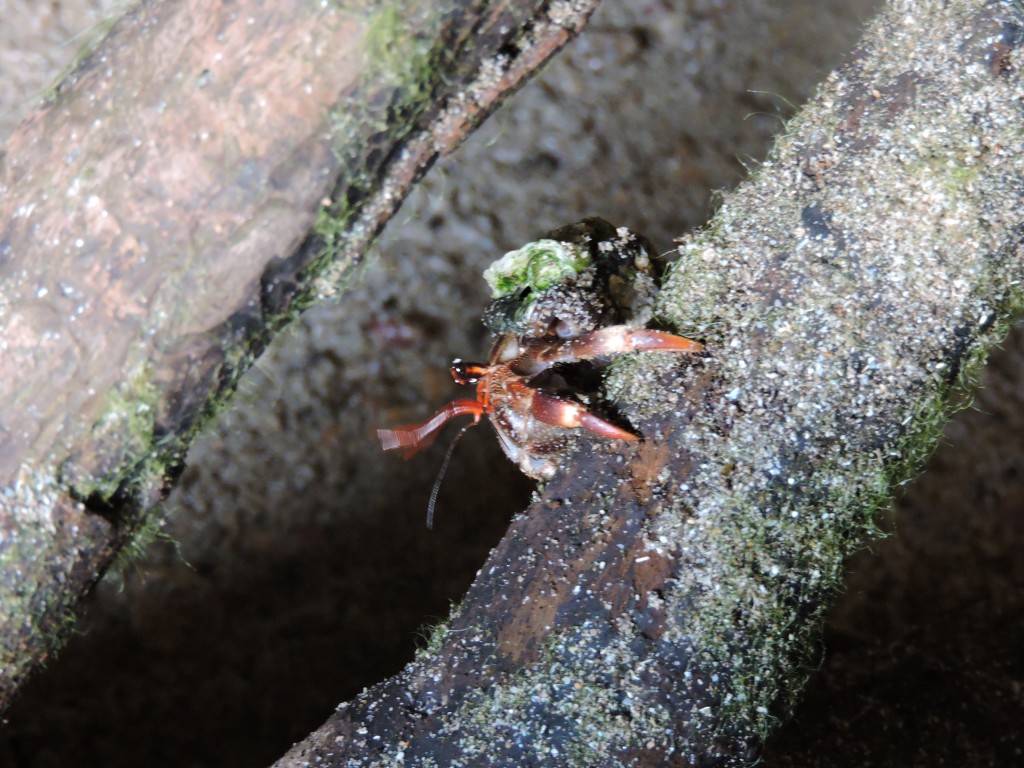 It is still quite big though ae?! At this point, we were at a beach at the end of the Paku trail. It was a beautiful place for a much needed rest. The trail was not tough but it was so hot and humid in the forest I could see the layer of sweat forming on my skin. I suppose it did not help that we were walking around 10am where the sun was pretty high.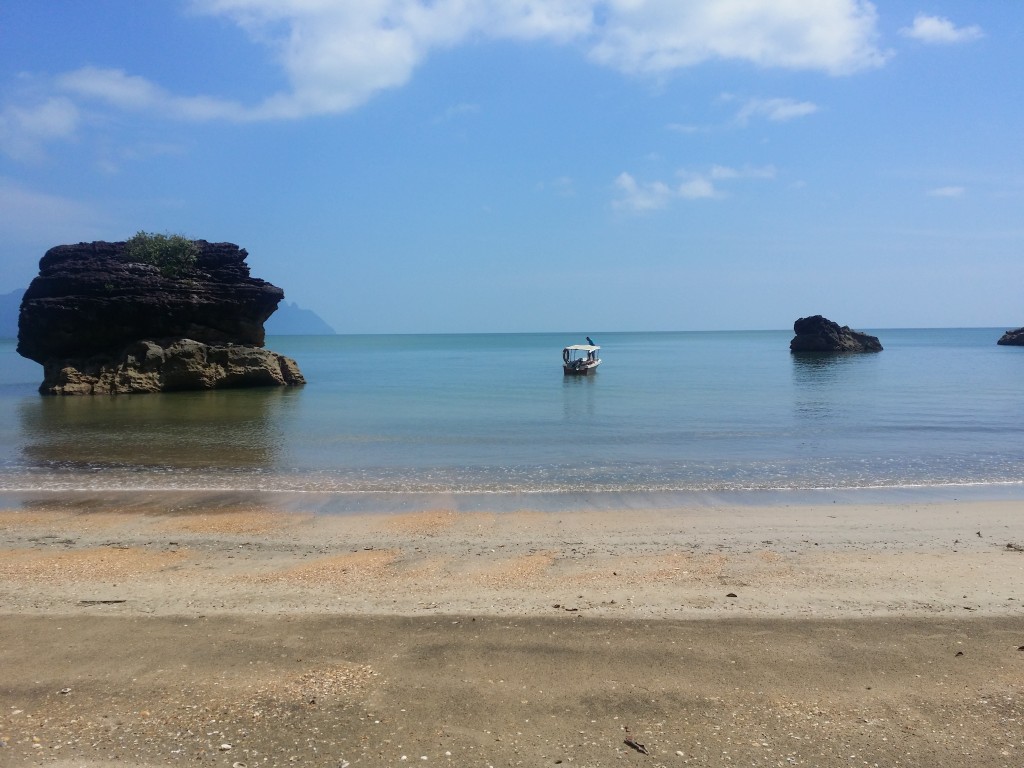 Beach at the end of the Paku Trail.
Ah, you see the boat waiting there….many of them will be waiting there for weary city dwellers. They will offer to take you back to the parks HQ for a price. Not gonna lie – I was tempted. But the thought of spending more money kept me from calling out to them. Instead I just went and chilled out by the beach. We found a nice resting place and paddled around the water for abit. The water here was so clear! Clearest water I have ever seen in Kuching!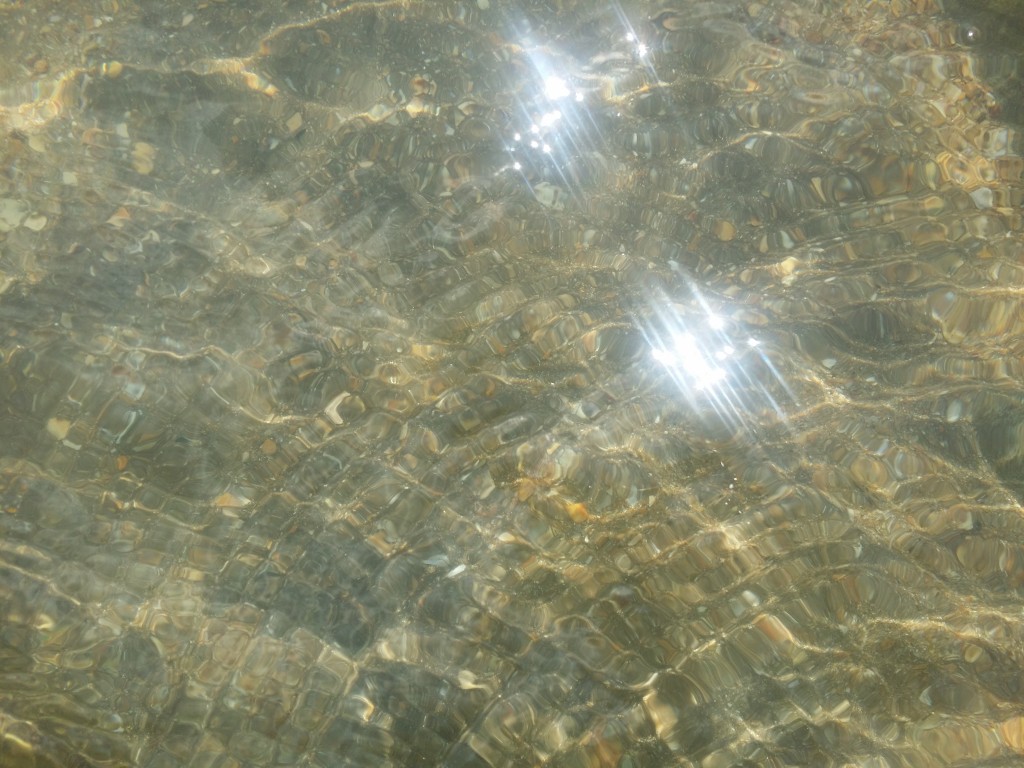 Isn't it clear?! *noob moment*
After I was done being a noob, 'oohing' and 'aahing' at everything while everyone else rested, we decided to head back to HQ for lunch. Here is an image I took during our walk back: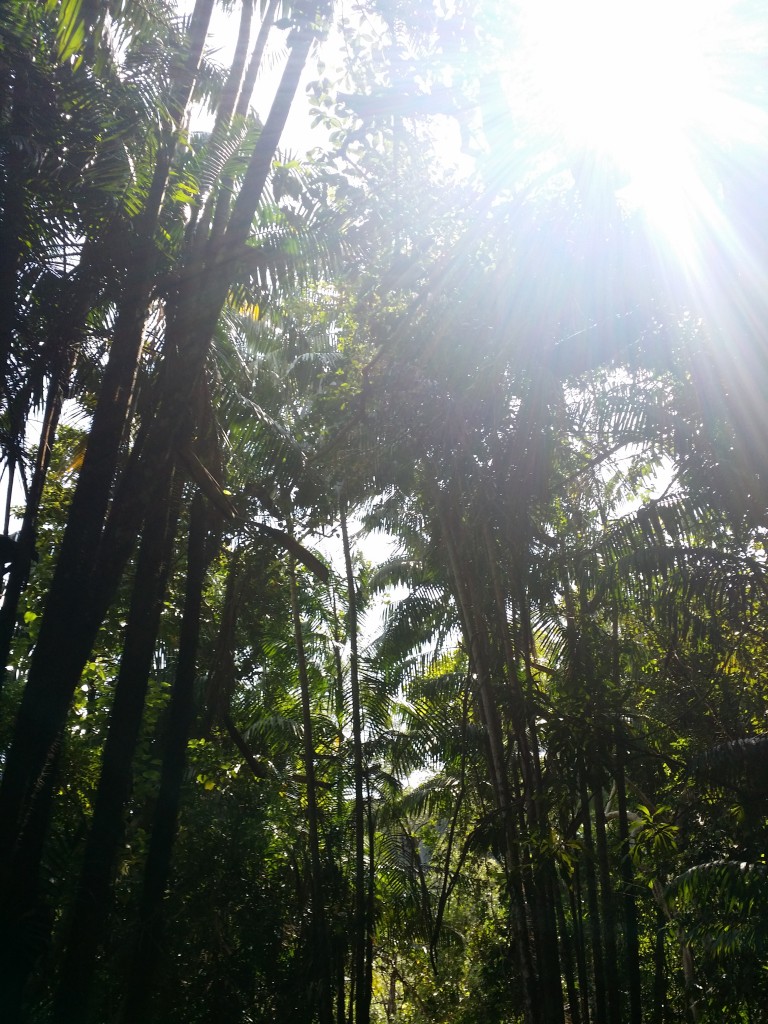 This is probably the furthest I have ever been in the Rainforests of Sarawak. Look at all the trees?! These palm trees may look safe but they were no ordinary palms. They had thorns on them

What sort of sadist palm was this?! Thank goodness I saw the thorns before I grabbed onto them to steady myself as I navigated the trail.
Anywho, we had some lunch at the HQ and then decided to go on the Delima trail. We got about halfway before we turned back due to heat. I guess that is another point to note. Going in June is simple wayyy too hot! I would recommend bringing a portable fan if you are only able to make it during this time. Even at HQ, not all the ceiling fans are turned on.
As we walked back to HQ from the Delima trail, we spotted this wee fella.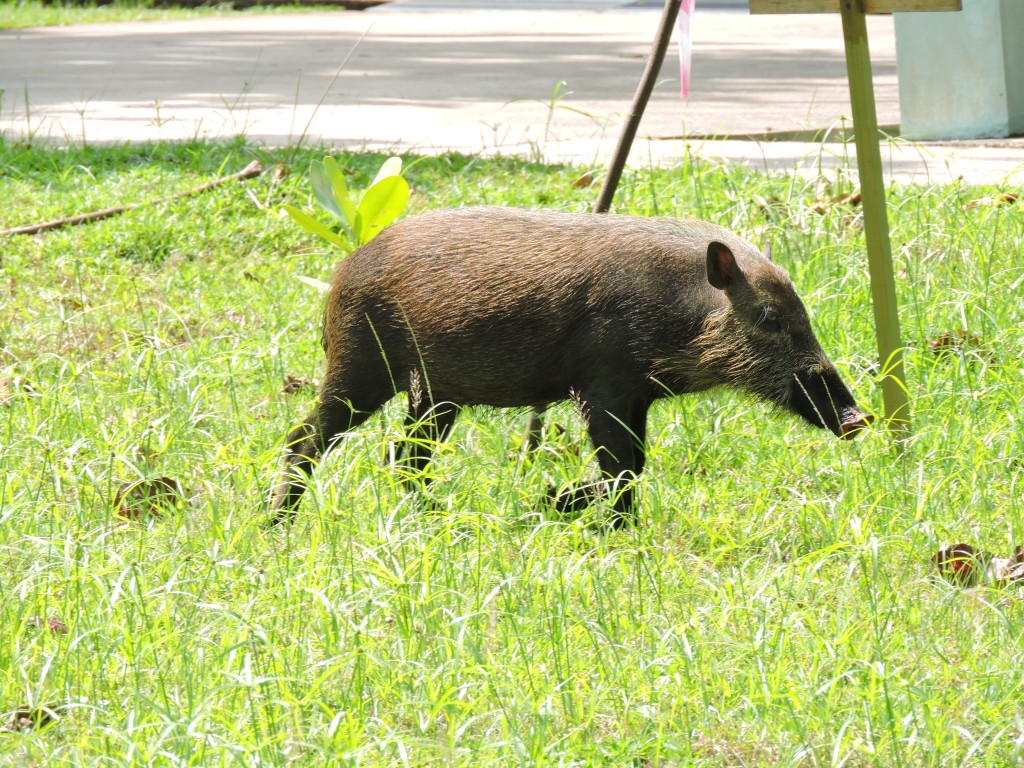 PUMBA?! Is that you?!?!
There was actually a family of them. I got so excited at the sight of them I quite literally told the group that I could see Pumba

. I later learned that these are called bearded pigs which is pretty different to warthogs.
Once we arrived at HQ, we headed straight for our boat which was waiting for us at the beach and that marked the end of our Bako adventure.
I admit – the adventure could have lasted longer if we were more prepared and willing. Our aim was to go there and have some fun which we definitely did. It was a great experience and I would love to go back again. Now that I know what the place is like exactly, I am more willing to stay a night if the opportunity arises. Perhaps this time we will see the famed Proboscis Monkeys!
Hopefully this post has given you some useful tips if you are planning a visit. Let me know your experiences in Bako so that I can use it for my next trip! Till next time