Corn Fritters and Fresh Tomato Salsa Recipe
It has been awhile since I wrote a recipe post. So I thought I'd write one today instead of continuing the Kuching Series posts. Today I will be sharing a recipe for Corn Fritters and Fresh Tomato Salsa. It is a simple recipe that packs a punch!
Before we go on there is something I want to clarify. This recipe and other meatless recipes I've posted are definitely meatless but I cannot guarantee that it is vegan or vegetarian friendly. I usually include garlic, onion, eggs or milk in my cooking. To my knowledge these are acceptable to some vegetarians but not to others. So it is up to you to decide what you will need to omit and substitute

.
Back to the recipe. I never used to like corn but one day I saw this massive bag of fresh corn for $1. On impulse I grabbed it and while I was driving home I realized I had no idea what I was going to do with it. So I consulted Master Google, decided that Corn Fritters were the way to go and the rest is history. I now always have a can of creamed corn in my pantry awaiting to be turned into these beautiful golden fritters.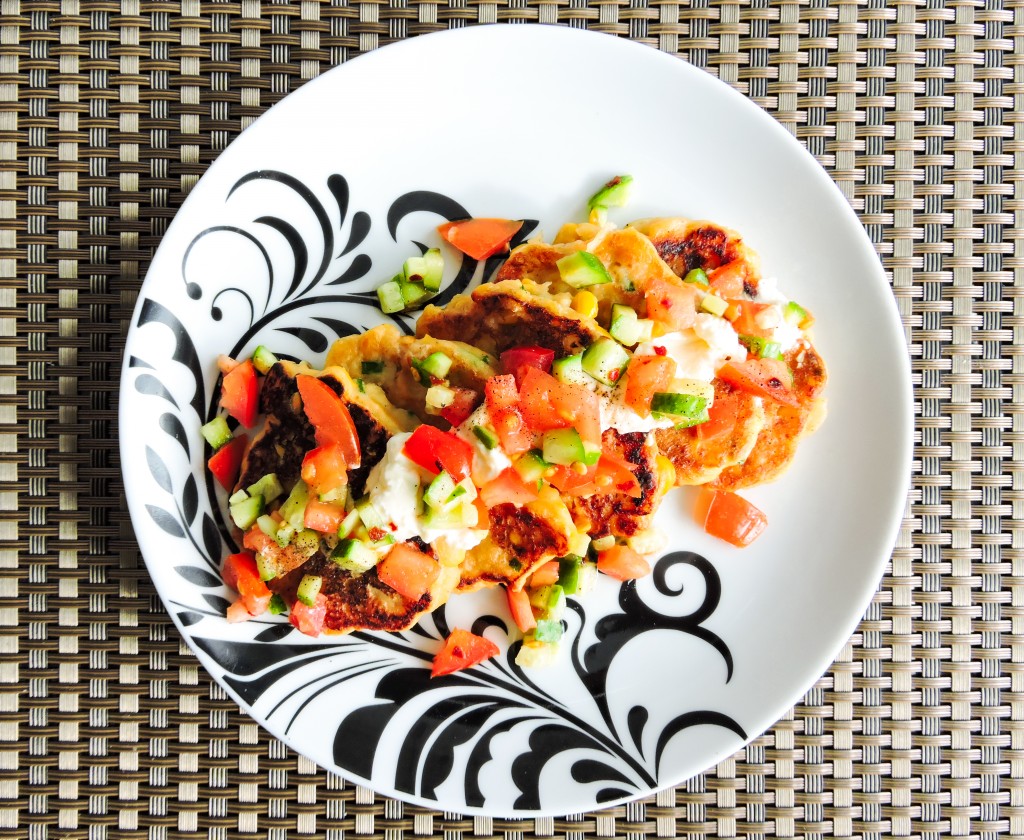 Corn Fritters and Fresh Tomato Salsa Recipe
2015-08-20 03:07:06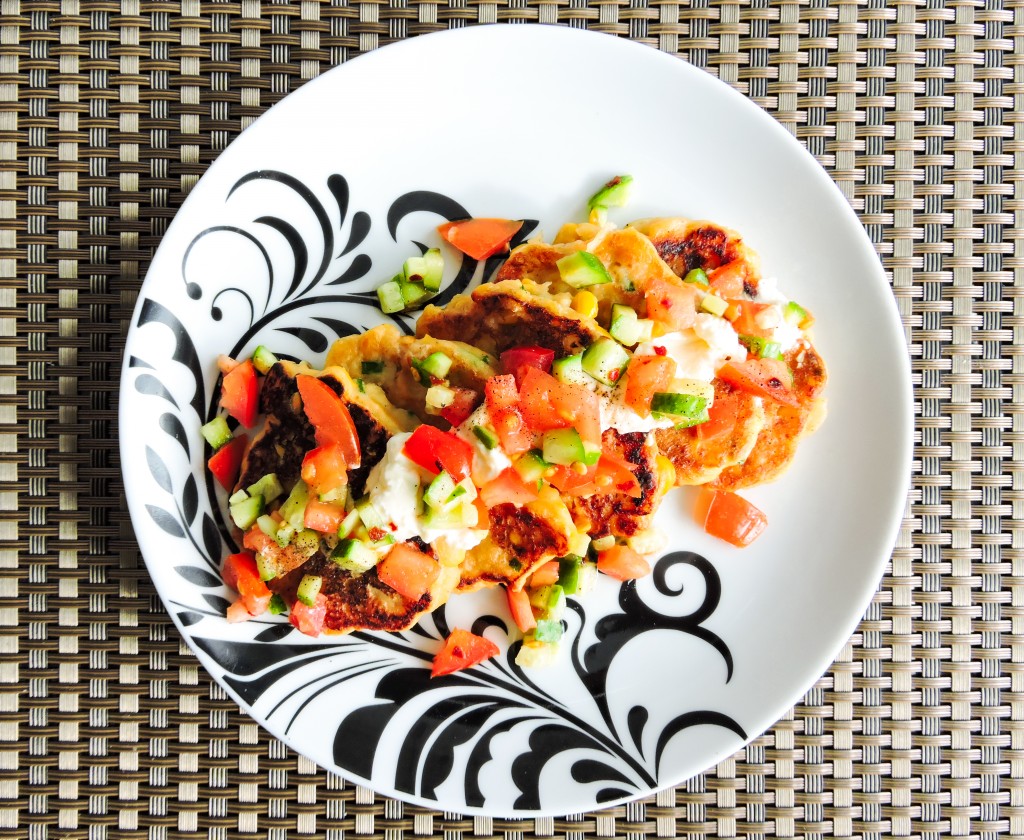 Tomato Salsa
3 large tomatoes
½ cucumber
½ red onion (optional)
½ tsp crushed chilli flakes
½ tsp vinegar/lemon juice/lime juice
Salt and pepper to taste
Corn Fritters
1 can Creamed Corn (I used 410g can)
1 cup Corn Kernels (fresh or frozen)
1 cup all-purpose flour
1 tsp baking powder
1 egg
2 garlic cloves
½ tsp Paprika
¼ tsp Chilli powder
¼ fresh Chilli (optional)
1 tbsp water (optional)
¼ cup Chives
Salt, to taste (I used about 1 ½ tsp)
Pepper, to taste (I used about 1 ½ tsp)
Oil (amount necessary to fry the fritters)
Making the Tomato Salsa
Finely chop cucumber, tomatoes and red onion.
Put into a bowl and mix with the remaining ingredients.
Chill in fridge until ready to serve.
Making the Fritters
Finely chop the Garlic and Chives. Set aside.
Deseed the fresh chilli and finely chop. Set aside.
In a large bowl of your choice, lightly beat the egg.
In the same bowl as the beaten egg, add all other ingredients and the ones set aside earlier.
Mix together thoroughly.
If you find that the mixture is very thick and lumpy, add water 1tbsp at a time until smooth and slightly thick batter consistency is achieved.
Heat up some oil in a pan on medium heat. I use 1 tbsp at a time and top up when necessary.
Drop 1tbsp size dollops of batter into the pan. I usually do 4 at a time.
Fry until you see small bubbles start to form, then flip.
When golden, remove from pan.
Repeat steps 7-10 until all batter is finished.
Time to eat!
Lay hot/warm fritters on a plate.
Place dollops of sour cream on the fritters. (not the healthiest thing to do but...SO GOOD)
Take salsa out from the fridge, spoon generously on the fritters.
Eat.
Notes
If fresh corn is on special, buy a lot and freeze them for later consumption.
20 is a lot of fritters, but good news is that they can be frozen! Fry up all the batter, set aside the portion to be frozen. Allow it to cool completely before freezing. Put Gladwrap or baking paper in between the layers if you are stacking them up. I kept it for 2 weeks and it still tasted fine. When ready to eat, thaw completely and pan fry over low heat.
The Chai Ninja https://thechai.ninja/
If you notice in my photos, the fritters are a tad darker than they should be. That is because I could not wait to have them….so I may have used a higher heat setting

. They still tasted like a dream though!
All done! Simple isn't it. I think that is the key for me. I am not a person who likes tedious recipes. So if I come across any difficult recipes, I will try my absolute best to simplify it or find a simpler version. Anyway hope you guys like this and try it out! Let me know your verdict.
Affordable, delicious, Easy, Fast Recipe, Make Ahead Meal, Meatless Monday