F&B Review: TJ's Korean Restaurant (Food)
This is my first ever restaurant review! But really, my aim in providing reviews is to share with you my favourite places to dine in Christchurch.
The food scene here is expanding quickly but sometimes, old is better. I am pretty picky in terms of service and quality. In fact, I try to be fair and give a restaurant the benefit of doubt before I conclude my opinion of it. Usually I will dine at a place at least twice to determine how good it really is. My rationale for doing so is that:
It allows you to know if they are consistent in terms of quality and service.
It allows you to sample more of the dishes they have to offer.
It is fair to the food establishment because everyone has bad days.
It is only on rare circumstances that I never return to a food establishment after a single try.
So without further ado, I shall begin my review of:
TJ's Korean Restaurant (Food)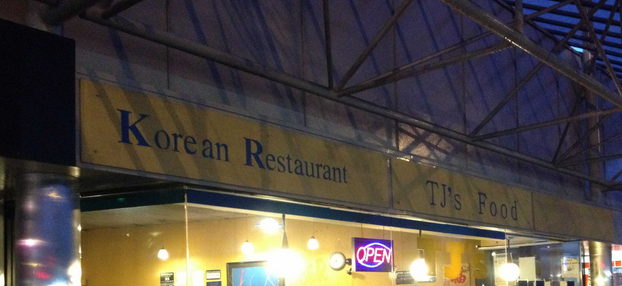 Address: 3 Straven Road, Riccarton, Christchurch 8011, New Zealand
Hours: Monday to Saturday; 10am – 3pm & 5pm – 10pm.
Parking: Round the back or off street. It is difficult to find parking at times. Might be a good idea to park at Westfield mall nearby and walk over.
Price Range: Affordable – about NZD 30 (2 pax)
Service: They are always friendly, smiley and really polite! Big plus in my books. Cutlery is always clean and they serve a hot tea (some sort of grain tea) without extra charge.
Review: Me and my family frequent this place often. It may not look flash but when the food is good, the rest is arbitrary – except hygiene of course. TJ's serves the most authentic tasting Korean dishes by far. We may not be Korean but in comparison to what we had while travelling around Korea, their dishes taste the most similar to those we sampled there. To start, they serve really good side dishes.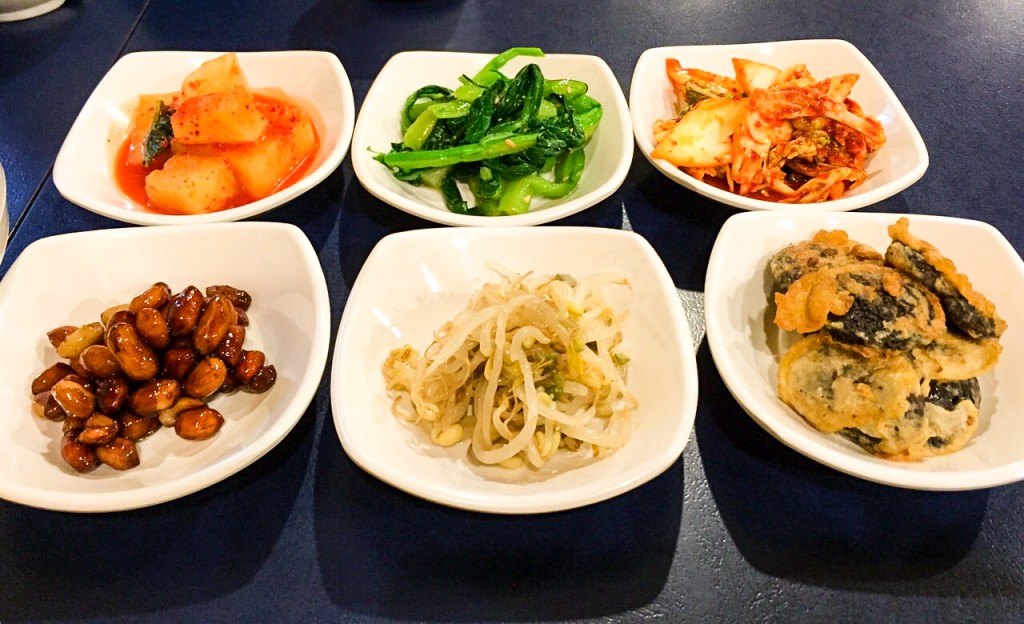 They will always have the stock standard turnip kimchi, cabbage kimchi, beansprouts and peanuts. The others change from time to time. This time it was Deep Fried Shiitake Mushrooms and some green vege (I have no clue what it was but it tasted good). By the way, if you like peanuts…..I can tell you that these ones are addictive.
Right, we shall now follow on with mains. The ones I have listed below are the ones we never fail to order. I only have photos of 2 dishes because that is all we ordered. With their dishes, you can get some in group portion sizes. For a group of 6 (if you aren't big eaters) 2 big dishes is enough.
1. Gamjatang aka Pork Bone Soup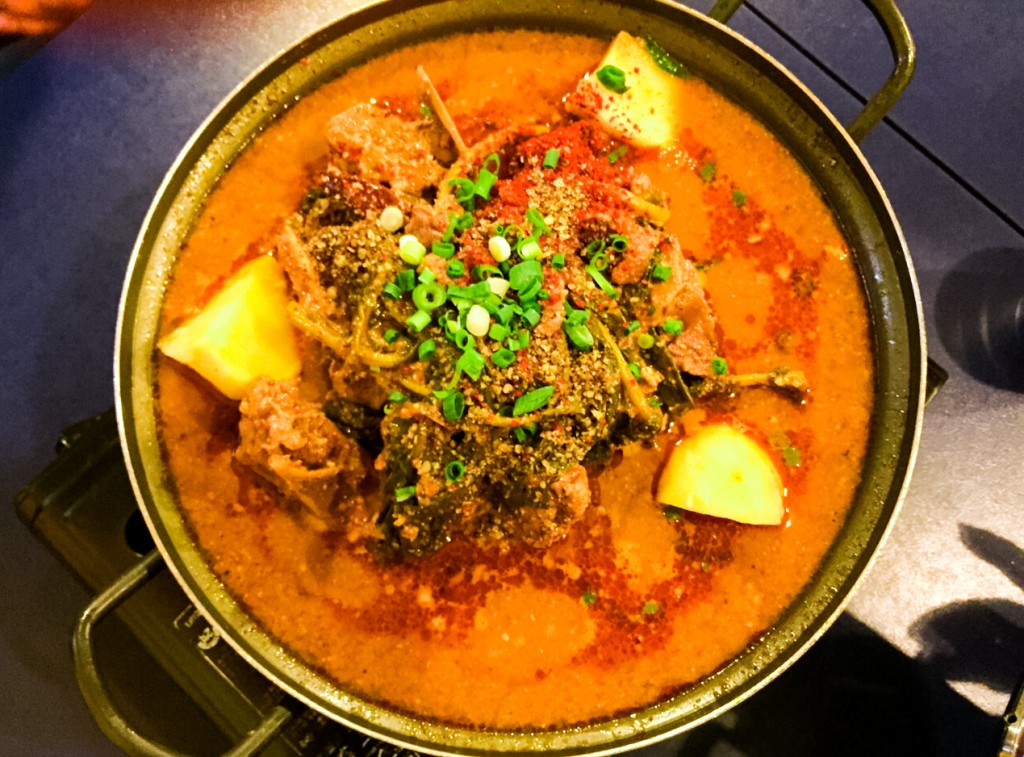 This dish is not for everyone. It takes time to eat and you have to be happy to use your hands. Do not be fooled by the fact that it is pork bones because these bones still have a heap of meat on them! The meat is so tender that it literally falls off the bone. It is a teeny bit spicy which makes it a great dish to have on a cold night! I could use one right now actually considering it is 1.7 degrees in April. Did we happen to by pass Autumn all together?
Anyway back to the dish. The broth itself, is out of this world. I could probably have the rich broth and rice on its own. Nothing else needed.
You can get this dish in a single serve or in a group size serve.
2. Maeun Dakjjim aka Spicy Steamed Chicken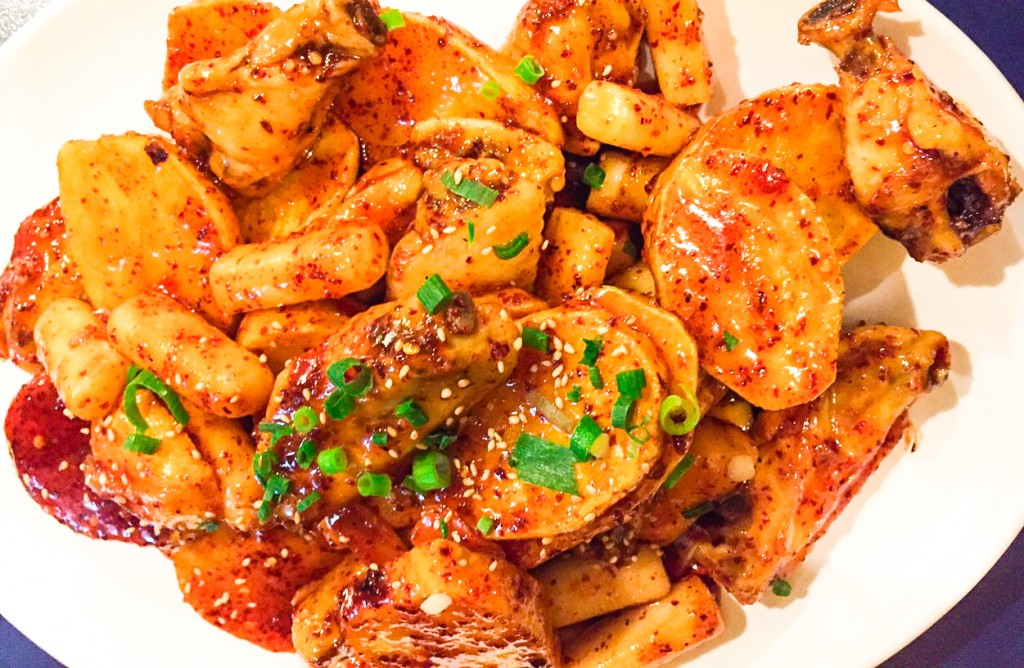 If you cannot take spicy food, STAY AWAY. This dish is only comes in group sized portions but honestly, if I wanted to, I could probably eat the whole thing by myself. Yes it is that good.
The sauce is sweet and spicy which complements the chewy tteok (rice cake), fluffy potato slices and tender chicken perfectly. It is a finger licking good dish. I cannot even put into words how good this dish is. I will admit that it may seem pricey but trust me, when you share the cost out between 4 people or more – it is so, so worth it.
And that is all that we ordered on our last dinner there. Other dishes that we have ordered and found really good are:
Haemul Pajeon aka Seafood Pizza

The chunks of seafood is generous and it is always fried to perfection. If you do not like squid, this may not be the dish for you.

Steamed Pork Hock

In comparison to other cooking style, it can be quite bland? You can really taste the pureness of the pork. However it is still very tasty. The portion is very big so definitely have a big group with you if you are wanting to order this.

Galbijjim aka Steamed Beef Ribs

The sauce is a little sweet. There are pieces of potato and carrot in it making this a really wholesome dish. Despite it being a bony dish too, it is very easy to each as you can pretty much pick the bones out without much effort.

Samgyetang aka Ginseng Chicken Soup

This dish is very very hearty. The chicken is stuffed with rice and other herbs. Great for a colds. In fact, you know how they say chicken soup is good for the soul? This dish definitely falls in that category.
We have tried other dishes and they were all good as well. However, these were the standout dishes. The list above definitely presents a great alternative to the spicy dishes as pictured above.
Cons: If I were to be really picky, the only bad things I can think of are…..
You leave smelling like a Korean restaurant.
It can get a little cramped at peak hour.

writing this post has made me very hungry! Bad decision to write this at midnight so I shall conclude this post to go sleep my hunger off.
I would like to clarify that the review below is my experience and views only. Also, nobody paid me to write this review so there is no bias in my opinion. So if you do go and try the restaurant, let me know what you think! Would love to hear of your experience too.
Affordable, Chicken, delicious, Eating Out, Family, Korean, Pork, Restaurant, Review, Seafood, Winter Warmer