Happy New Year & Homemade Granola Recipe
Happy New Year everyone! Can you believe we are in 2016 already? The last year has really gone by in a blur. In fact I have yet to come up with any New Year resolutions…perhaps I will just stick to the same ones as I have every year:
Get a job (this used to be 'do well in school' but since I've graduated…).
Be happy and grateful for what I have.
Exercise more.
Lead a healthier lifestyle.
Oh, perhaps I will add in a fifth resolution this year – to write more frequently here on The Chai Ninja. Now that the resolutions are done and dusted lets get down to business. I have been meaning to write the recipe for Homemade Granola for awhile now. I started making Granola a few months ago, experimenting with flavours and mish-mashing different recipes together to create something phenomenal. Well I think I have done it with the recipe I am about to share with you. One batch typically lasts me 2 weeks or so which makes it way more economical than buying! But my utmost favourite thing about making my own granola has to be versatility and the ability to control everything that goes into it.
So here is the recipe and I hope you guys enjoy it! Let me know how it goes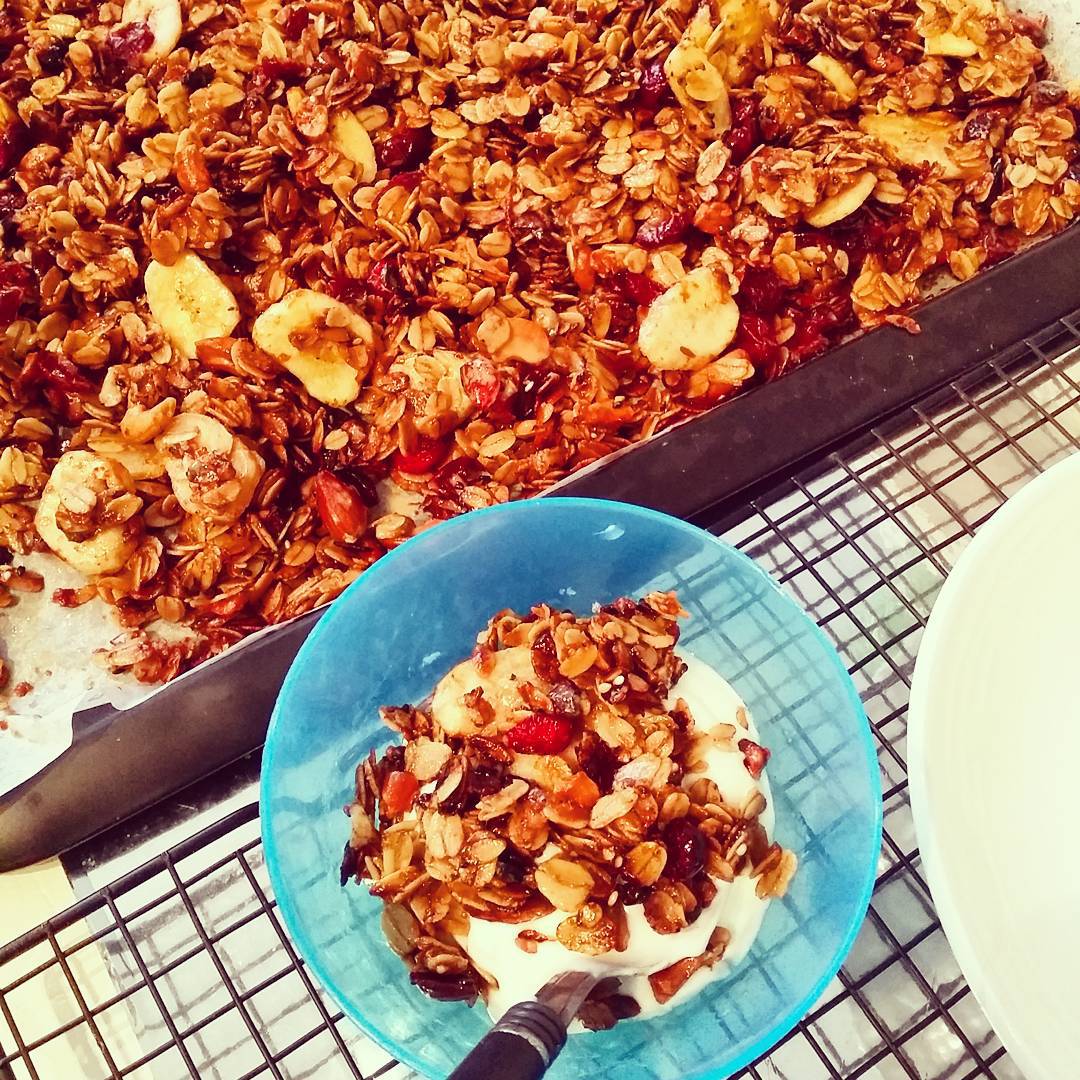 Homemade Granola Recipe
2016-01-02 11:17:06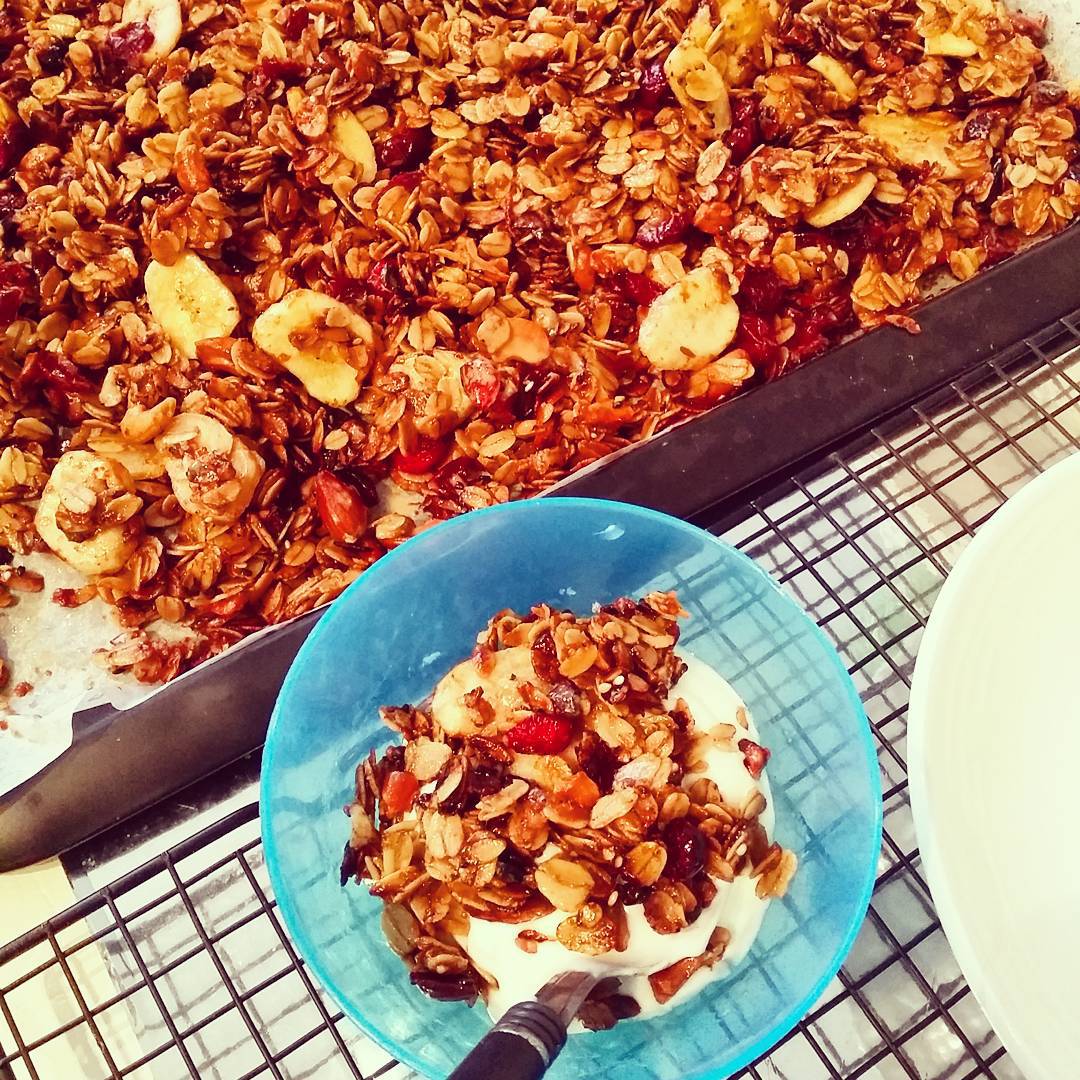 Ingredients
2 teaspoons olive oil (or any oil available)
1 1/4 cups regular rolled oats
1 teaspoon cinnamon
Pinch of salt
1/4 cup apple juice (or any juice you have at home)
3 tablespoons honey (or maple syrup)
1 tablespoon brown sugar
1/4 cup unsweetened coconut flakes/desiccated coconut
2/3 cup of mixed nuts (can use 1 type as well)
1/4 cup of dried fruits
2 tablespoons of chia seeds/quinoa (optional)
1 handful of banana chips (optional)
Instructions
Preheat oven to 150°C.
Place all dry ingredients into a large mixing bowl.
Add in wet ingredients and mix well.
Line a baking sheet with baking paper/grease the baking sheet.
Spread and even layer of the mixture across the sheet. Place in preheated oven.
Bake for 15 to 20 minutes - check at halfway point and stir to ensure even toasting.
Remove from oven when colour is a light golden brown, give it a stir and allow to cool.
When completely cooled, store in an airtight container.
Enjoy!
Notes
For a slightly more sinful take, stir in 1 or 2 tablespoons of peanut butter when you remove it from the oven. Or, add chocolate chips when checking on the mixture at the halfway point.
Grate some orange zest and rub it in with the brown sugar before adding it to the mixture to make it extra fragrant!
Try using 1/2 tsp allspice and 1tsp ground ginger to create gingerbread granola!
Adapted from Martha Stewart - Basic Healthy Granola
The Chai Ninja https://thechai.ninja/
Affordable, Baking, Combat the bulge, Cooking 101, delicious, Easy, Fast Recipe, Make Ahead Meal, Meatless Monday