Hello from Nelson!
Goodness me, I can't believe that I have been living in Nelson for a whole month now. How time flies. To my horror I also noticed that the last time I posted something here was in January!

My apologies. Do not worry though, I have finally sorted myself out and I am back to blog with a vengeance (if time permits). I will try to post a recipe soon but this week I thought I'd do an update and also some lessons learned from this grand moving adventure.
1. Do not hoard
I cannot stress this enough. As a student, this is a bad bad bad idea especially if you have the slightest inkling that you may one day leave the city or country you are currently residing in. If you have a tendency to hoard I advice you to seek help and restrain yourself. Trust me, it will save you a lot of sleepless nights and heartache in the future.
I have been so traumatized by the amount of packing and clearing out I had to do that I now am trying my best to keep the buying at a minimum. I only buy quality goods or 2nd hand goods that I know I won't mind parting with one day. It probably helps that the shopping selection here is not as big as Christchurch.
Despite it being a very difficult task, clearing out my items left me with a pretty good feeling. The money made from the garage sale didn't hurt either. Oh yea, a garage sale is a great way to get rid of items! Just make sure you leave yourself sometime to organize it. I arranged everything based on a price eg. $5 table and individually price the items that didn't fall into any group. We also advertised our garage sale on a Facebook page which helped us gain a lot of attention! Not sure if your city has one but here are links to the one I used in Christchurch and one that I know of in Nelson.
2. Work, work, work
For as long as I can remember, people have been telling me to treasure my student life because working life is no fun. I beg to differ. I mean work is no walk in the park but it is a hell lot more interesting than sitting in lecture after lecture – maybe this is what happens when you study for 6 years. Work has been really varied and everyday is different. At the end of every work day I feel a sense of accomplishment.
A big pro to working life too is that when you finish work, you get to leave it behind for a few hours at least. With study the work comes home with you in the form of constant revision and assignments. I suppose this doesn't apply if you gotta work over-time constantly but so far, I have not been asked to do so. I work in a small office where everyone else is much more experienced than I am. They have learned how to achieve that work-life balance and everyday they impart wisdom to make sure I don't 'burn-out' too young. So after 1 month of work, I think I have somewhat achieved that balance.
It hasn't all been rainbow and butterflies though. Getting up by 8am every morning is still something I will never get use to. Having to decide what to wear each day instead of any old thing is also a hassle (yea, first world problem right here). Then there is the matter of cooking after work. Even though I am not too tired to cook more elaborate meals my tummy protests the time an elaborate meal will take to make. 30 minute lunches are also a pain in the ass especially when I don't pack my lunch.
I'll let you know if I still feel the same in due course

. Perhaps the ugly side of the working life has yet to grace me with its presence.
3. Becoming Chai the Explorer
M has officially moved up to Nelson too so we have done a bit more exploring lately. I am still working on the fitness thing but I think I am getting better at it. I even managed to cycle up a hill the other day!
We live pretty close to town but still there is lots of exploring to do. There are plenty of biking and walking tracks around. Oh yea, I even biked to work the other day. I knew this biking thing would pay off as we can save on as money. It has also been a great way to sight-see and get to know the city a little bit better.
So far we have gone to the Center of New Zealand: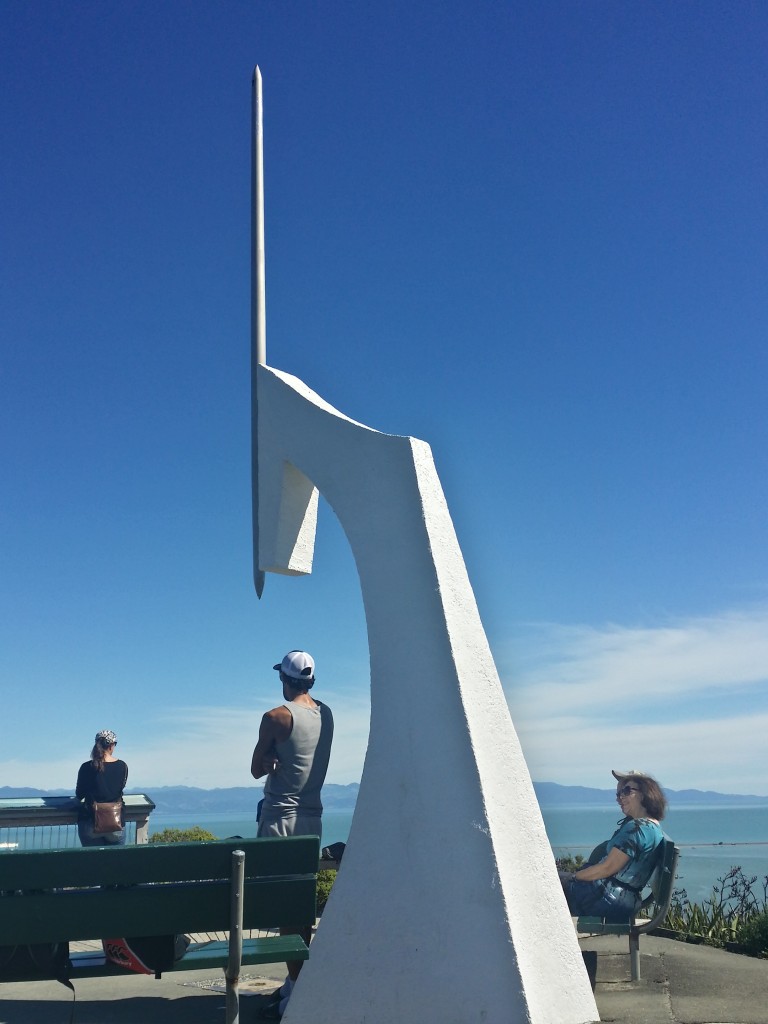 It says easy walk but if you are not the fittest person please note that the walk is on an incline the whole way. The view up here is pretty sweet though. We have cycled around the waterfront and er….in the sea?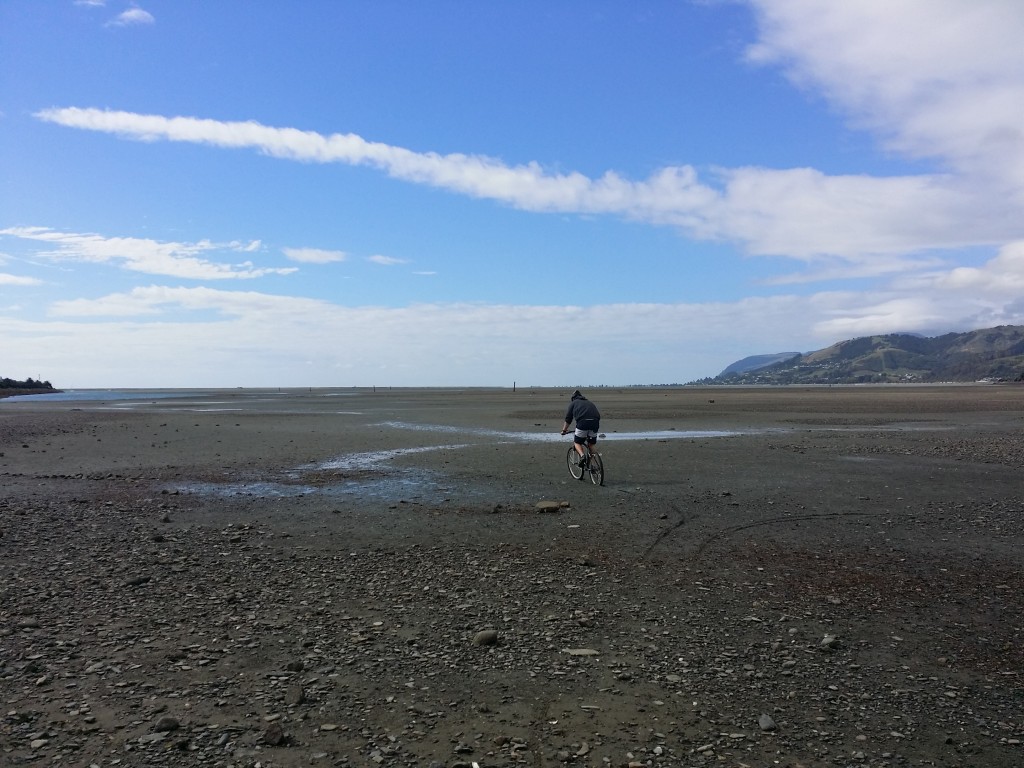 This was probably our least smart idea to date. M says it was a smart idea though. What a goober

.
We also recently visited nearby Cable Bay. It is about a 25 minute drive from Nelson City. It is where the first international cable link in NZ is laid. The cafe there is also one of the oldest in NZ! We had a meal there and boy was business good. It could also be because it is the only cafe in the area. The food was pretty good but the prices are steep. So make sure you bring a full wallet if you plan to eat here.
After our meal we decided to go on the track. It was a nice harmless looking track with miles and miles of green grass. But as soon as we started the reason the grass looked so green became apparent. There was also miles and miles of poop everywhere! So yea, I was pretty grossed out and didn't make it to the top cause the amount of poo I had to avoid overwhelmed me. I don't think I could ever be one with nature if there is a mountain of cow poo staring me in the face. Here are the beautiful photos (including featured image) I did manage to take from where I got up to.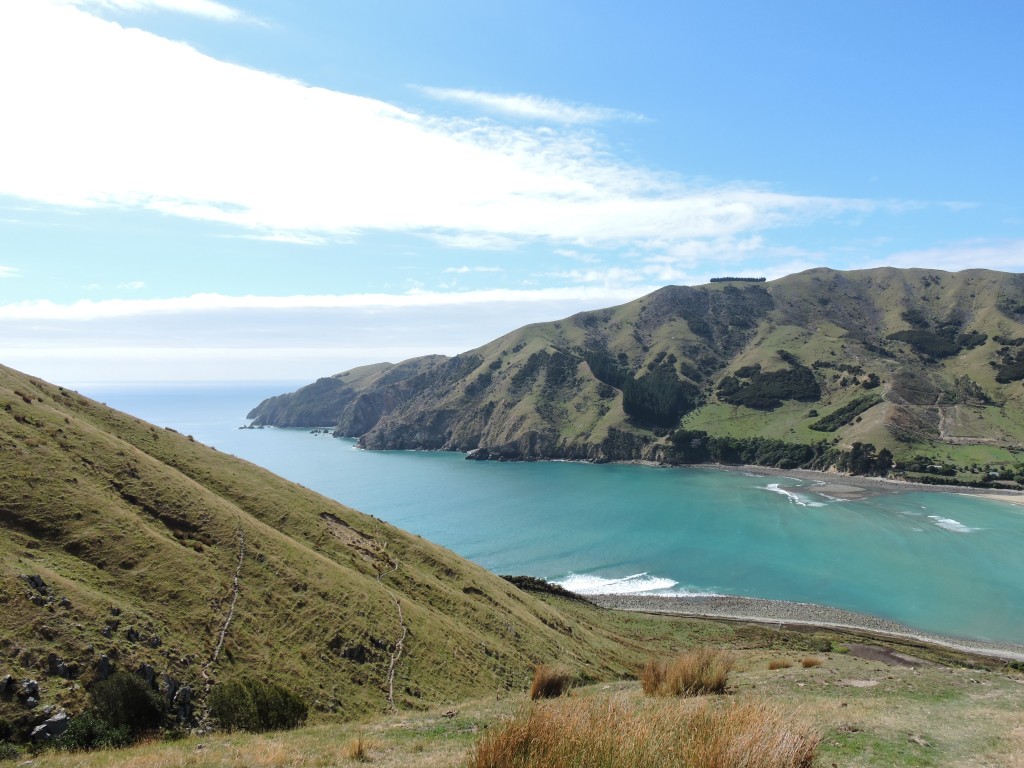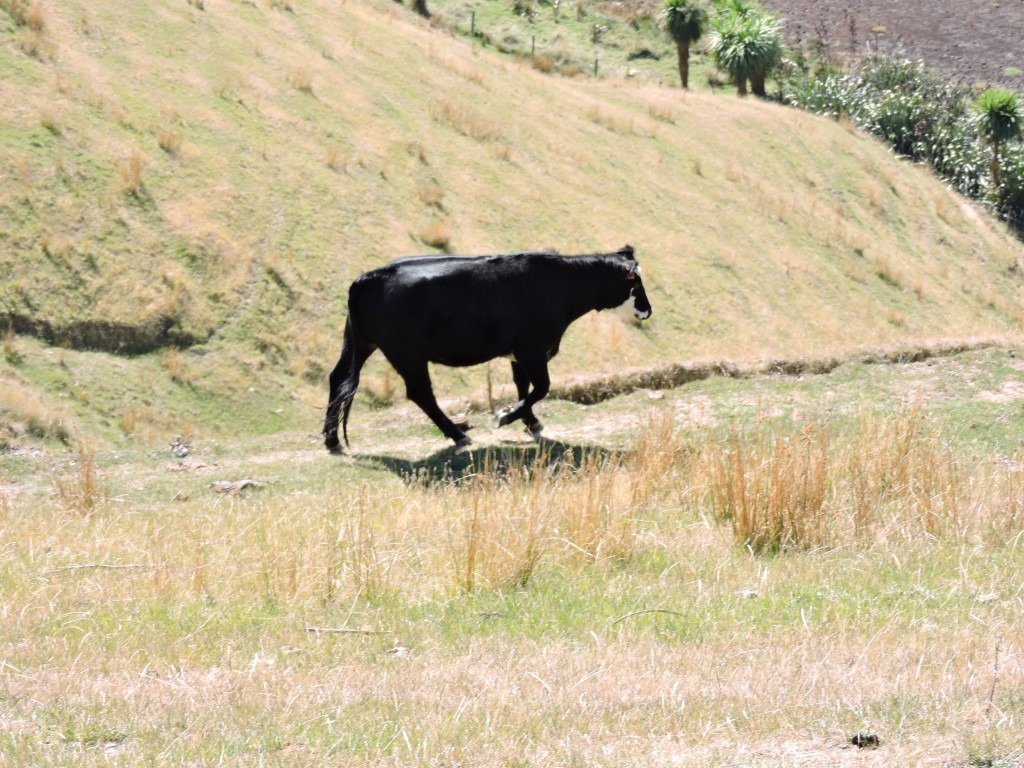 The reason there was poo everywhere. Well, one of them anyway. What else have we done…oh yea! We went to watch a Warriors pre-season game. For those who don't know Warriors are NZ's only Rugby League team.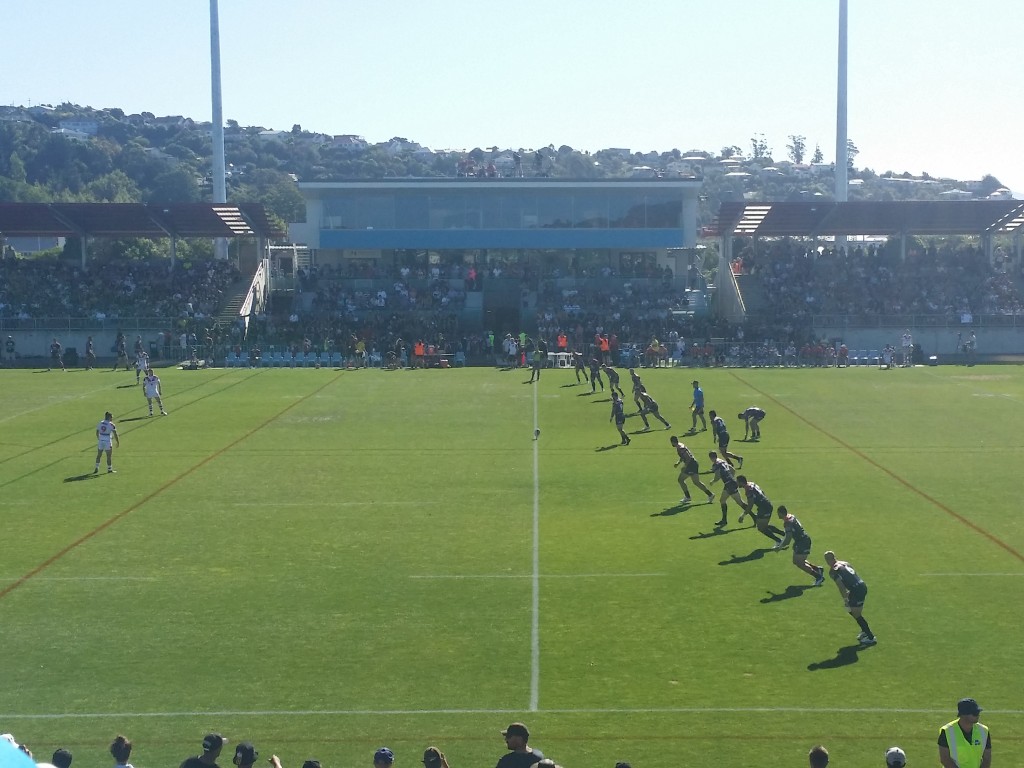 It was a good experience. Just a word of caution, pick the seats under the shade even if it will cost more. Your skin will thank you.
4. On the home-front
The new house is starting to feel more like home. The amount of natural sounds (eg.running river) I hear is starting to grow on me. Can't say the same for the amount of insects I encounter on a daily basis though. One thing I really like about this new place is the kitchen. We have a gas stove and a proper oven with fan functions! Ah, the joy of being able to cook fried noodles or rice properly. Convection elements are just not hot enough to make proper fried noodles/rice. The oven is also amazing cause now I can try recipes that will work best with fan-forced ovens.
Another great thing about this place though is that I do not need to maintain the garden! If I did, I would not have rented it as the garden is probably the size of my entire home in Christchurch. That leaves me a whole lot more free time to explore and cook. We also had to buy firewood for the first time and boy was it expensive.
So yea, watch this space for a whole lot of new recipes. My cooking game is changing as I now opt for even faster and easy to make meals. It also helps that there is plenty to experiment with here. The fresh produce available is amazing in terms of variety and size. If you follow my Instagram you would have seen the supersized eggplant. I have also bought nectarines that were the size of my fist

.
5. Adulthood #101
Getting a job has been like a crash course in becoming an adult. Technically been an adult for quite awhile but mentally, I was not. I didn't have to think about finances as hard, consider investment options or decide whether I needed to buy insurance cover. It was all done for me. Now that I am all financially independent, I have to manage it all on my own. This part kinda sucks especially when you receive your paycheck and you see it deplete as you put aside amounts for savings and bills. But it is satisfying knowing that you are now earning enough to repay your debts and build a nest egg.
M and me and have also taken some adult steps recently. We bought insurance together and are also considering our investment options. Even planning for a holiday is different. Instead of worrying about whether we can afford it we also have to think about how much leave we can take and how it will affect our investment position. Ah, when did life become so complicated. Oh that's right – when we both got jobs.
So yea, I guess moving here has been quite an experience. It has also given me a new-found appreciation for things I never quite appreciated before. I didn't get the time to properly say goodbye to everyone or go do all my favorite things before we left. But I guess the beauty of moving here is that we are only a 5 hours drive away from the city we left behind.
Hmm…what else. I can't quite think of anything else to add so I might just stop here.We are expecting a delivery of our stuff from Christchurch as M's brother is delivering a load here for us. So I best go bake a treat as payment. Till next time!