How To Tell if a Bowl of Sarawak Laksa is Good
It is Labour Day today in Malaysia so I get to spend some time with the family. So while everyone is resting, I thought I'd continue writing the 'Kuching Series'.
Today I want to elaborate more on Sarawak Laksa. As I said in my previous post, finding the best Laksa is a difficult task because it is dependant on the individual. I can give you a whole list of stalls that are said to sell the best Laksa in Kuching and there will be people who disagree. IMO, as long as the Laksa possesses the characteristics below, I think you are in for a real treat.
Here is a list of characteristics a bowl of good Laksa should possess. I am breaking the list down into the 3 parts that make up a bowl of Laksa.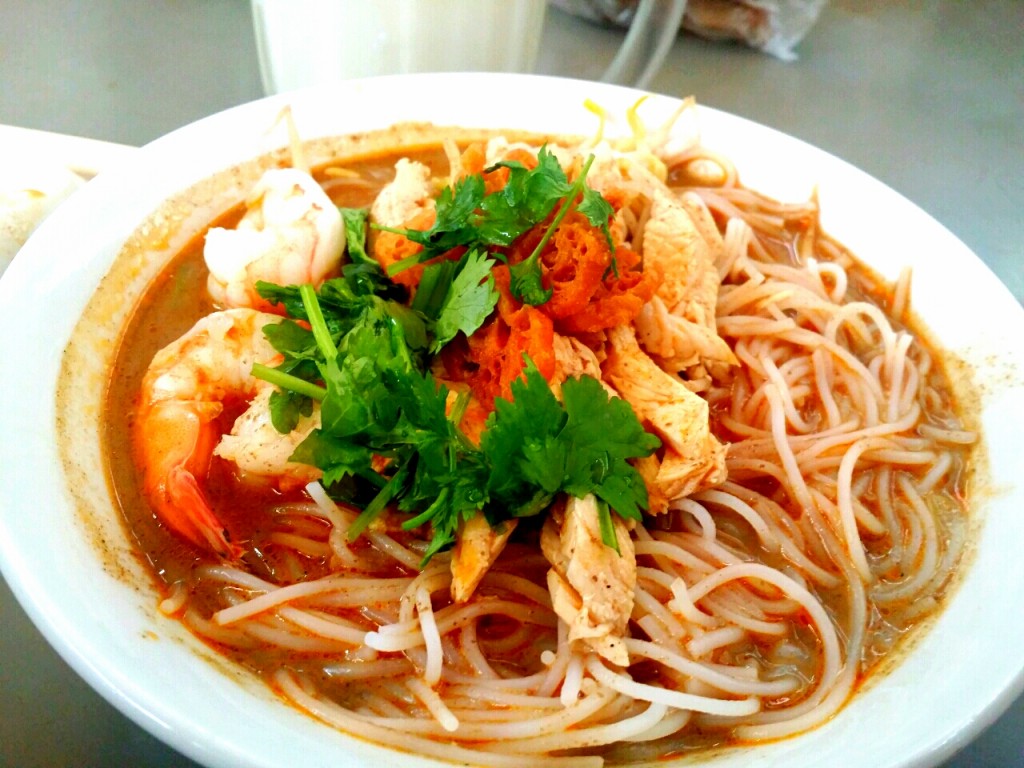 A typical bowl of Sarawak Laksa. Prices may vary.
1. Toppings
Typically there will be prawn, egg, coriander, beansprouts and shredded chicken. Others add on additional toppings such as slices of fried dough sticks as in the above picture.
The bowl above is RM4.50 which is the 'normal' version. Most stalls offer a 'normal' or 'special' version. The difference lies with the toppings. As you can guess, you get more toppings or bigger prawns with the 'special' version. But for the purposes of this post I will be talking about the 'normal' version.
The amount of toppings in the bowl above is pretty standard for the 'normal' version. Expect about 2 or 3 prawns. I cannot reiterate this enough but the prawns should be fresh! It should be succulent and juicy when you bite into the prawn. Also the prawns should be decent sized (think the frozen prawns you get in the supermarket) even for a 'normal' version. If you are getting something that looks smaller than the picture above and isn't too fresh….I'd never go back there.
As for the other toppings, generally it can't go wrong. Only thing is the possibility of overcooked beansprouts or chicken that isn't fresh. Other than that the vendors are usually pretty generous with these toppings.
2. Broth
The base of Sarawak Laksa broth is prawn and chicken. Laksa paste is then added in as well as coconut milk at a later stage. The result is a rich broth with a reddish tinge.
In this modern age fewer and fewer stall owners make their own broth. Instead many stalls purchase pots of the broth from a supplier for a pretty high price. Because of this, many stalls add water to maximise the use of the broth resulting in a thin flavourless broth.
Key signs when the broth has been thinned is the colour and fragrance. Instead of having a reddish tinge, it will have a very pale brown colour. When a bowl of laksa is served, you should instantly be able to get a whiff of its glorious smell (some may say it is pungent). But if you can't smell it then or when you stir through the bowl, I'm afraid it is likely that the broth has been thinned with water.
Taste wise, it will be pretty easy to tell. Like any soup, when thinned, the richness of the flavour goes with it. Trust me – I have had Laksa where the broth is so thinned it practically felt like I was drinking water. If it starts tasting like a clear soup, you have a dud Laksa in front of you.
3. Noodles
Rice Vermicelli is the typical noodle used. However, you can request that they use the thick yellow noodles instead at some stalls.
I have yet to find a stall that has done this bit badly but I have heard friends talk about their experiences. So what you would need to watch out for is overcooked or undercooked noodles. Overcooked noodles will be slimy and just taste really gross. Undercooked noodles on the other hand will be chewy. If you opted for thick yellow noodles, it will have an odd smell when undercooked due to the ghee.
So there you have it. I won't say this is a comprehensive list but it is a start. Of course if you patron stalls that have been recommended it will less likely be bad. Do take note though that some of the recommended stalls tend to be more expensive. But a higher price does not necessarily mean that it is better. So if you are on a tight budget, opt for the cheaper option.
Right, I am off to watch Vikings. Hope this helps you to avoid bad Sarawak Laksa when you visit. If you are hesitant to try it, go for it! You won't regret it – unless you have a prawn allergy, you may want to stay away

.
Affordable, Culture, delicious, Eating Out, Kuching, Malaysian, Must Eats, Review, Sarawak