Kale and Woodear (Black) Fungus Aglio E Olio Pasta Recipe
I have been a fan of pasta for as long as I can remember. Growing up, my mum would make a pasta dish at least twice a week for lunch or dinner. When I started living on my own, I realised that pasta was not only tasty but superbly quick to make – for some recipes anyway. My go to for a stage was plain Aglio E Olio.With time, I started experimenting with additional ingredients and found that shrimp went well with this dish.
Sometime ago on one fine Meatless Monday, I had a craving for Shrimp Aglio E Olio. So I brainstormed a replacement for shrimp and decided to try my luck with Woodear fungus. It has a similar sort of texture to shrimp so I thought it would be a good substitute! I think I was successful in this experiment hence why I am sharing the recipe here today. Please let me know if it is actually a failure

.
For those that are not aware of what Woodear fungus is, here is an information link. I have never seen any fungus in its fresh form as they are usually sold dried in Malaysia and New Zealand. Can anyone enlighten me if this is sold fresh at all?
Kale and Woodear (Black) Fungus Aglio E Olio Pasta Recipe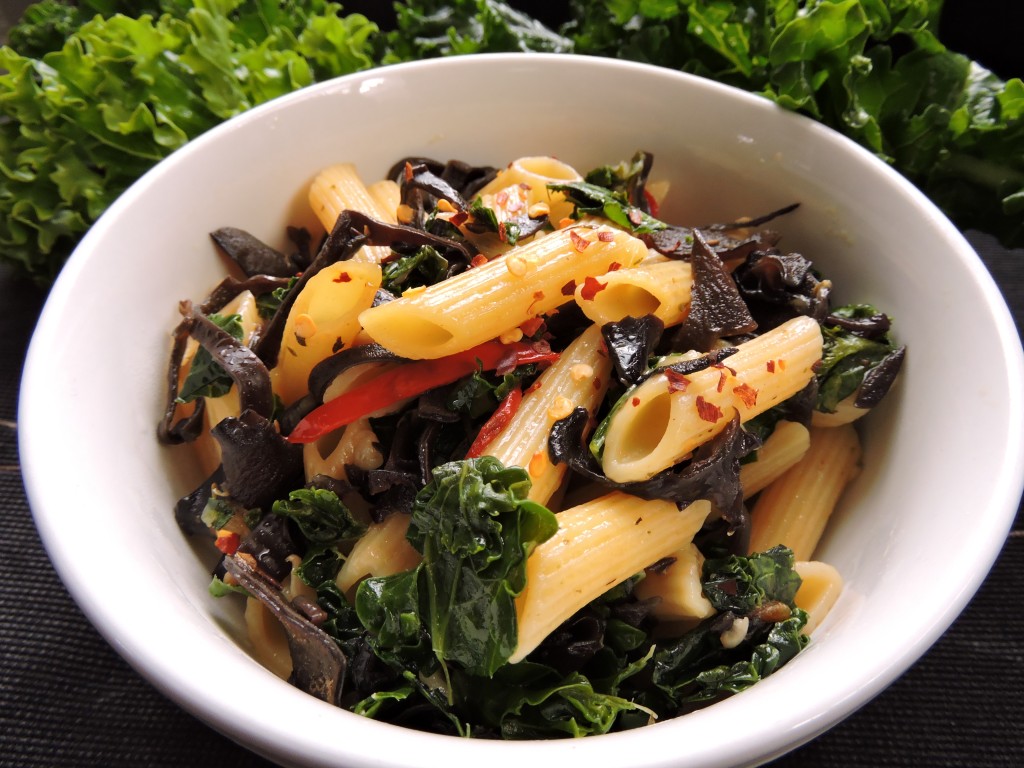 Ingredients
250g pasta of choice (traditionally this dish is made with spaghetti, but I prefer penne)
2 Tbsp + 2 Tsp cup good olive oil
4 large garlic cloves, cut into thin slivers
1/4 tsp crushed chilli flakes (I added some silvers of fresh chilli too)
1 1/2 cup Kale, washed, destem and torn to small pieces (meaure after torn)
1/2 cup freshly grated Parmesan cheese, plus extra for serving (any other cheese on hand will work too)
3 pieces of Woodear fungus, rehydrate and slice into strips
2tsp Salt and extra to taste (if needed)
Time to cook!
Bring a pot of water to boil.
Put in a dash of oil and 2 tsp of salt into the pot together with the pasta.
Cook as instructed on the pack. I tend to prefer pasta al dente.
When ready, reserve about 1/2 cup pasta cooking water then drain the remaining. Set the drained pasta aside.
Heat olive oil in a pot or deep pan using medium heat.
Add the silvered garlic and stir fry till it starts to brown slightly.
Add the chilli flakes (and fresh chilli) and salt to taste. Stir it in then add the reserved pasta cooking water.
Bring it to boil and let it simmer until the liquid is reduced by at least 1/3.
When reduced, toss the Woodear fungus into the sauce. Let it sit for about 3 minutes.
Add the Kale into the sauce. Allow the Kale to fully cook (turns bright green).
When Kale is fully cooked add in the drained pasta to the sauce, and toss.
When fully mixed, turn off the heat, add grated cheese and toss well.
Allow the well mixed pasta to sit for a few minutes to absorb the sauce.
Top with extra chilli flakes and cheese to serve.
And there you have it! This is an incredibly quick and easy dish to cook. Pretty sure it takes about 30 minutes (rough estimate).The base recipe is pretty much similar, so if you fancy other ingredients, just swap it out! Or if you like it plain, just omit all extra ingredients. I personally like it a tad spicier hence why I add fresh chillies. This is also an affordable dish to make, especially if you plant your own kale.
Try it and let me know if this is a yay or nay! Till next time

.
Affordable, delicious, Easy, Fast Recipe, Meatless Monday, Pasta