Life Update
Hello everyone! I am finally back after a long break. So many things have happened in the last month it has been pretty overwhelming. I have been wanting to write about them for awhile now but my writing mojo was low. No matter though, better late than never. Here are the events that have happened over the last month.
1. I got a Christmas temp job
It is a pretty common thing here in NZ. I got my first job Xmas temping as a retail assistant and boy was that an experience. If you want a steep learning curve in the world of retail – I definitely recommend joining a store during the Xmas season. It is the busiest time of the year and having that experience under your belt will set you up well for future retail opportunities. While tough, it is actually good fun and you get to meet all sorts of people. Some nice, some not so much.
The job I got this year is still considered retail but much easier than the last two jobs I've had. So far it has been going well. There have been lots of new things to learn and its been a real eye opener to the industry. While I am probably at the bottom of the food chain, you still get a glimpse of what happens behind the scenes and I find it all very interesting. Could be useful knowledge to have one day…you never know ae?
But mostly having a job also means that I have less time to do everything! Please bear with me while I navigate my way around juggling work, this blog, baking/cooking, family and Xmas chaos.
2. I was admitted as a Barrister and Solicitor of the High Court of New Zealand
Yes, me. A barrister and solicitor. It is a far cry from the little girl who used to tell her parents that her dream was to be Miss World/supermodel

. But then I discovered that food was too good to give up for a supermodel bod so yea, that dream dissipated pretty quickly.
After 5 years of study it felt really appropriate to acknowledge all the sweat, tears and effort with a pompous ceremony where I got to wear full court attire (for the first and possibly last time). Here is a picture: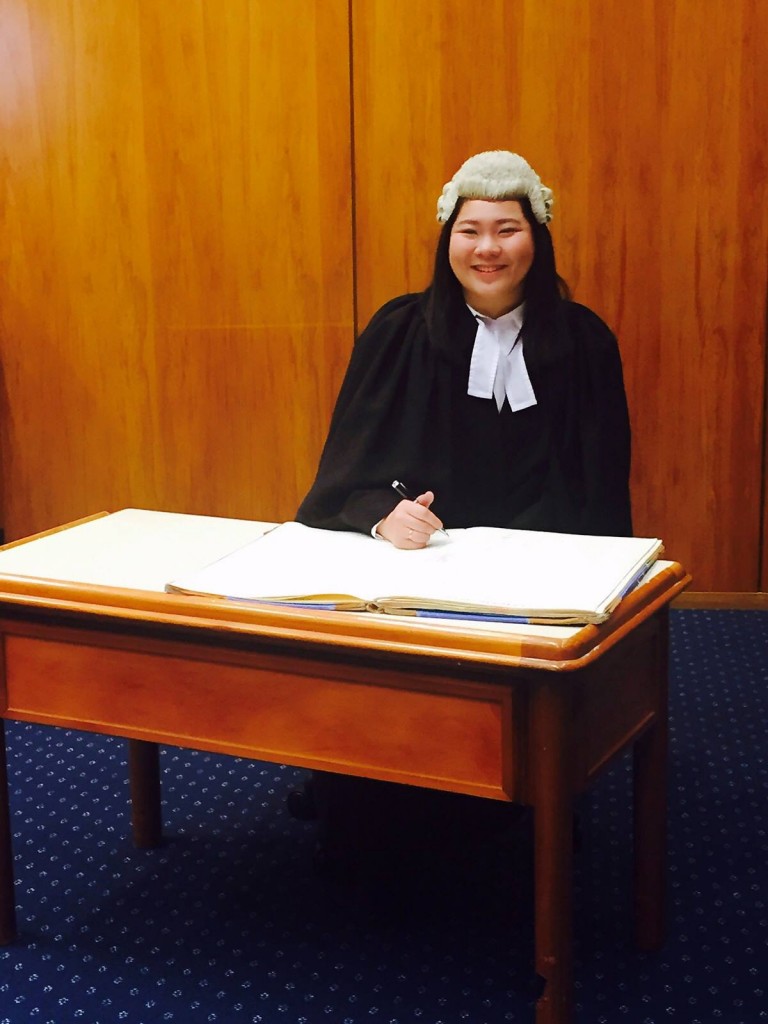 Wooh! I am signing the roll in this picture. My name will forever be in that book that has existed since the 1950's at the very least – unless I ever get struck off. Besides signing the roll, all new candidates also addressed the court! Content was mostly about thanking everyone who supported us during the journey and so on. Few people got really emotional. I was just nervous because the judge started to engage with us

which I had not mentally prepared myself for. Ah…if only all future addresses in the court would involve thanking your loved ones instead of fighting for a persons rights, innocence etc. I have always thought that being a part of the legal profession was a double edged sword. On one hand, you are burdened with the life of a person but if done right, you play a part in serving justice. Well something to worry about later as I imagine this is a feeling that dissipates as you grow more comfortable with handling cases and consulting the law.
Now all I have to worry about it finding the job to kick-start my career

.
3. I lost someone I loved dearly
My grandfather passed away on 7 November 2015. With the availability of technology, I knew the instant it happened. My phone was going off the hook as he was being admitted to the hospital with updates from the family and then there was silence. Somehow then, I just knew that the worst had happened. He had been unwell for awhile now but it happened so quickly there was no time to prepare for it. On some days I feel as thought it didn't happen until I get a stark reminder that it actually did. I know it sounds odd but living away from home also means that I'm removed from all the memory triggers. It feels almost as thought I am completing the routine I do every year – counting down the days till I take the plane home where everything is still the same. But then it suddenly hits me that I just attended his funeral and saw his coffin placed in the ground.
Writing about him or referring to him in past-tense still feels weird. I reckon it will take awhile to get used to. After all, he has been ever present in my life. His home was where the family congregated every evening over a cup of coffee and biscuits. Pretty sure he was also the one who introduced me to glorious coffee which would become an elixir that allowed me to power through law school. Without him I would also not have found a passion for cooking. He would tell me stories of my grandmother who was a fine cook but having never tasted her cooking, he was the best cook to me. As a child I would 'help' him prepare our family dinners daily. By 'help' I mean doing the few things he would let me do which included peeling vegetables, deheading anchovies/beansprout and using the mortar and pestle to make a paste. I mostly just sat at the dining table and watched him as he prepared dinner. He would also tell us about his experiences growing up in rural Sarawak after feeling China with his parents during the Japanese Occupation and the horrors that came with it. I remember feeling awed at how he survived the occupation and worked so hard to provide everything for his family so that later generations could prosper. He always told us that he was very happy that our parents were doing well and that he hoped it would continue with us – better yet if we surpass them .
He influenced me in so many ways and the number of memories that I have of him is probably endless. To me, he will always be an incredibly loving grandfather and staunch advocate for the importance of an education. But at his wake I learned that he was so much more to many other people. Of course I've heard stories over the years about how he was a well respected headmaster who was strict with his students and accepted no nonsense etc. While that may have been true he was also known for his kindness, modesty, generosity and honesty. Many of his students came to pay their respects – some of which graduated in the 1960's! They told us stories about him that we would have never known because he would never have told us himself. I think it is pretty amazing that one man made such an impact on so many people.
I don't think anyone truly gets over the death of a loved one. You just slowly build a defense mechanism around it to dull the pain that comes with the memory. There are days where I feel beyond guilty that I was not there when he passed. I could have been there. I had been planning to go home for the month prior but put it off so that I could get a temporary job and then go home when that stint ended. Yea, way to go me. It hurts even more to know that he was always waiting for me and my sister to go home. Of course I am told that I should not feel guilty and all but to me, it is a regret that I will carry for a long time. If there is a lesson to be learnt here it is that time never waits. All I can do now is take solace that he is no longer suffering and move forward knowing that he is at peace.
And so there you have it – the reasons I have been MIA in the last month or so. As you can see they are all pretty significant events – some more so than others. Apologies if it got a bit too emo for you towards the end but I just wanted to pen it all down somewhere. Maybe I will write more about him one day. About the stories he told us and I also want to make it a point to visit the places he mentioned (if they are still in existence…). So watch this space for that! Promise there will be a more light-hearted post next time. Till then

.