Our visit to Xiamen, China
When I was younger my family visited China quite a few times during our long school break. I always liked China which some of my friends found odd – especially when the horror stories about fake eggs and gutter oil started to appear. But I think that China is just so much more than the scandals spun out of proportion by the media. It is a culture, history and food heaven which you have to experience at least once in your lifetime.
Now, I'm not saying tat China is a land of candies and unicorns. Believe me when I say that China has it's ugly side too. But being a country that is considered as a cradle of civilization, and is now the world's most populous and fastest growing economy – a visit there promises a lifetime of unique memories. So far, I have been to Shanghai, Hangzhou, Guangzhou, Shenzhen, Beijing and Xiamen. This trip was the 3rd time visiting Xiamen and despite that, there are still things that leaves me in awe. Hopefully I will get the opportunity to visit all the cities one day.
Xiamen was formally known as Amoy and is located in the Fujian Province. I can go on yakking about the history as it is long…but I am sure you guys can wiki all this up yourself. The reason why I've visited this particular city more often than other Chinese cities is because, it is my granddad's hometown. So we go there to visit his village and see the rellies when we can.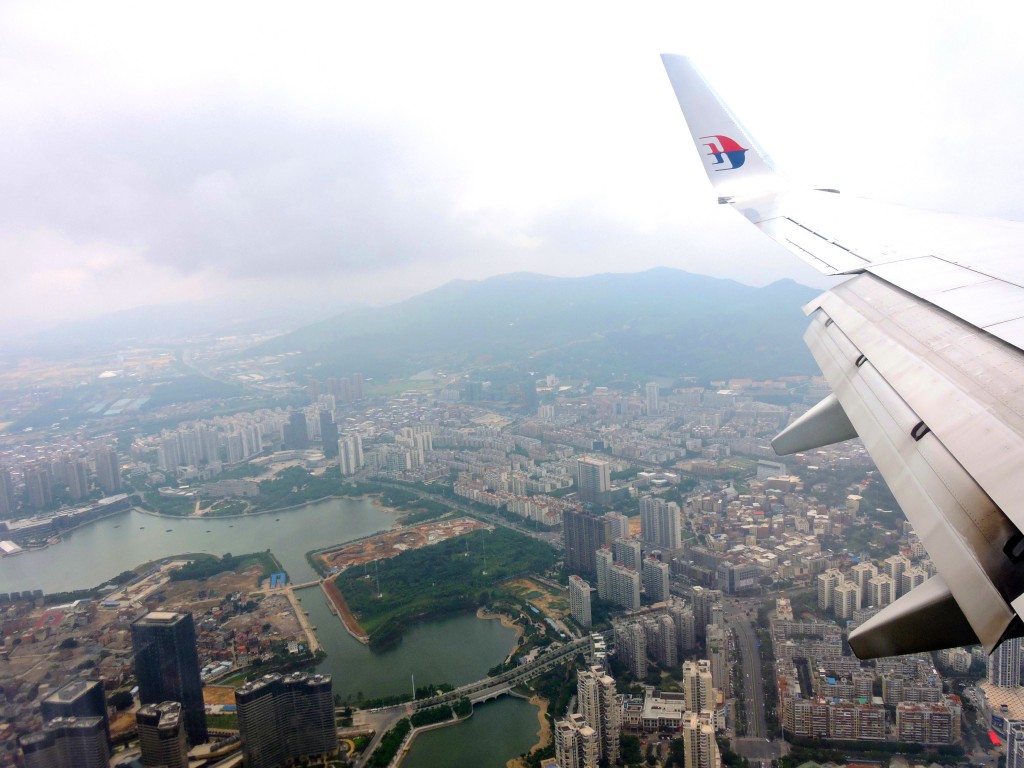 View of Xiamen City during landing.
Pretty populated huh? Can you imagine the amount of people living there? The kicker is that Xiamen is an island and most of its population lives on this island

pretty sure that 1/4 acre Kiwi dream does not exist there…. But despite all that the city is great. They have maintained its colonial architecture and old world charm very well. Heck, they don't even have metro lines at present (currently under construction).
It was M's first time visiting China so I am not sure how much of a culture shock he had upon arrival. He grew to enjoy it though. We stayed at Siming Si Rd which is parallel to the Zhongsan Rd pedestrian mall located in Siming District. The hotel is called Bestel Hotel and it is definitely value for money when you take all the usual criteria into account. Check it out if you are considering a visit to Xiamen.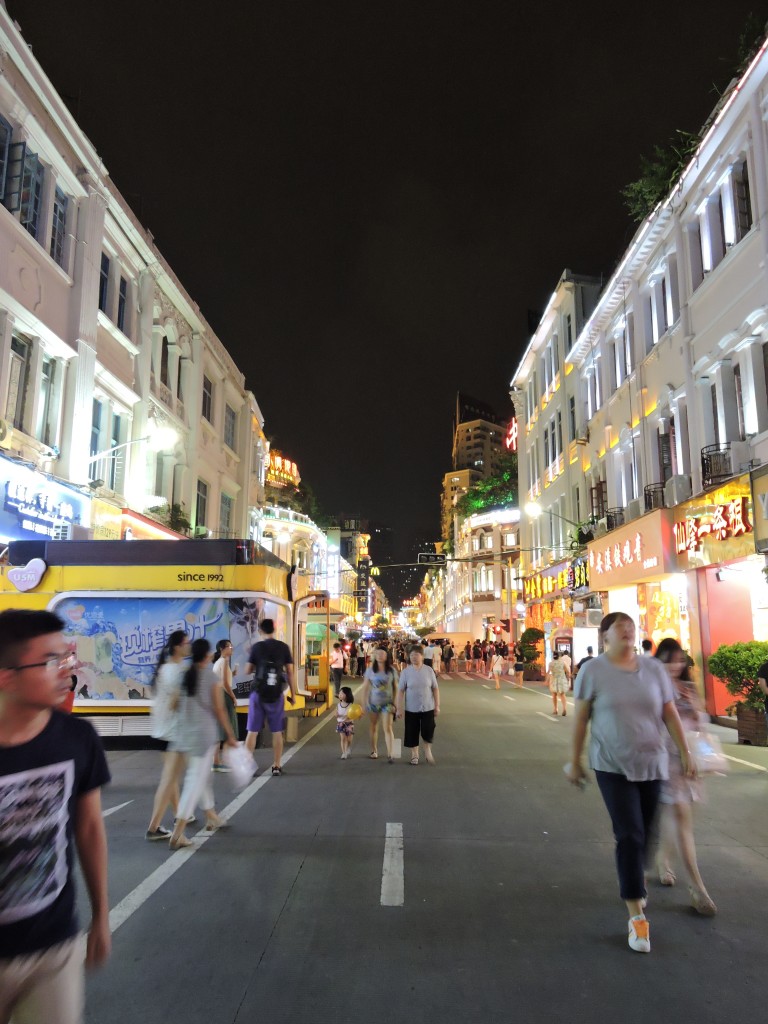 Zhongsan Rd at night.
The area we stayed in is a shopping haven. Souvenirs, luxury goods, bargain buys etc – whatever you are after, it is probably available. Actually the eateries around this area are really good as well! There is even a wee side street where you can find amazingly fresh seafood. Just a note, Siming District is a massive area. So when booking a hotel you gotta check if it is near the Zhongsan Rd area for it to be close to the ferry terminal and all.
There is actually a lot of things I want to write about but if I wrote about all of them in this post – you would be reading this till tomorrow. So I will just go through a rough itinerary of what we did during our 6 day trip there.
On the first day, we pretty much chilled around the hotel area. We looked up places to eat and decided on this awesome restaurant called 'Forever Young'. The food there was AMAZING as was the service. That's right! The service was impeccable. It was located in this massive mall opposite the Walmart in the area. Sorry I can't remember the name of the mall exactly but there is only one Walmart around there so if you ask your hotel reception, you can't get lost….I think.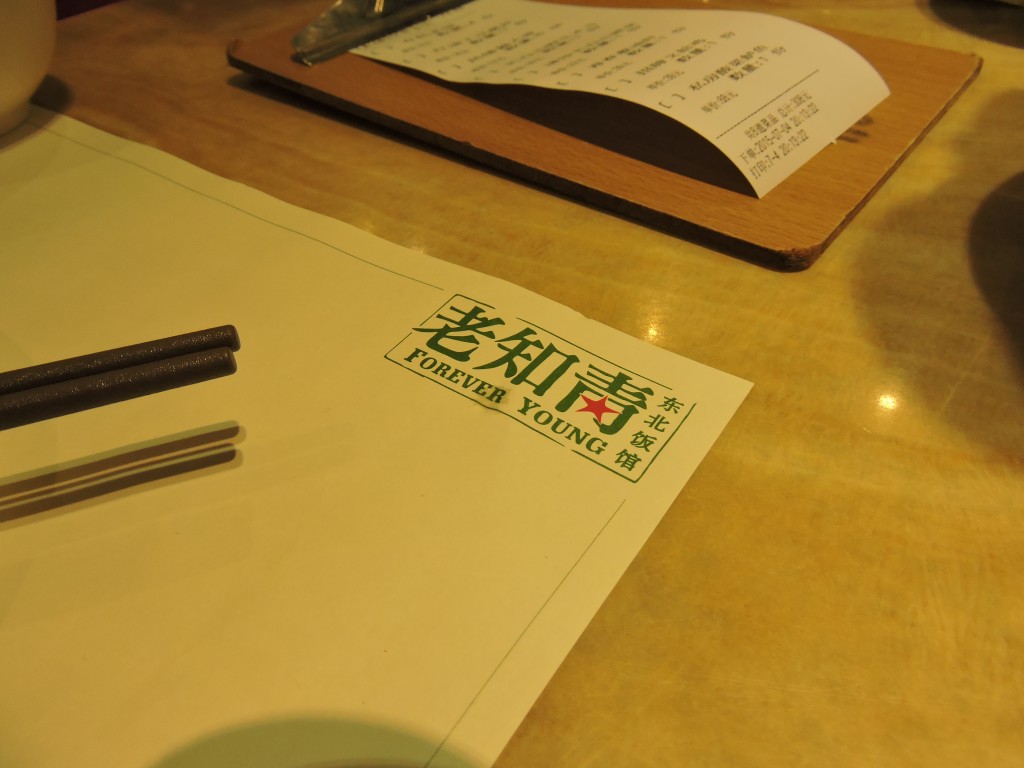 If you can read Mandarin this may help…..?
Anyway this place was so good that I will have to write a separate blog post to review it.
Moving on! The following day we went to Gulangyu which is a small island about 10 minutes by ferry from Xiamen. It is also known as 'Piano Island' as lots of artists and musicians once lived there.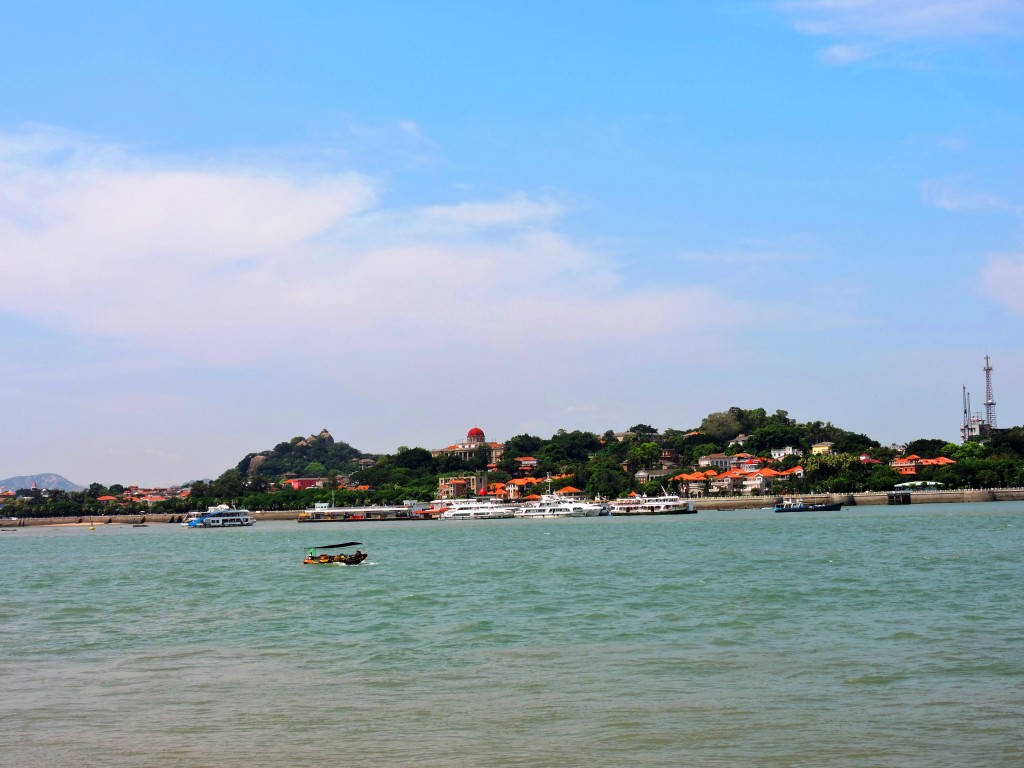 Gulangyu as viewed from the waterfront at Xiamen Ferry Terminal.
Doesn't it look awesome! Would have been better if it wasn't so hot. Our mistake was also going on a Sunday where everyone in Xiamen seemed to be keen on taking the ferry over to this little island. It was actually quite a nightmare getting to and fro. But the time we spent on the island was very enjoyable. Will go into more detail about it next time.
The next day we got up nice and early because we were heading out of town. We went to see Tulou structures otherwise known as earth rammed buildings.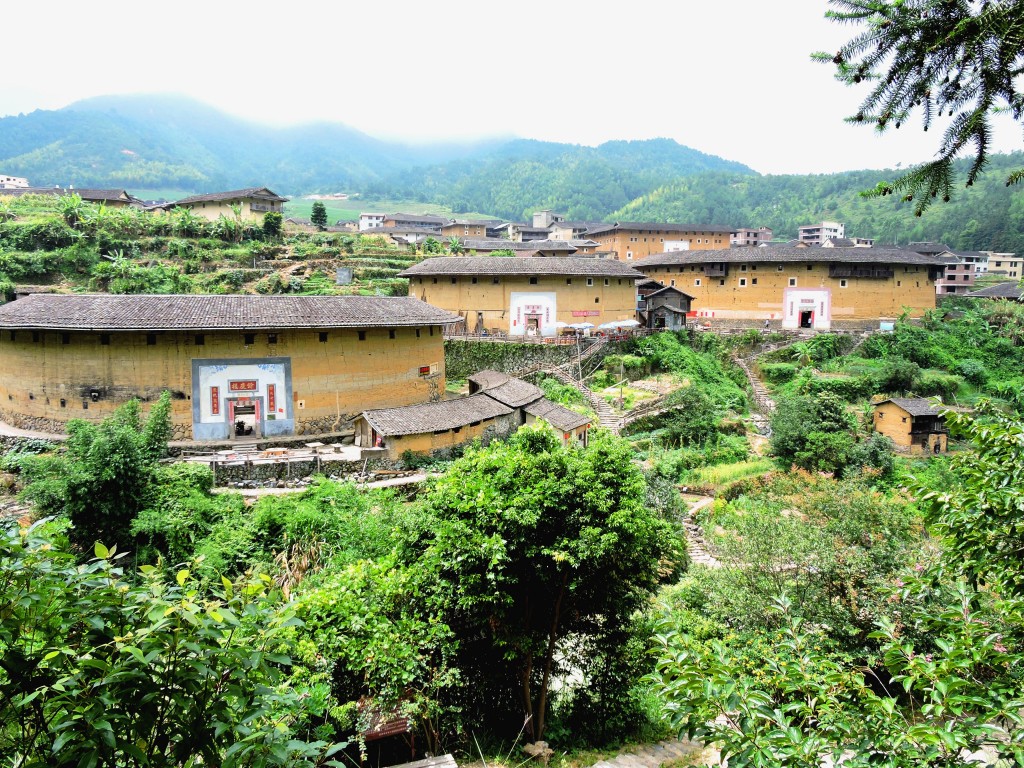 The Chuxi Tulou Cluster.
There is so much history behind these structures that I really shouldn't go into detail here as I can ramble on about it for ages. But they really are wonders and deserve to UNESCO sites. I mean, how did people 600 year ago suddenly think that ramming a mixture of earth together was a good idea for building massive houses. This particular one we went to has the liberty of being built with absolutely NO nails. I can't believe it is still standing.
Going to the Tulou took a whole day so by the time we got back, it was dinner time. Here we had our first meal of Orh Jian aka Oyster pancakes. Usually in Malaysia it is like a giant pancake with a few oysters in it. Instead, this was what arrived….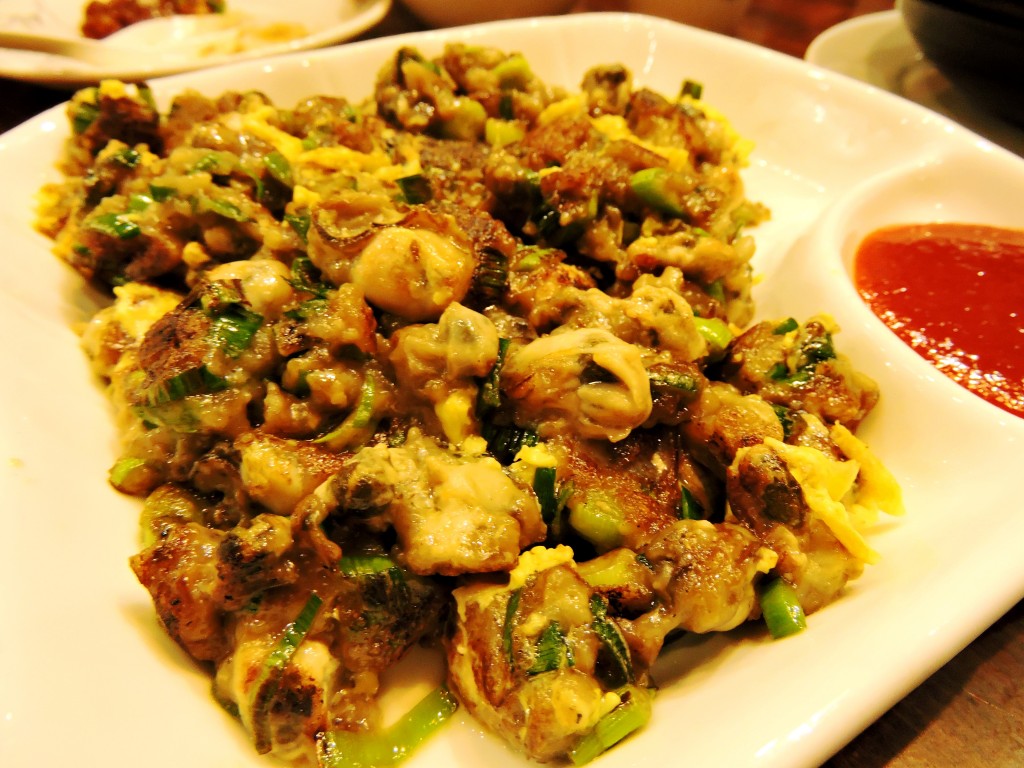 You sure this is a pancake?

did I just go to oyster heaven?!?! This is what happens when you go to city where seafood is in abundance. I don't think I can ever eat normal Orh Jian again.
The following day we visited my Granddad's village. If you were expecting the village to be somewhere in the countryside surrounded by greenery well……..yea, nah.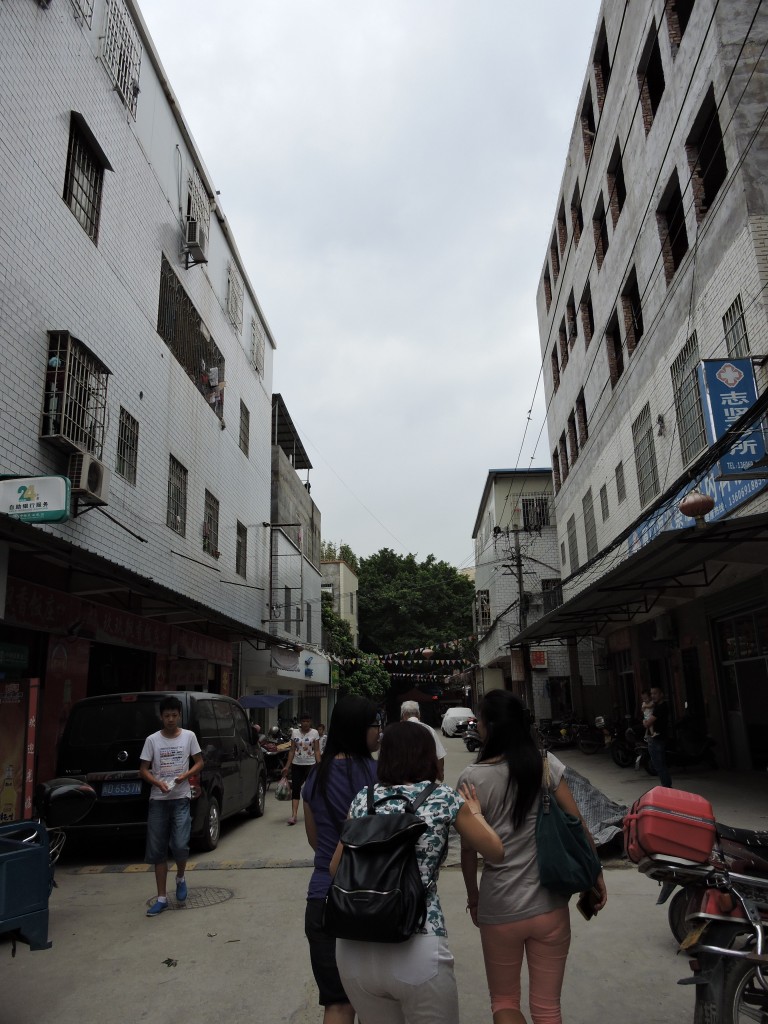 Yup, this is the village entrance.
Honestly, it looks like any other residential area. Only snippets of the original village remains. We spent a whole day there and were treated so well by the rellies despite not visiting that often. They even closed their restaurant for the day! Say what…..
They made us meals that I could only ever dream of making. Here is our lunch.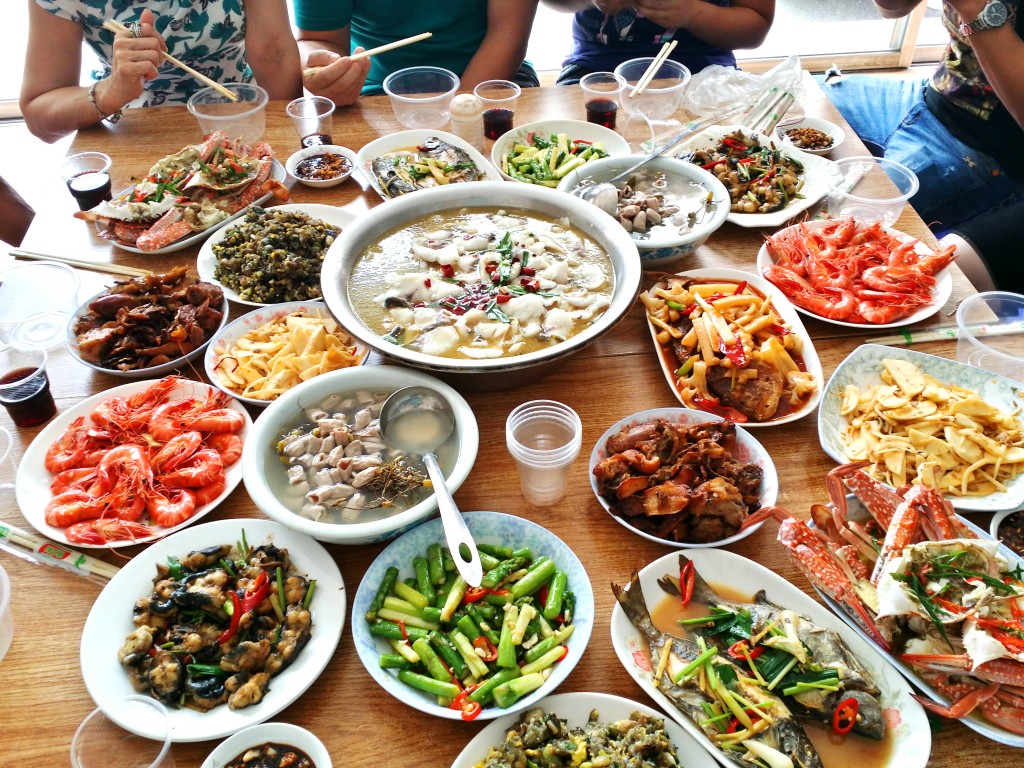 If you follow my Instagram, you have probably seen this photo. But really, it is just so good it deserves to be shown over and over again. Everything on this table was so fresh you could not even smell any of that fishy seafood smell. Not even a hint of it. Hopefully we can repay the favour one day. I wonder how much they like their lamb and beef….
It was a great trip to the village though. We learned more about our family history and walked around the area to see how it has developed since the very first time we step foot there in 2000.
On our last full day there, we visited a few more must-do tourist attractions. First off, we went to Nanputuo Temple. I was so happy when we got there because we were greeted by this sight!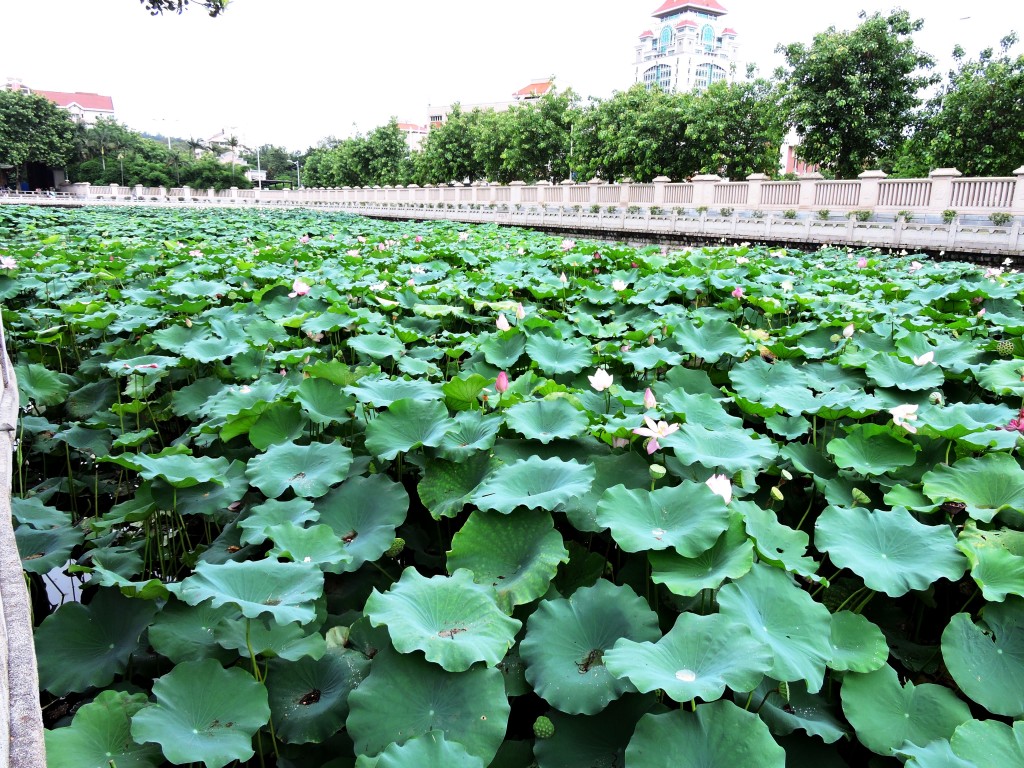 Lotus Lake starting to bloom!
Can you see the amount of Lotus plants in that lake!

I walked there so quickly that I left everyone else behind. This photo doesn't even do it justice. It was magnificent. I could have sat there all day but no…we were to go on an unplanned hike up the hill behind the temple. It was hot and steep and I wanted to shoot myself for agreeing to it. We only got to midpoint but the view was pretty worth it.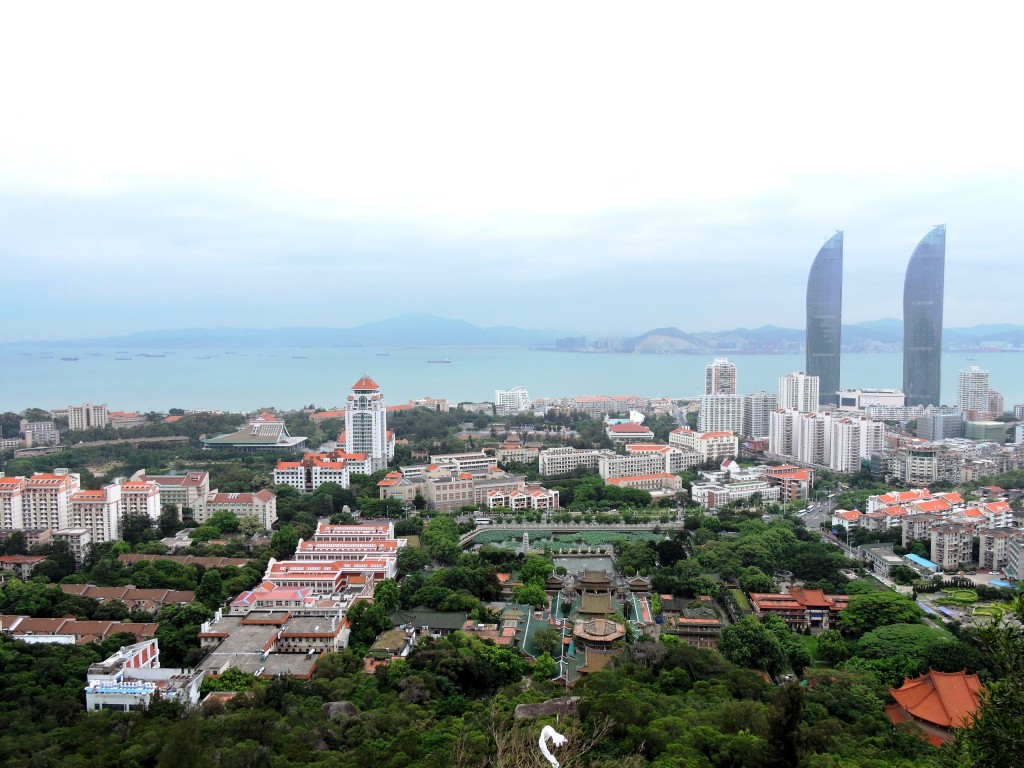 Can you see the size of the lotus lake?!
After this we visited the historic Hulishan Fortress. It was pretty impressive especially if you are into your wartime history. There were a whole lot of cannons there but the highlight of this place was…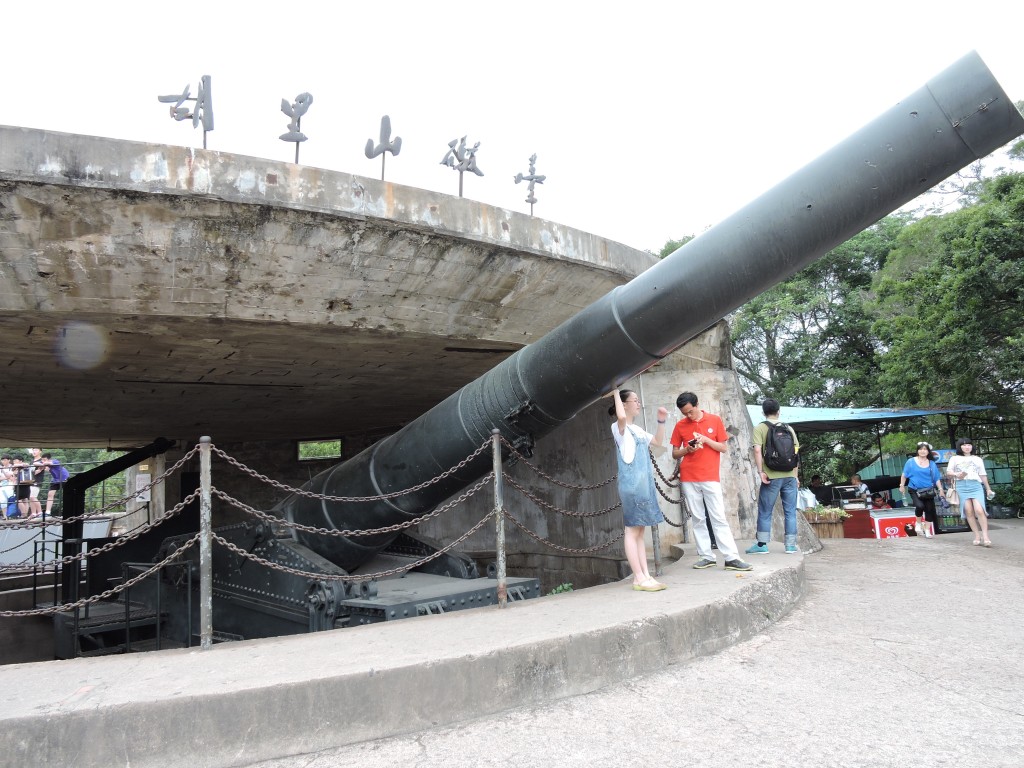 This gigantic Krupp cannon. It was built in the late Qing dynasty and lets just say nobody would ever want to be on the receiving end of this powerhouse. Not a wonder they won so may wars, I'd surrender if I saw this from afar.
That night we had our last dinner there

goodbye freshest seafood I'll ever have. The rellies came and took us out for tea. We had lots of different seafood including these odd looking things.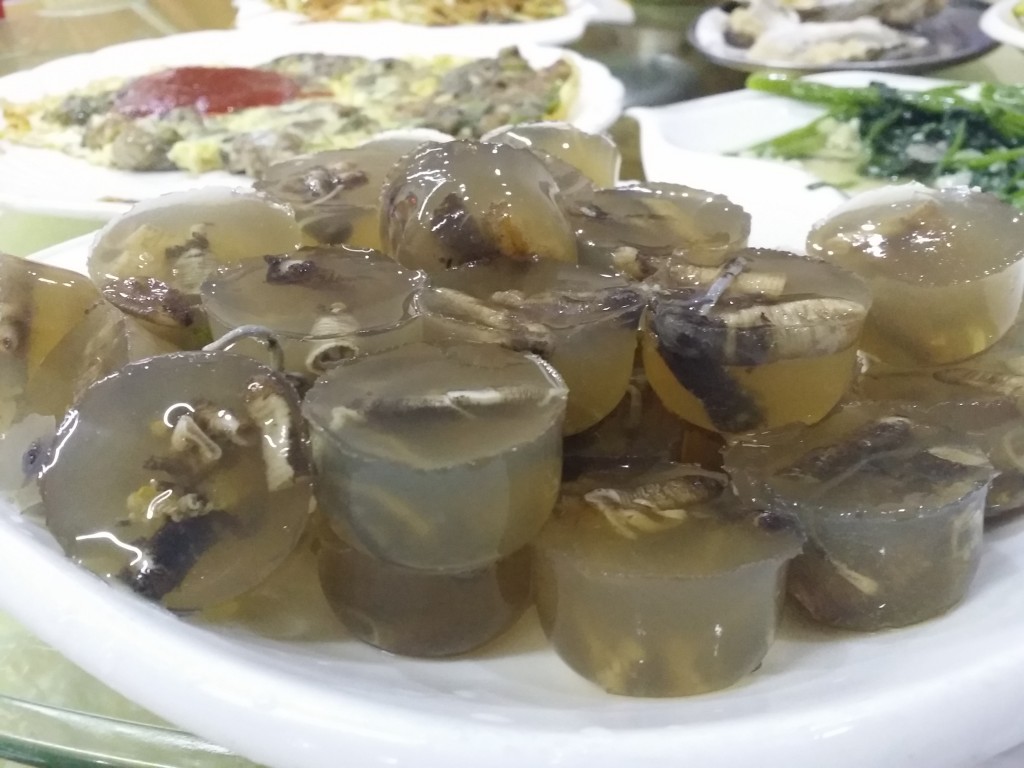 According to the menu, it is called 'shoots frozen soil' lol. I kid you not! But honestly I think it is some form of clam similar to the bamboo clam or something of the like. It looks weird but it tastes pretty good. But then again I eat just about anything…if you ask M he may tell you a different story.
They also ordered these prawns that were extremely sweet but a bitch to peel.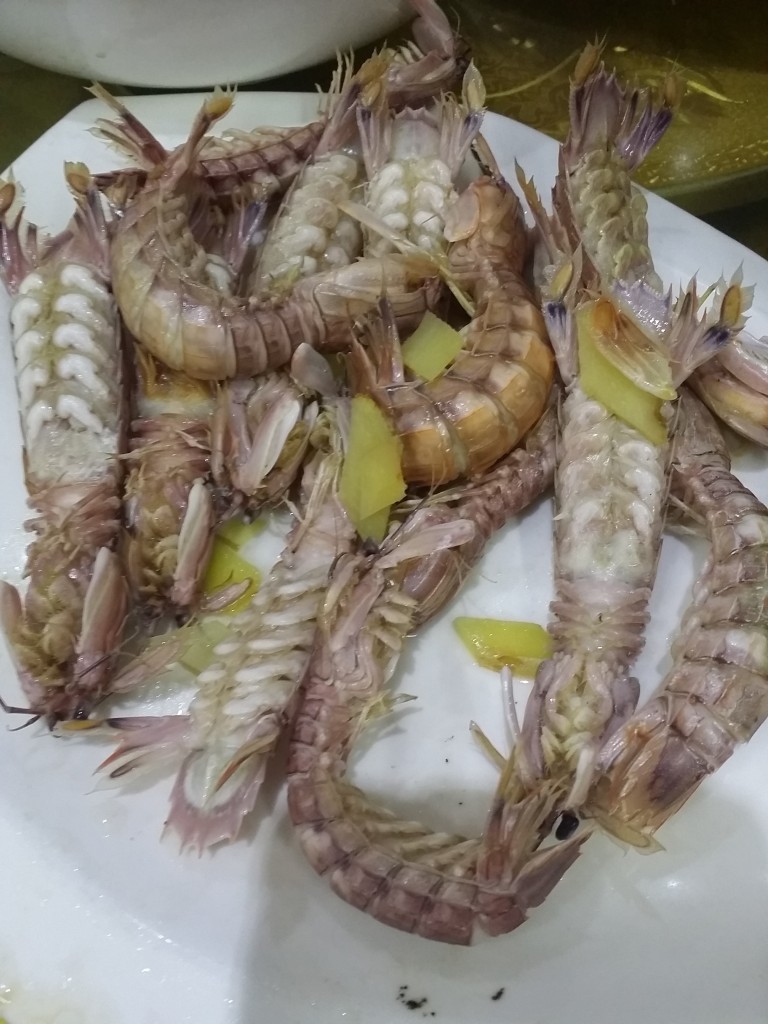 Sadistic prawn that cut me as I peeled them.
And before we knew it, our trip had ended. We bought lots of souvenirs though – all food related

. For some reason their specialty produce is very similar to Taiwan where you get baked pineapple tarts, mochi, nougats, dried meats, dried seafood and a variety of cakes. If you like, you can also get these…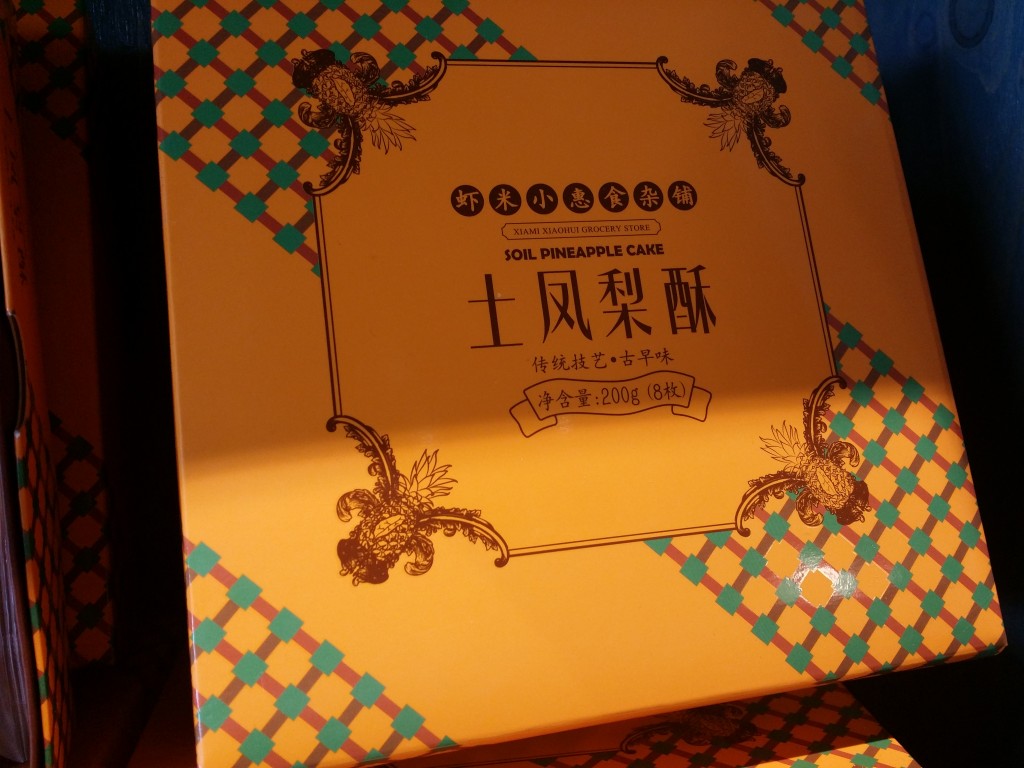 Tee hee. Some good translating skills right there….but really I think they mean to say organic pineapple cake. All the souvenirs have really nice packaging by the way. Makes it so much easier to gift! If you buy lots, they even pack it up into a box for you so that you can check it in. Now that is what I call customer service.
So there we go – a very rough look at our trip to Xiamen. What do you think? Would you want to visit Xiamen after reading this? Have you visited and think I've missed out on seeing something important? Let me know by dropping a comment below in my spanking new comment section

.
I will probably be writing another 3 posts or so about the various places we went to. Stay tuned for the next one!
P/s: Or if you like, you can subscribe to receive a monthly newsletter so that you can keep up to date with my tales

#plugging #noshame #teehee.
Activities, China, Chinese, Culture, delicious, Family, M, Seafood, Sightseeing, Travel, Xiamen