National Parks in Nelson/Tasman
Hello! Work has been absolutely mental with the lead up to Christmas. Everyone wants to get things done in a hurry. Only 1 more month to Christmas break and 2 more months to Malaysia!

Anyway, I thought I'd finally get around to writing about more activities that we have done since moving here. Last time I wrote about activities that were closer to Nelson City itself but today I thought we venture a bit further and cover the National Parks. There are 3 National Parks within the region – Kahurangi, Nelson Lakes and Abel Tasman. All extremely beautiful and definitely worth a visit if you are after adventure, fun and insta-worthy photographs.
1. Kahurangi National Park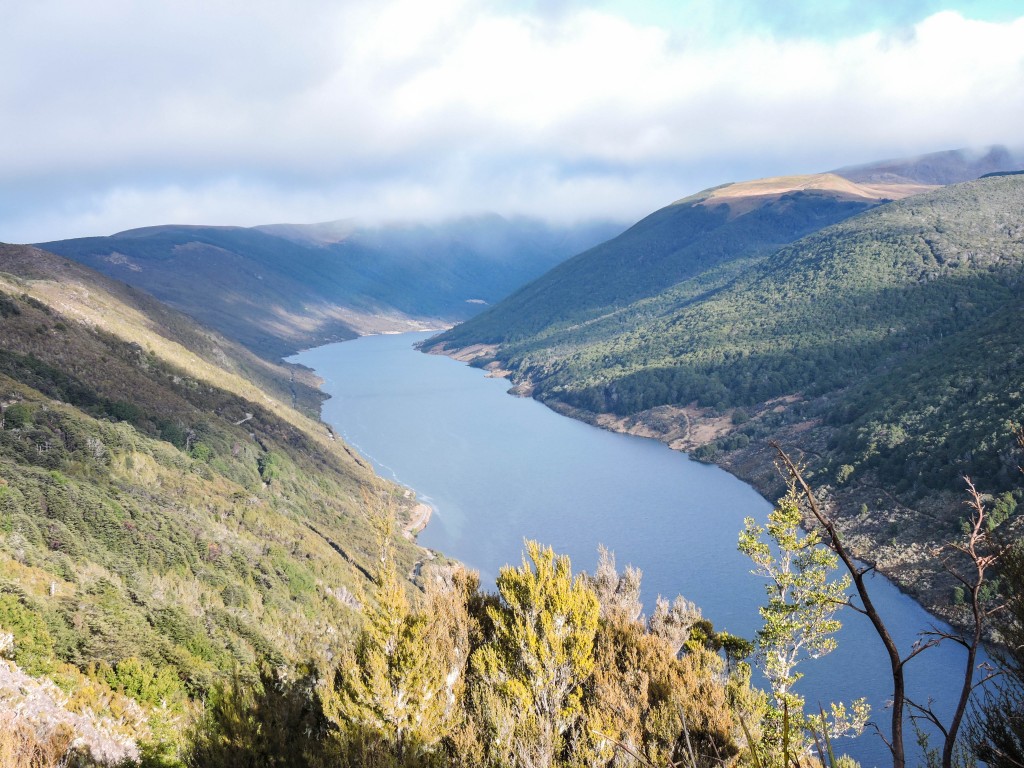 Well ain't that a beaut. This is a picture of the Cobb Reservoir which is located in Cobb Valley at Kahurangi National Park. The road to Cobb Valley is pretty narrow and windy. So travel with care and definitely check with DOC (Department of Conservation) before heading there. It closes quite a bit during winter time especially. Access if via the Golden Bay end of the park which is about 1.5 hours drive from Nelson City depending on your confidence level of driving up the very windy Takaka Hill. From there it is about another hour or so drive to get to Cobb Valley.
There are a range of multi-day tramps and short tracks to choose from. To get to the Lake Sylvester track, it is a short drive towards the dam end of the reservoir which opens to a carpark. This track isn't too difficult and is perfect for beginners. There are points where is it quite an uphill battle but the views at the top are well worth it.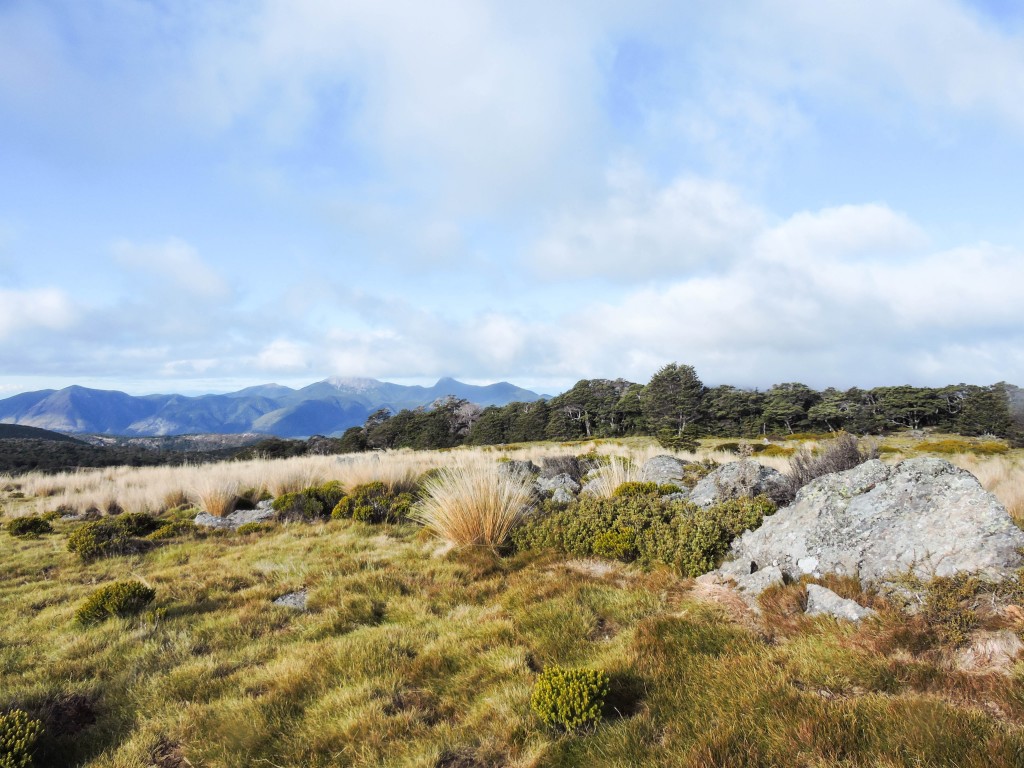 Beautiful plains when you get to the top. There is actually a hut here and would be a beautiful place to stay overnight. We went there in early winter and it was pretty cold! The weather also could not make it's mind up. One minute it was beautiful blue skies and the next it looked like this: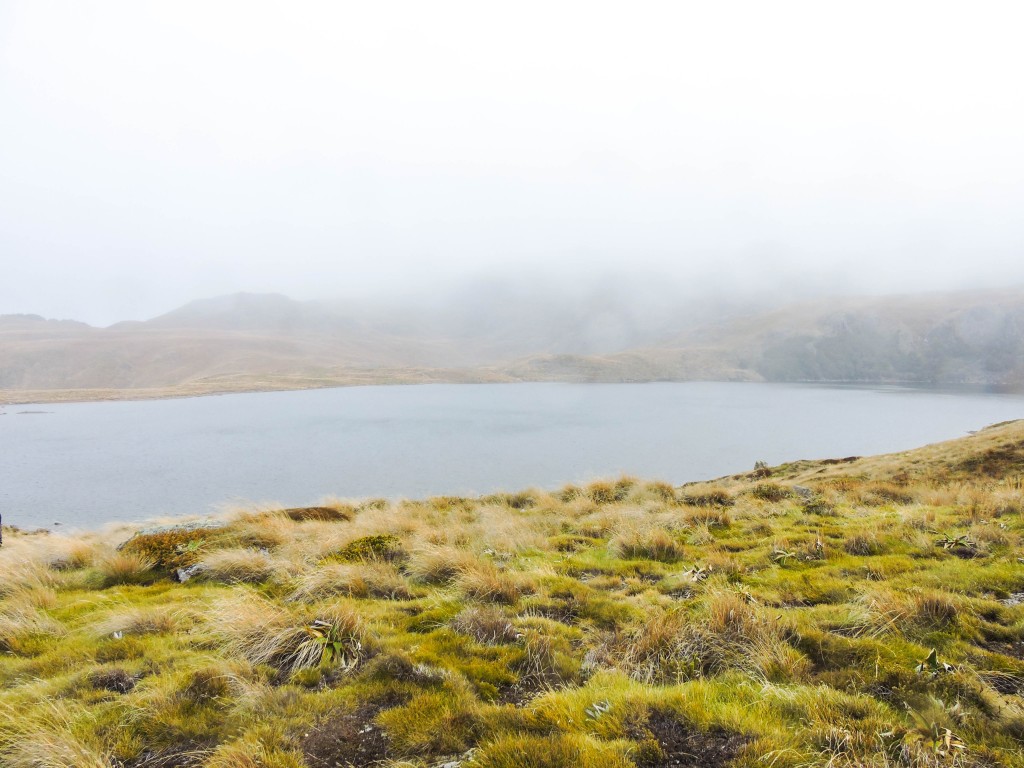 this is Lake Sylvester by the way. It was actually very beautiful and I'd imagine it be a lovely place to swim. But when we were there I was close to becoming a block of ice. All in all, it is a pretty good trip to do as a beginner.
Another track that I have done in this park is a small section of the Tableland Circuit track to Salisbury Lodge. Access to the section I did is via the Flora Hut Carpark. It is also the same starting point for the walk up Mount Arthur, which I have yet to do. Drive time for Nelson is about the same except that you don't drive through windy Takaka Hill but instead, drive through picturesque Moutere and it's many wineries to get there. It will still take about 1.5 hours to get there but that includes driving up to the car park itself.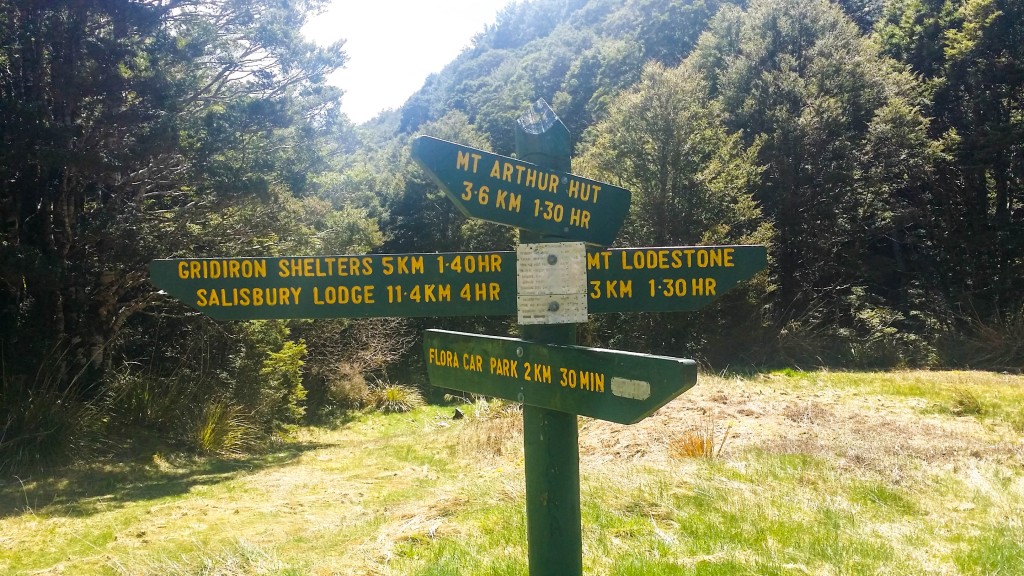 This was my first big walk which required an overnight stay. It was quite the experience. The first few hours I was happy as larry but by the end of it…..

. The start was pretty much a 4wd drive track and mostly downhill so that was easy to navigate. When we got to the end, I had begun to develop blisters and it was uphill through a pretty much forest track which was really muddy. The main takeaways I learnt from this trip were:
Always have good hiking socks and blistex handy.
Do not wear new shoes for the first time for a big hike.
It is amazing what I can do when KFC is used as a bribe (sigh, I am truly a fat person).
We did see some pretty cool things along the way though. The Gridiron shelters were really cool. It is a section of the track which used to be a settlement area of sorts. Some are now huts like the one below.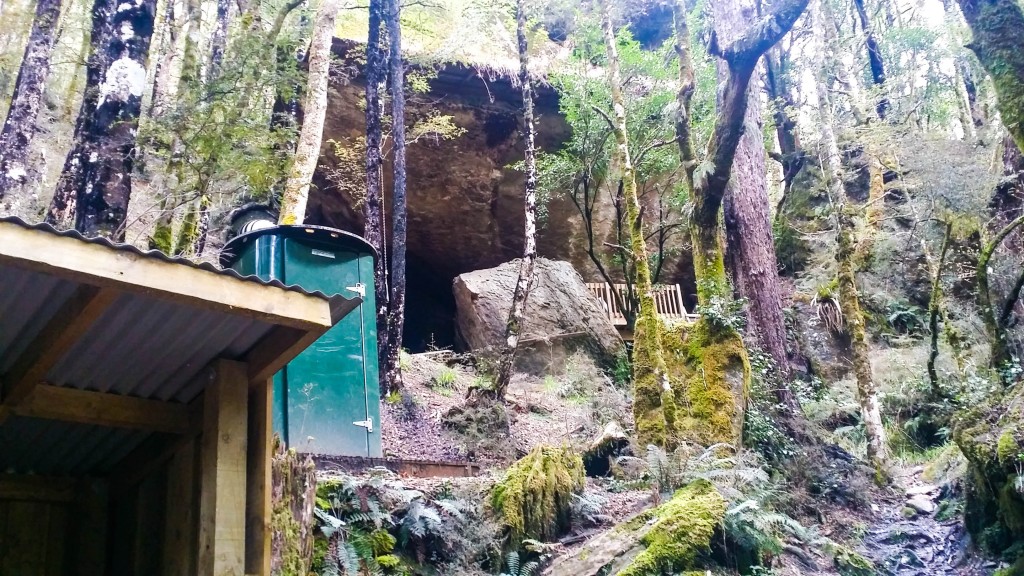 If you are wondering where the hut it, erm it is basically a mattress under that gigantic rock. Yea, talk about roughing it. Definitely worth check it out. Not so sure about sleeping here though. Pretty sure all your food will be foraged by the Wekas as your sleep! Another highlight of this trip was seeing a Kea. It got quite upset and flew away quite indignantly as I nearly kicked it. No photos of it as I got a shock when I saw a flurry of red and green feather appear right in front of my face with flapping noises. We did however silently watch as it landed on a nearby tree.
As you approach the end of the track after what seems like hours in a forest, you will reach an opening of beautiful golden spear-grass.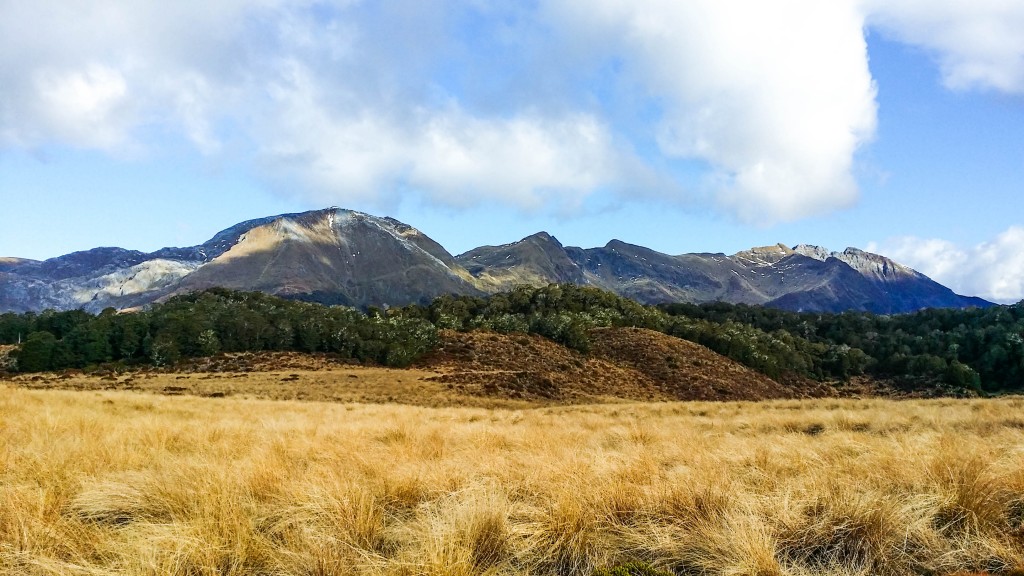 No photos of the lodge but it is indeed a very nice lodge with full facilities. It is quite popular though. We went there at the end of spring and it was a full hut. So make sure you get your hut pass and be prepared to rough it if necessary.
It was a good experience. Can't say I enjoyed it 100% cause I was about to keel over walking back the next day due to the painful blisters. I would do it again but definitely be more prepared !
2. Nelson Lakes National Park
I have not visited this park much to be honest. I plan to do some tracks here soon though! Our goal track is currently too difficult for me so we are saving it for when I er…finally build up my fitness level. Also it is very very busy in Summer!
Nelson Lakes is about 1.5 hours south of Nelson – great stop if you are on your way down to Christchurch! It is extremely popular with tourists and locals alike. There is a ski-field in the area as well. The local township, St Arnaud's is a popular holiday destination during the winter when it becomes a winter wonderland. If you ever stop there I recommend going to the gas station/cafe. The pies there are amazing.
Anywho! Back to the lakes. So there are two lakes that we went to – one is the extremely popular Lake Rotoiti which is literally at the doorstep of St Arnaud.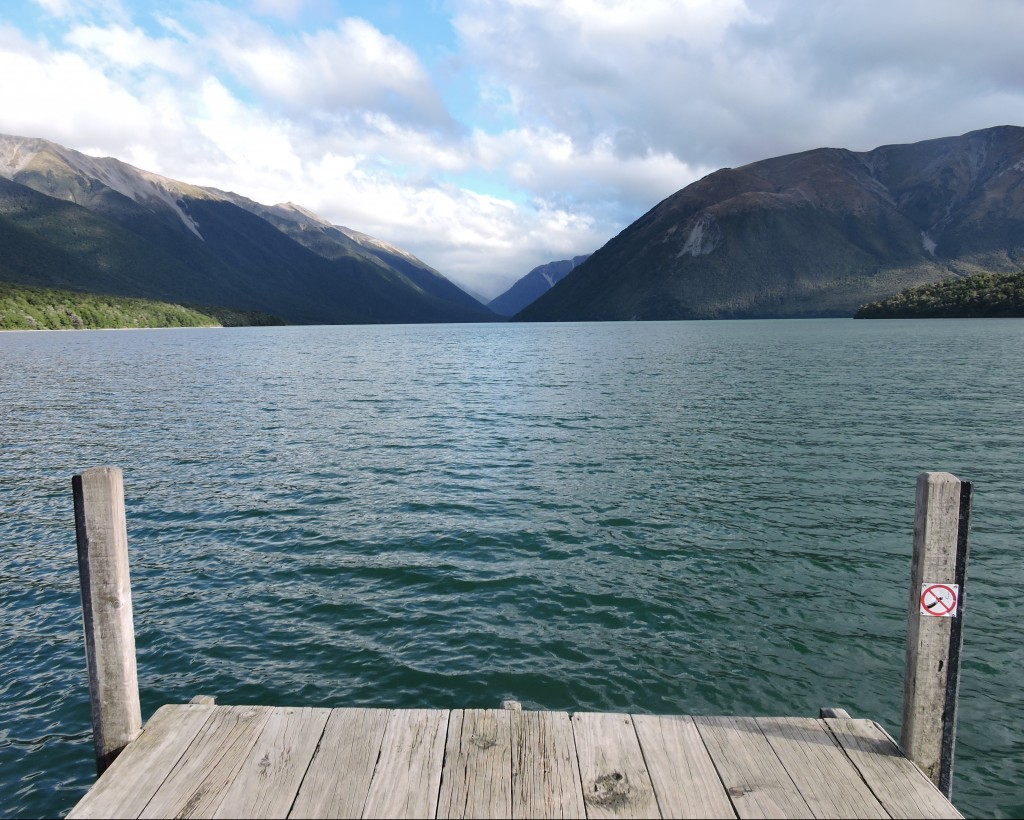 Very very pretty here and it definitely explains why this place is extremely popular. You will see tourists swarming this jetty for their Instagram shots – in fact, I am pretty sure this is on of the must take Instagram photos whilst in NZ. The calm waters look deceiving… not sure if you are able to swim in it but once you take a good look at what is in there, you'd probably think twice.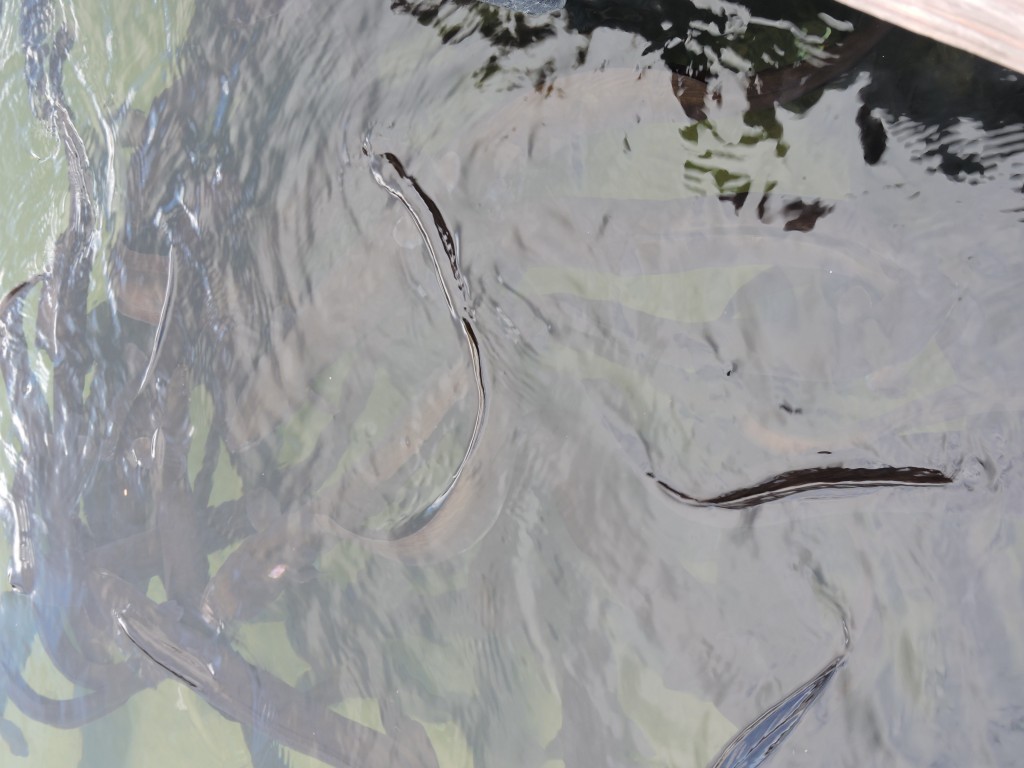 I saw these eels swarming over bacon and er…I don't think I'll be getting into the water with them anytime soon. Mind you, they probably scatter and be afraid of me instead but knowing what they are capable of there is no way I'll go for a swim near this jetty area.
We also visited the other lake in the area – Lake Rotoraoa. This one is a tad further south and is less popular with the tourists.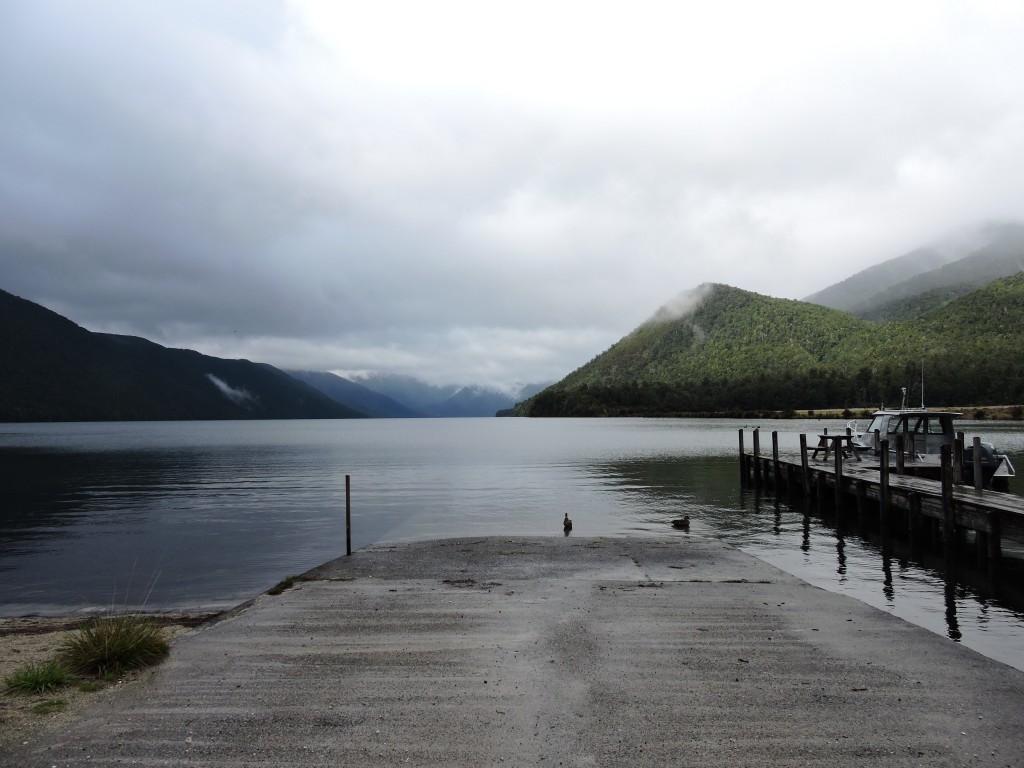 It was also very beautiful and picturesque – a lot more untouched in comparison to Rotoiti. However behind this calm illusion is an army of sand-flies! It was insane. We had the car doors opened for a few minutes before we realized and our car was infested with them

My advice for coming here, do not exit the car unless you have a high tolerance for sand-fly bites or an extremely powerful insect repellent. Huh, now we know why it is looks so untouched . Needless to say we didn't stay very long there.
3. Abel Tasman National Park
Now this here, is definitely a Summer must do if you are in the region. Every single spot is simply amazing and it is so so easy to get to! You have quite a few options going there – by car or by boat. We have done both but it is highly dependent on what you want to achieve as the entire track is very long.
If you plan to do the start of the track or have access to a car you can access the start of the park via Marahau which is slightly under an hours drive from Nelson. For boat access to further parts of the track such as the public owned Awaroa beach, a quick and economical way to get there is by buying water shuttle tickets from the many providers at Kaiteriteri! You can pre-book these water shuttles online or buy them at the I-site in Nelson. Kaiteriteri is only about 45 minutes from Nelson. If you do not have a car there are also plenty of shuttle buses that go to Kaiteriteri or Marahau from Nelson City.
So far we have done 2 trips there as it is a great place for day walks. We have walked from Marahau to Apple Tree Bay.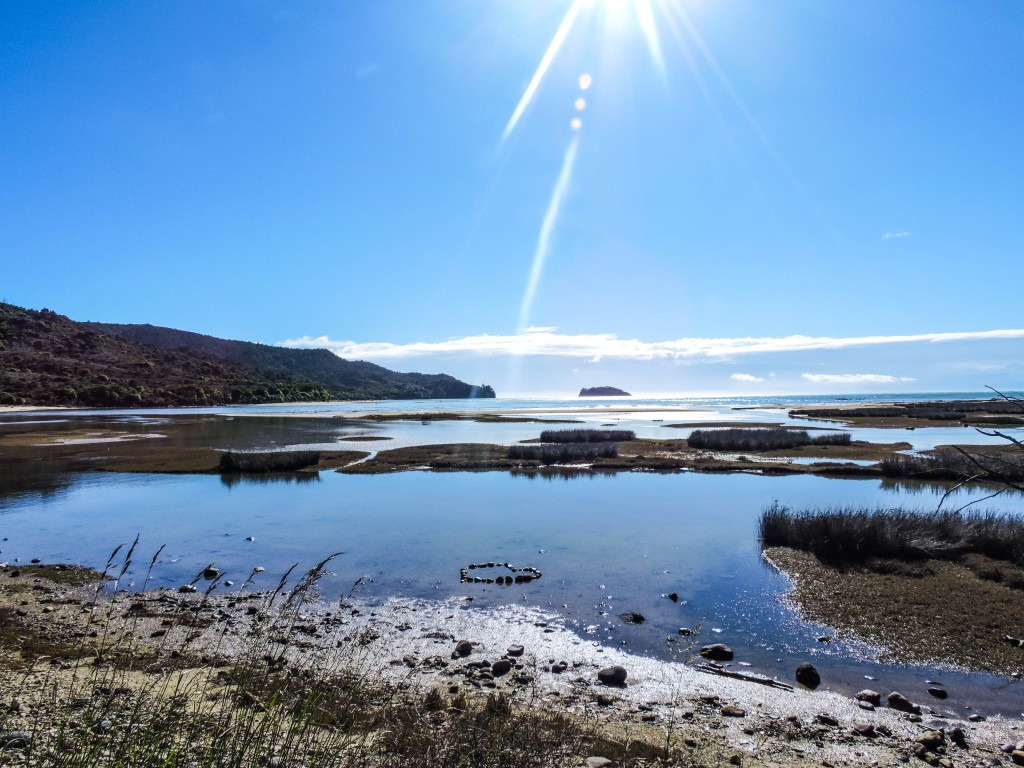 This photo was taken at Marahau. It definitely helps if you were there on a beautiful day. The track is really well maintained and is considered one of NZ's Great Walks.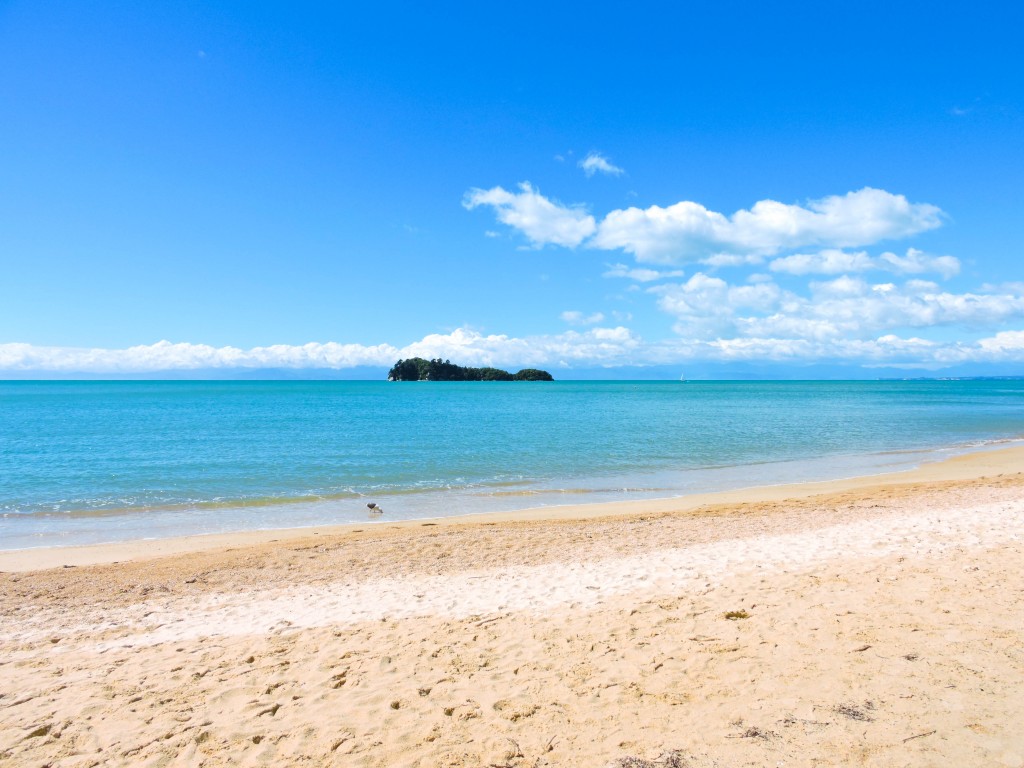 This is what greeted us at Apply Tree Bay – ya, definitely prepare to be amazed. I didn't even have to put a filter on it to make it look like this, hand on my heart. The amazing clear blue water, blue sky and golden sand is definitely enough to put anyone into holiday mode in an instant. From the start it took us about 1.5 to 2 hours to get here.
Trip 2 to Abel Tasman was by boat. Here is good tip for those looking to do a day trip there – check Grabone for deals. We got half price tickets ($40 each) from Wilson's Abel Tasman which allowed us to go on a couple of trip options. Initially we wanted to go to Awaroa but due to weather conditions, they gave us the option of choosing one of their other trips. In the end we chose to go on their Great Day Out trip which involved a boat ride from Kaiteriteri to Totaranui (end of track), drop off at Tonga Quarry where you then walk to Medlands Beach to be picked up at the end of the day.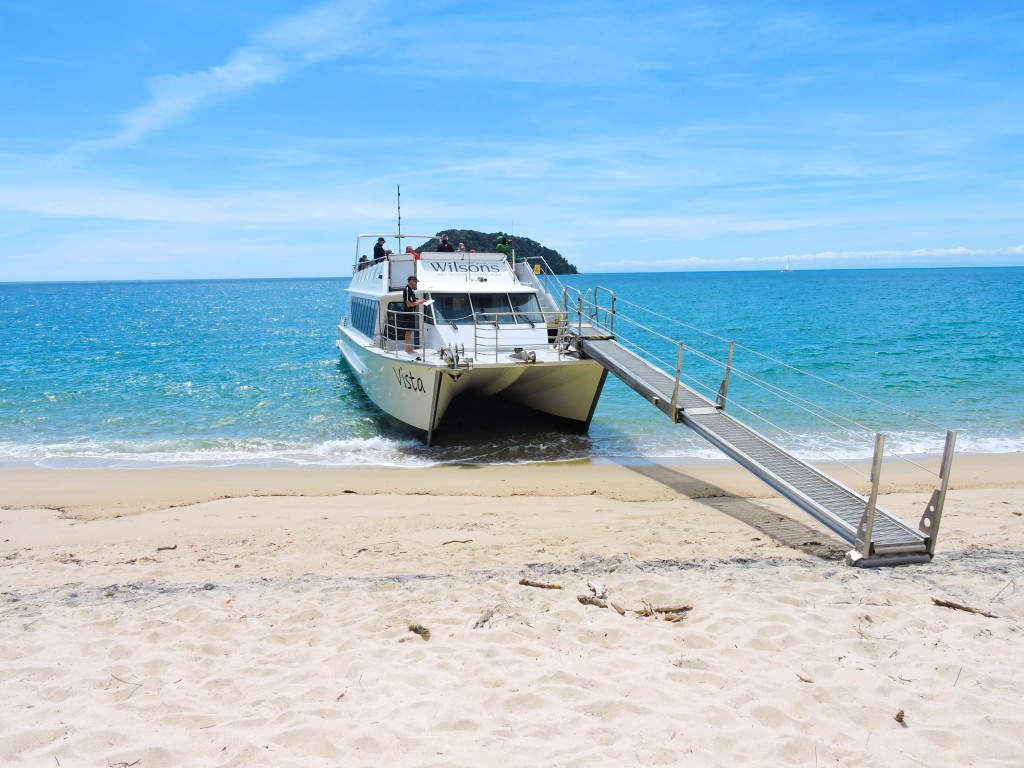 This was the boat we used. It is a pretty decent sized boat but I apparently do not have sea legs of any kind cause I was sick for the whole 1.5 hour journey on the boat. Yes, the boat ride from Kaiteriteri to Tonga Quarry was 1.5 hours including the journey out to Totaranui. The snippets which I did see were very picturesque and I did manage to lift my head up to see the seals at Tonga Island before promptly sleeping my way through the rest of the ride. I was very happy to get off the boat when we did arrive at Tonga Quarry.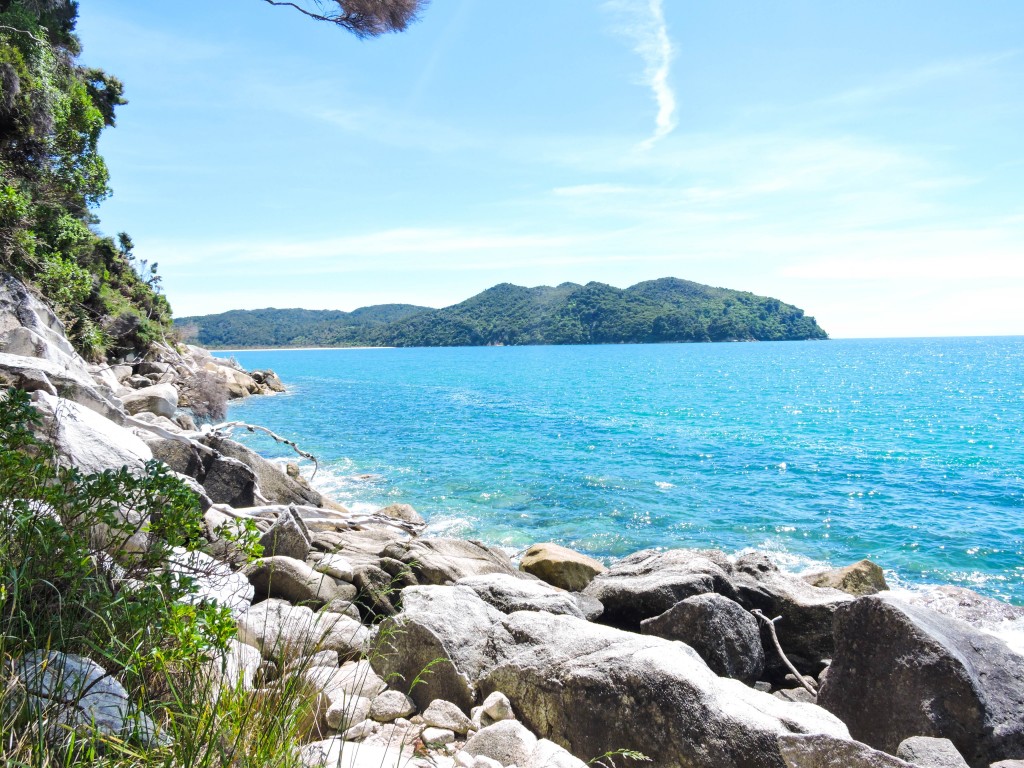 Explored the rocky area around Tonga Quarry Beach before we started our walk to Medlands. Well…the boys explored. I just took photos after climbing a certain distance.
The walk from here to Medlands was about 2 hours. It starts uphill over a saddle and is pretty easy after that. When you are in the saddle it is pretty crap in comparison to the beautiful beach you just left. But as you exit the forest and descend to Barks Bay it is so worth it. We stopped at Barks Bay campsite for lunch and boy was it crowded! So after a quick bite we very quickly made our way to Medlands Beach – just a short 10 minutes away to wait for our pick up.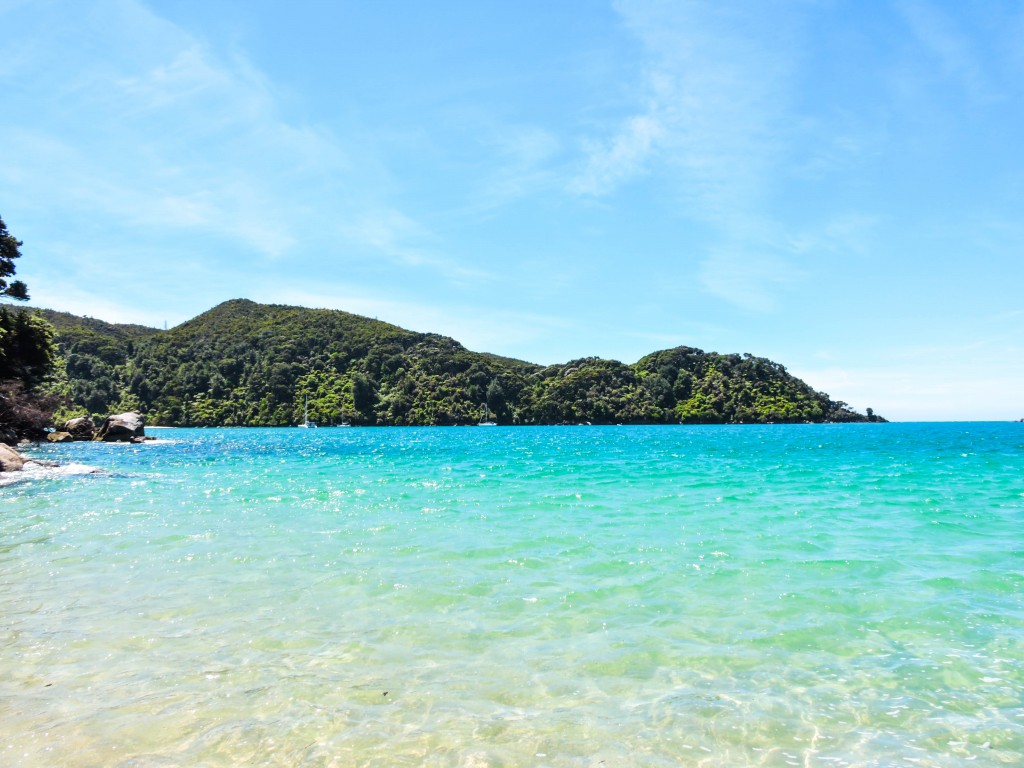 As if this place was not beautiful enough already, this is the sight I was greeted with at Medlands Beach

. Look at that colour gradient. Does it not look like paradise? It was so so pretty and inviting that I had to test out the water – it was heaven for my weary legs as it was a scorching day. I did not bring my togs so I guess I will just have to go back there one day with togs to take a swim here. So yes, definitely bring your togs if you love the water! I definitely recommend visiting this park during the warmer months despite the influx of visitors otherwise, I think the purpose is slightly defeated.
So yes, there is a short overview of what I've done in the national parks over the past year. I still have lots of exploring to do but as you can see, each park is different in its own way and worth a visit. But if I had to choose a favourite it would definitely be Abel Tasman National Park. Even if you are short on time, it would be a crime to overlook going to this park! With its easy walks this is definitely a park suitable for all ages. Anywho, it is getting a tad late. Let me know if you have a favourite walk at any of these parks, would be keen to go there too! Till next time