Sarawak Kolo Mee Recipe
I am so excited to be sharing this post with all of you today! As the title states, I am finally sharing my Kolo Mee recipe!! This is the stuff of dreams. I think it is safe to say that most Sarawakians' abroad crave this dish, miss it to the point that you dream of it. For those of you who live in a country where you can buy decent ready made Kolo Mee, I'm jealous of your good fortune. I happen to live in a city where this is not an option. So the only way for me to satisfy my craving is to make it from scratch; starting with the noodles.
I used my Joyoung Noodle maker to make the noodles. Here is a video of the noodle maker in action! I have also included some useful tips in there for those using a noodle maker as well.
Noodle maker with the ingredients and end product.
It took a lot of research for me to piece this together and I think the time spent was worth it. I read up a whole lot on how to make springy noodles and experimented heaps to get the perfect recipe. Not gonna lie, I cheated with the Char Siew (Honey BBQ Pork) by using Lee Kum Kee but heck; they make a good marinade and I don't mind cutting some corners to achieve my Kolo Mee goals. Perfecting Char Siew marinade from scratch would be one of my level-up's for this recipe. Right – enough of me talking and lets get noodling!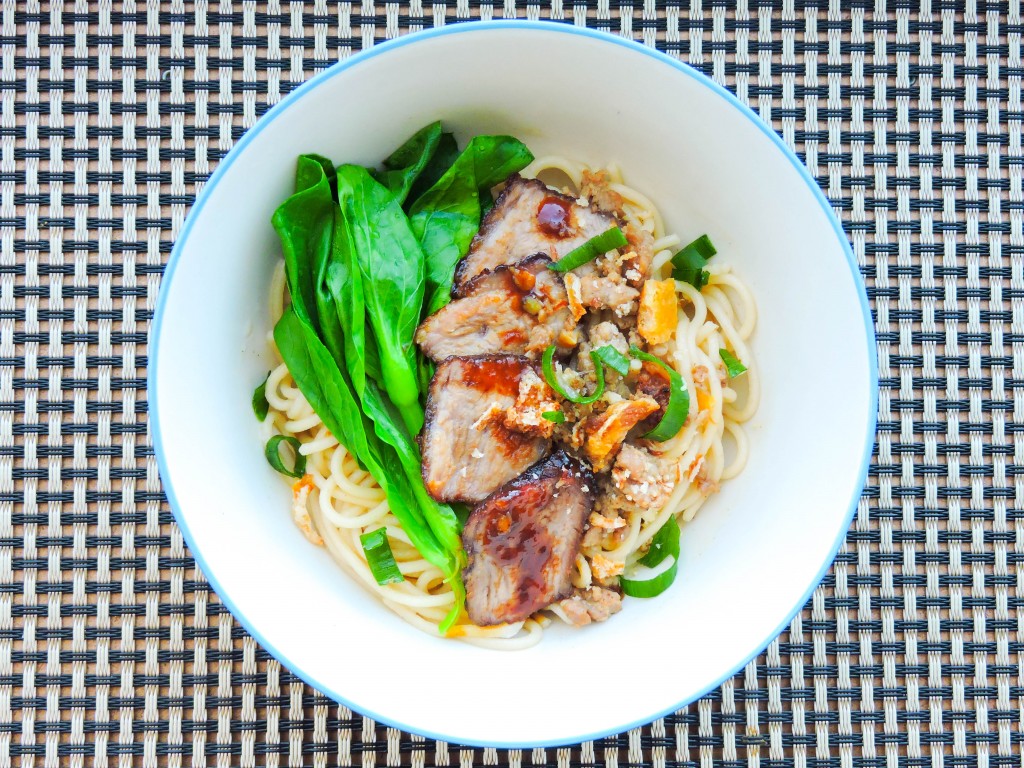 Sarawak Kolo Mee Recipe
2015-08-19 11:08:40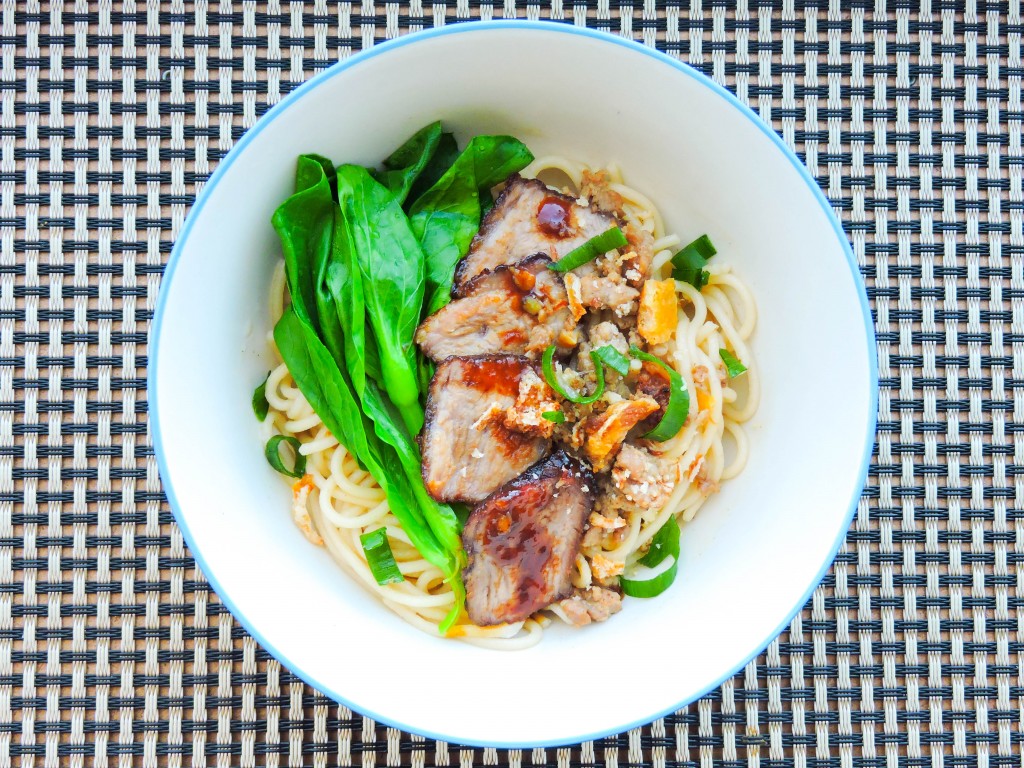 Noodles
3 cups plain flour
3 tbsp tapioca flour
1 egg
180ml water
1 tsp lye water aka Kansui (optional)
1 tsp salt
2 tsp cooking oil
Toppings
1 piece pork skin with fats (about half the size of A4 paper)
1 bunch spring onions
1 bunch cai sim/choi sum/pak choi
100g pork mince
3 cloves garlic
500g pork (I used pork butt but tenderloin or belly is fine)
5 tsp Lee Kum Kee Char Siu Sauce (some other brand or your own recipe will work too!)
3 shallots (more needed if smaller size)
1 tsp five spice powder
1 tsp + 2 tsp light soy sauce
1 tsp sesame oil
Cooking oil
Noodle sauce
Light soy sauce
Pork lard (rendered from pork skin above)
Shallot oil (made when frying shallots for toppings)
Salt
Pepper
Vinegar (black or white)
Mushroom or chicken stock powder
Part 1: Rendering lard oil + making 'bak eu'+ Shallot oil
Trim fat from the rind. Cut fat into smaller pieces.
Heat up a pan on low setting and add in 3 tsp of cooking oil.
Add trimmed fat to the pan.
It should start to sizzle and you will see the oil slowly build up in your pan. Stir occasionally.
When the lard pieces start to brown, allow to crisp further – should take another 15 to 20 minutes from here.
Once lard pieces are fully crisped and brown, remove from oil and allow excess to drip. This is your 'bak eu'.
Allow the oil rendered to cool down in the pan before transferring to a bowl/container.
Set lard oil and 'bak eu' aside.
Slice shallots finely and set aside.
Use the same pan (rinse first or use another pan) and heat up 1 cup of oil on medium heat.
Fry for about 10 minutes or until shallots are golden brown – stir frequently.
When ready, seperate shallot oil and fried shallots with a sieve. Set aside.
Set aside the still oily pan for later use.
Part 2: Preparing the Char Siew and Mince
Wash, pat dry and cut your pork of choice into half. I like my 'char siew' a pretty substantial size but if you prefer it thinner, cut into 4.
Place in a bowl.
Add Lee Kum Kee marinade. Mix well and set aside for at least 2 hours.
Place pork mince in a separate bowl.
Add in five spice powder, salt, pepper and sesame oil – mix well and set aside.
After 2 hours (or more) place the marinated pork into a roasting dish with a rack and chuck it into an oven preheated to 180°C.
Allow it to bake till fully dry (slightly charred is ok) on one side before turning it. Alternatively, you can BBQ the pork to get that real smokey flavour.
While the pork is baking, take that still oily pan from Part 1 and fry the mince till well done. You can add more light soy sauce to taste. Set aside.
When char siew is ready, remove from oven and aside till cool.
Once char siew is cooled down, slice it up to desired thickness and set aside.
Part 3: Making the noodles
If you do not have a noodle making machine, please refer here. I used this recipe and adapted it for the noodle maker.
Add flour, tapioca flour and salt into the machine.
In a separate bowl, add water, kansui, egg and oil – mix well.
Start machine on 'knead' cycle.
Once it starts spinning, add the liquid mixture slowly. Do not add before the machine start spinning! The liquid mixture will just pull at the bottom if you do.
When the knead cycle is complete, allow the dough to rest for 20 minutes in the mixer.
At the end of the 20 minutes, prepare a tray at the outlet and some flour for dusting.
Start the 'extract' mode and prepare for magic.
As the noodles come out, lightly dust with flour to prevent sticking.
Form 'nest' portions according to your preference. When it reaches the size you like – break off the strands and start a new 'nest'.
Repeat till the 'extract' cycle ends.
The addition of kansui is optional. I find that the noodles work well without it too. While it does make the noodle more springy, it also give is a different smell from the usual kolo mee.
Part 4: Cooking time!
Place 2 pots of water to boil.
Set out eating bowls and start making the noodle sauce (refer to the 'Noodle Sauce' list).
To make the sauce, add 1 tsp of light soy sauce, shallot oil and pork lard into the eating bowl.
The add a pinch of pepper, salt, chicken/mushroom stock and a dash of vinegar.
Combine the mixture and set aside.
Prepare a bowl of cold water. Set aside.
The water in the pots should be boiling by now. With one pot, blanch the washed choi sum/pak choi by adding it to the boiling water, turning off the heat and removing from the pot after 2 minutes. Set aside to cool.
In the other pot, take one portion of your noodles and place it into the pot of boiling water. Allow noodles to cook for at least 3 minutes, stirring occasionally.
When 3 minutes is up do a strand test by tasting it.
If noodles are cooked, remove it from boiling water and immediately dunk into the bowl of ice water prepared earlier. This is to remove the excess flour and help retain the springy texture.
Once you are done rinsing noodles in cold water, dunk it back into the boiling water for 30 seconds.
After 30 seconds, remove it from the water and add to the eating bowl with noodle sauce prepared earlier. Mix thoroughly.
Top noodles with a few pieces of char siew, choi sum, fried shallots, bak eu and mince. You may also add chopped spring onions if desired.
Serve and devour.
Repeat steps 8 to 14 until all portions you require are cooked. If water becomes thick and gunky, you will have to tip it out and boil a new pot of water.
Notes
The lard is what makes kolo mee awesome! Do not skip if possible. After all, you won't be eating this everyday. But if you really don't want these extra calories, substitute with oil of your choice. I've used olive oil before and it worked well.
You can add a few drops of red colouring if you would like to have the red char siew. I prefer to do without. The char siew oil is still as good though! So keep that stuff if you like 'kolo mee pang ang'.
You may add more vinegar if you like Black Vinegar Noodles aka 'Or Cor Mee'. If you want 'ang' noodles, add the leftover Char Siew sauce to taste.
Make extra noodles and freeze them in a snaplock bag for later use. The same goes for the shallot oil, lard oil, bak eu and crispy shallots - just make sure to store your extras in a leftover container
Adapted from Shoonyin Home Cooking
The Chai Ninja https://thechai.ninja/
And there you have it! Not too hard to make is it? I do admit that the process is long but there many shortcuts one can take. You can buy premade char siew, shallots, pork lard, shallot oil and bak eu – this will save you a wealth of time. If you are able to find fresh/dried kolo mee where you are, even better! This is the part that makes a bowl of kolo mee and this type of noodles are very difficult to find, which is why I decided to make it from scratch. Wantan mee, yee mee etc – they all don't cut it. I know that you can purchase dried kolo mee in Kuching but what happens when you run out?!?!
This recipe may not be perfect (yet) but it is better than anything else I can get here. I will update newer versions as I go along. But for now, here it its! Let me know how it goes if you try it. Better yet, if you have any tips and tricks, let me know by commenting below! Would love to learn how to make the best ever kolo mee at home. Till next time

.
Chinese, Culture, delicious, Kuching, Malaysian, Must Eats, Noodles, Sarawak