Scrambled eggs: 2 ways
Back with a simple recipe that should be in every person's recipe arsenal. Eggs are simply the best ingredient IMO. You can never cook them wrong and they taste great all the time. There are many, many ways to cook an egg but my personal favourite, the scrambled egg. I make 2 types of scrambled eggs very often. One is the milky Western version while is other is an Asian version that I often make for dinner.
There are many many reasons why I love scrambled eggs. Here are some of them:
They remind me of buffet breakfasts.
You can never ruin them by poor flipping skills etc – they are meant to be all mixed in!
You can jazz it up with any ingredients.
It goes with anything – from rice to bread.
It is so easy to make you can cook them half-asleep.
Every bite tastes like smooth eggy heaven.
It is an amazing comfort food.
It never fails to impress.
The list goes one but I think I'll stop here. I think you get the point. To me, scrambled eggs are the bees knees and I'm sure others out there feel the same. In fact I am writing this post because I had 2 friends who asked if I would write a post on how to make milky scrambled eggs. So here it is! Plus the Asian version if you are inclined to try it out

. Hope you enjoy it your scramble eggs as much as I do!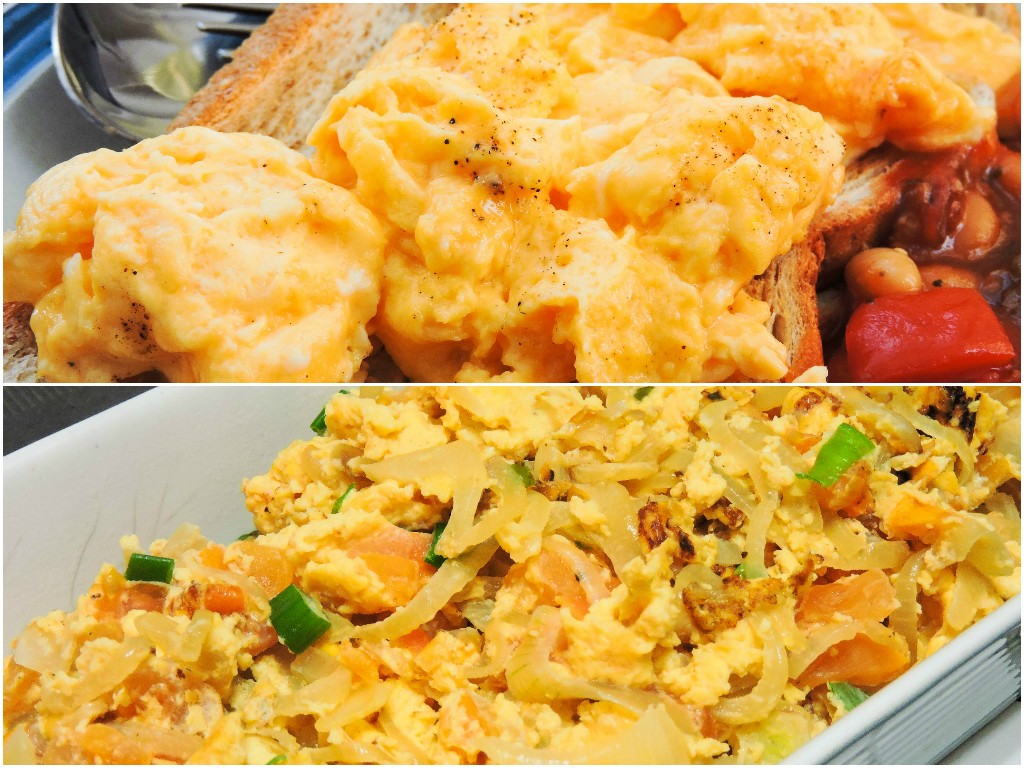 Scrambled Eggs: 2 Ways
2015-09-09 04:47:39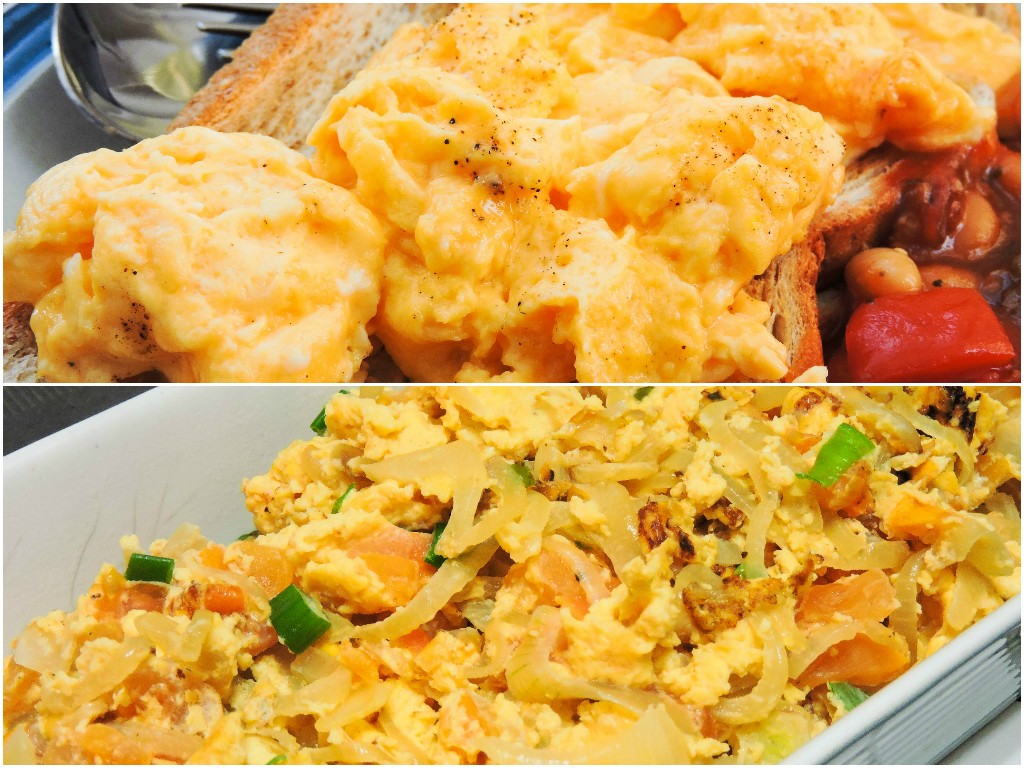 Scrambled eggs are so versatile. Soft velvety eggs for breakfast, whats not to want?Try the Asian version with rice for a quick and easy meal!
Western Scramble
2 eggs
3 tbsp milk
A knob of butter
salt and pepper to taste
Asian Scramble
2 eggs
2 tbsp water
1 tsp five spice powder
1 tsp sesame oil
Bunch of spring onions
1 medium sized tomato
1/2 medium sized onion
Cooking oil
Salt and pepper to taste
Western Scramble
Crack eggs into a small bowl.
Add milk into the bowl the use a whisk/fork to beat the milk and eggs together.
Once egg and milk mixture is thoroughly mixed, add some salt and pepper. Set aside.
Heat up a pan on low heat.
When pan is heated up, add butter and allow it to melt.
Once butter is completely melted, add egg mixture to the pan.
Swirl the mixture with melted butter around the pan, or use a spoon to stir it in.
Do not turn the heat up! Let the mixture set for a few minutes then stir it with a spoon again.
Repeat step 8 and you will start to see your scrambled eggs form!
If you prefer wet eggs, turn of the heat as soon as most eggs are cooked. For dryer eggs, continue cooking until correct consistency achieved.
Asian Scramble
Slice onions, spring onions and tomato. Set aside.
Crack eggs into a bowl and add water, five spice plus sesame oil in. Whisk together using a whisk/fork. Set aside.
Heat up a pan and add in cooking oil.
When oil is heated, fry sliced onions till translucent.
When onions are translucent, add in tomatoes and fry till tomatoes are soften.
Once tomatoes have soften, add in the egg mixture plus some salt and pepper to taste.
Stir everything together and fry till eggs are cooked.
Sprinkle on chopped spring onions, dish and serve.
Notes
Try jazzing up the Western Scramble with cheese, herbs or even some dried chili flakes!
For the Asian scramble, feel free to swap out the ingredients. Sometimes I used preserved turnip in place of tomatoes. Especially good combination with congee!
When making Western Scramble, it is essential to use LOW heat only in order to achieve that smooth milk texture.
The Chai Ninja https://thechai.ninja/
Affordable, Asian Fusion, delicious, Easy, Eggs, Fast Recipe