Shopping in Kuching, Sarawak: Part 2 – Suburban Malls
Back to the topic of shopping in Kuching. In Shopping in Kuching – Part 1, I touched on places to shop within the City Center. Today I am going to touch on the suburban malls. As Kuching continues to grow, the number of suburban malls are increasing exponentially. At present there are 3 massive malls being built, 2 of which are only 4km away from each other. It is ABSOLUTELY mental. But then again I am not going to complain because I LOVE SHOPPING. So here is a list of suburban malls that I frequent on a weekly basis – when I'm in Kuching that is. I expect this list to grow in the near future.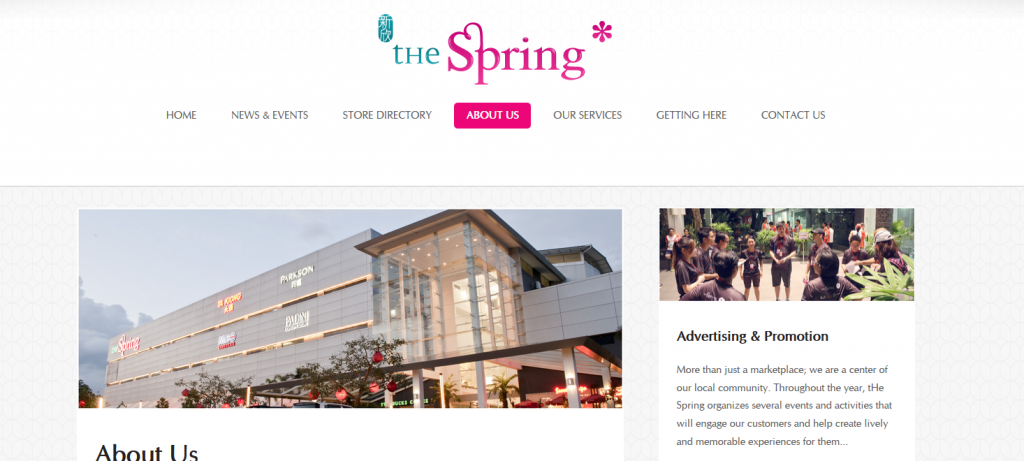 Here is a screenshot of their website. I never really thought of photographing the mall so this is as good as it's gonna get. Credits to The Spring for the above image.
I go to this mall almost every other day when I'm home. Why? Cause it has everything – also cause it is right on my doorstep. But in all seriousness this mall is by far one of the best malls in Kuching. Here is a list of reasons:
There is a good variety of stores.
Many 'one-and-only in Kuching' stores are located in this mall eg. H&M, Sephora etc.
The food selection is wide and decent.
Maintenance is kept to a pretty high standard.
The decorations they put up with the change of every festive season is a sight to behold.
The mall is really spacious and boasts a really simple design. This makes it easy to find your selected store as there are very few hidden nooks and crannies. You will definitely shop up a good sweat here – figuratively only, the air-conditioning here is pretty good. After shopping, if you are up for an adventure you could leave the mall for a bite to eat. Exit at the front entrance and you will see an overhead bridge. When you cross it, you will arrive at another mall called St3 (connected to Citadines Hotel). Sando Ramen serves a good bowl of ramen. If you are looking for something light, I would recommend the fluffy waffles sold at Dot Cafe. If you prefer to stay within the mall, the chicken rice and beef noodle stall at the food court are my recommendations.

Right, repeat of the above. Another screenshot from their website – credits to CityOne Megamall for the above image. See how the mall looks like the Bird Nest Stadium from the China Olympics? Let me show you a picture to compare.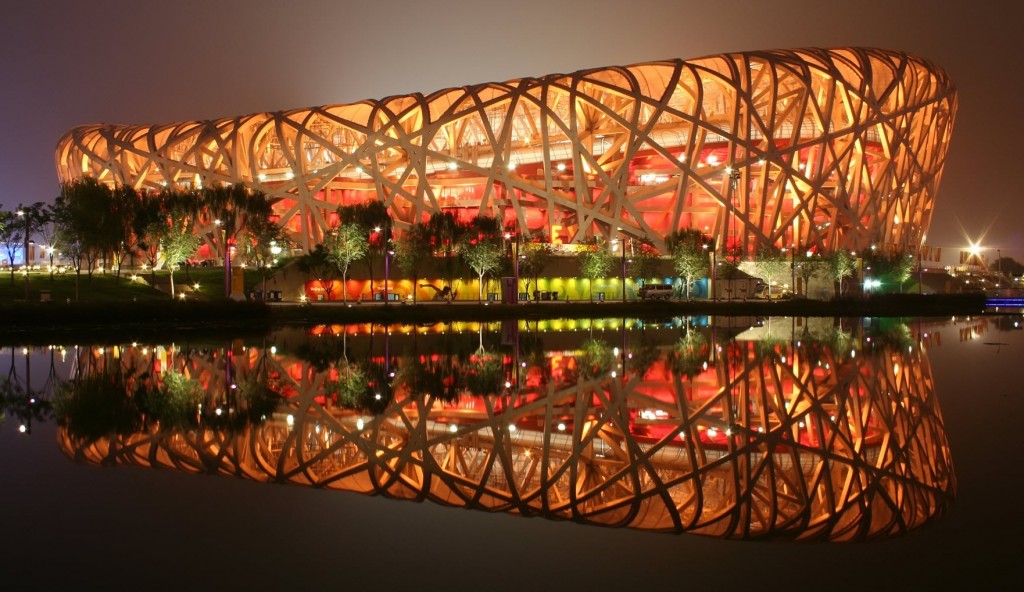 Thanks for the image Wikipedia.
Do you see the resemblance? No? Yes? Well when it was being constructed, word was that it is meant to resemble it…

. For me the main attraction of this mall is the fact that they have a different department store from other malls – Metrojaya. Many stores here also sell interesting knick knacks. If you are after phone cases, you will be spoilt for choice. Those after a haircut can try out Trendzcut Hair Studio. Yes, I have used them before and I must say that they do a good job for a great price. I am not being paid anything when I mention names of places to try. So any recommendations I make are made on my own account. There are also a number of activities to do here. This mall boasts the luxury of having an indoor archery range, laser tag arena, games arcade and a cinema. Great place to go if you have kids or people who do not like shopping tagging along. The shopping experience here is very different from the experience you will have at The Spring. If you are getting tired of the local coffee or Starbucks, this is your chance to get some decent coffee. Head to Earthlings Cafe which is located at the ground floor. The coffee here is really good as are the pies and cakes. For those who don't mind heading out of the mall, cross the road at the Jalan Song exit and head to Brighton Square. Here you will find Madam Tang's who are well known for their Laksa and Beef Noodles.
3. Boulevard Shopping Mall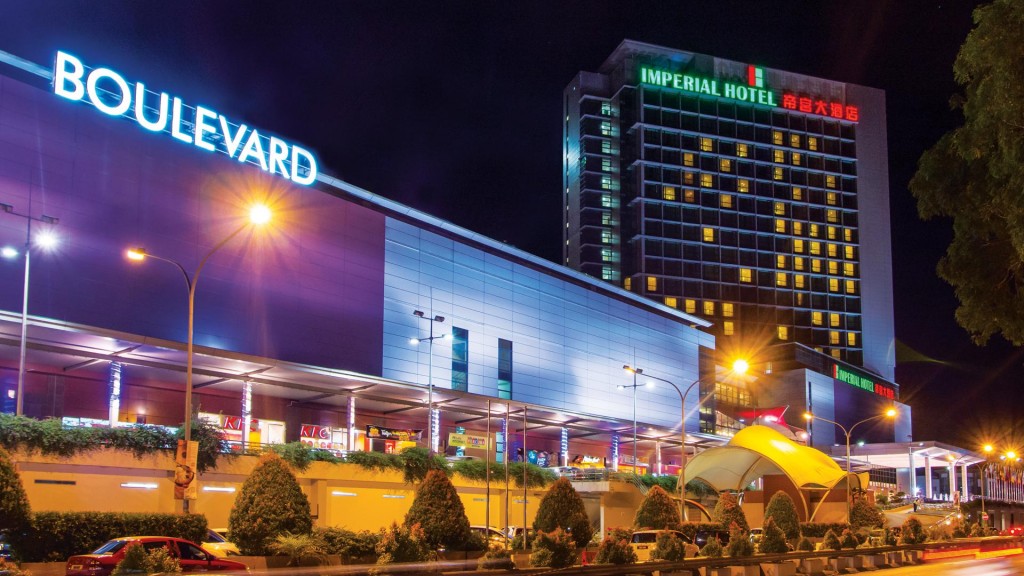 Credits to the Imperial Hotel for this photograph. Pretty sweet to have a hotel connected to a mall huh? Being so close to the airport means that it is great for transit visitors as well! But for those who are just looking to shop (like me), this mall is pretty different. You won't see any high end stores here. In fact, a large chunk of the mall is owned and operated by Boulevard Mall themselves.
It boasts a hypermarket and its own 'city'. The combination of these two mega-stores means that Boulevard sells ANYTHING and EVERYTHING you could ever want for a lower price. To top that off, Kuching's only Daiso is located in this mall! Daiso is a Japanese chain where everything costs RM5.0o – well RM 5.30 including GST. What I'm basically saying is that this mall is a bargain hunter's dream. Or if you look at it from M's POV- a hoarder's dream. While you get great buys at the other malls mentioned above, the experience is different due to the selection and types of products on offer. I could spend hours browsing the generous selection of items on offer

.
Oh, the Yum Cha at the restaurant is also pretty decent. I am not sure of the name but it is located on the same floor as Ajiten Ramen. But who has time for food where there is so much shopping to do!?
Right. I'll stop myself there before you all think I'm mad

. But there you have it. Three malls in Kuching that provide different experiences for their shoppers. There are of course many other malls to visit and if you have time, you should! Just to give you a rough guide I plotted this map below :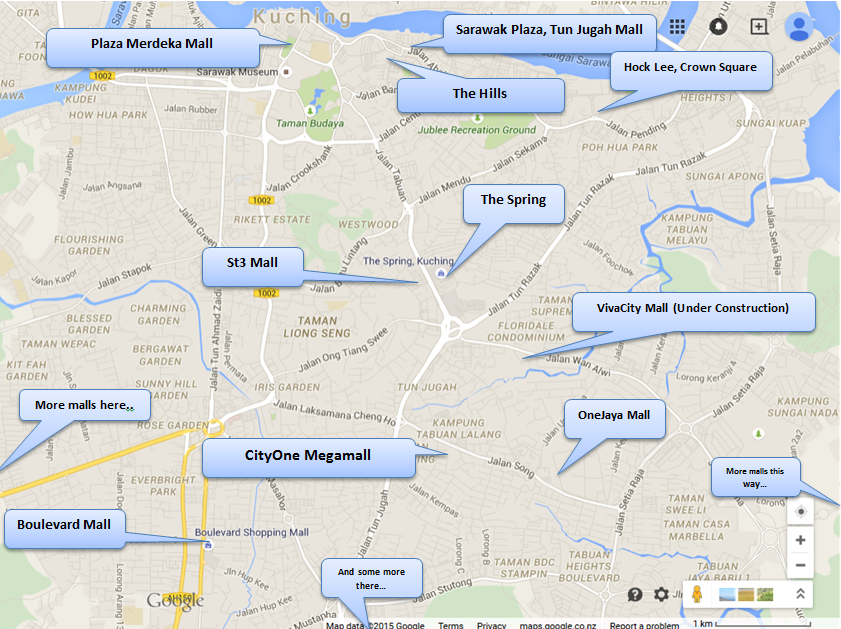 I think I missed out some malls, but you get my point ae? So yea, don't just take my word for it because every person have different perspectives as to what makes a shopping mall good. Explore and let me know which are your favourites!