Sightseeing and Activities to do in Kuching, Sarawak: Part 2 – Museums
Back with Part 2 today! If you haven't read it, here is Part 1.
Today I will be covering 2 museums. There are other museums in Kuching but these are the those that we visited. The Textile Museum was closed when we were around and the Cat Museum….er, creeps me out . Statues and figurines of cats packed together in a relatively small space….*shivers*.
Anywho, moving on!
1. Sarawak State Museum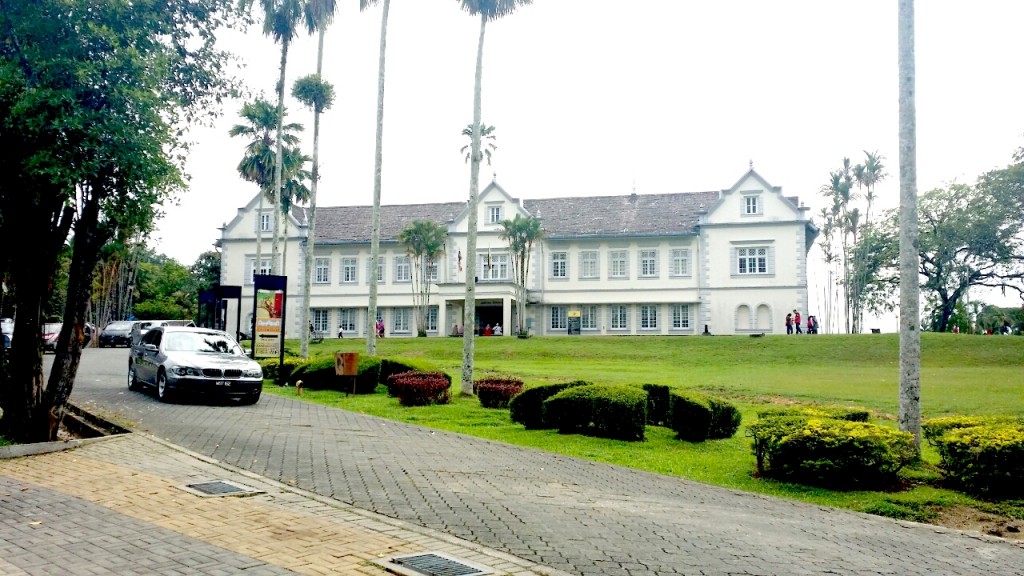 OK, listen up! If you have rented a car or have drove here, park at Plaza Merdeka Shopping Mall (shop a little) and walk over. It is fairly near (just across Padang Merdeka) and even though you have to pay a parking fee, it is so so worth it. The carpark here is tiny. We went during the working week, early in the morning hoping that there will be less people hence more available parking lots. Alas we were mistaken. The carpark probably had a grand total of 15 lots. Even with the addition of illegal parallel parking, there simply were not enough spaces. I am sure the anxiety I suffered to prevent scrapping others and my own car, aged me by 20 years at the least. If you do not wish to suffer this fate, take heed.
It is an impressive structure and fairly maintained. However, having visited museums in other countries I have to say I was a little let down by it. For a country with so much history the collection could be better maintained and explained. That said, there were some renovation works happening when we visited which may have resulted in the haphazardness of the collection. I hope that it is now a much more glorious museum as it is a real shame to let this place go to waste. Perhaps we will visit it again during our next trip.
Make sure you cross the overhead bridge. There is no blaring signage that indicates that there is more on the other side, but there is. Additionally, do visit the aquaria and gardens behind the museum. There are crocs in the aquaria and a large variety of fish. The garden is also impressive with its never ending steps and grand fountain.
If you are gamed, take a walk through the garden and you will find a place called Summer House. It is a wee pagoda where you can find vendors selling Ais Kacang (shaved ice bowl), Rojak, Sotong Kangkung and so forth. The price may be slightly steeper but after the walk, a bowl of shaved ice would be a welcomed treat.
Oh yes, I should add that entry to the museum is free!
2. Chinese History Museum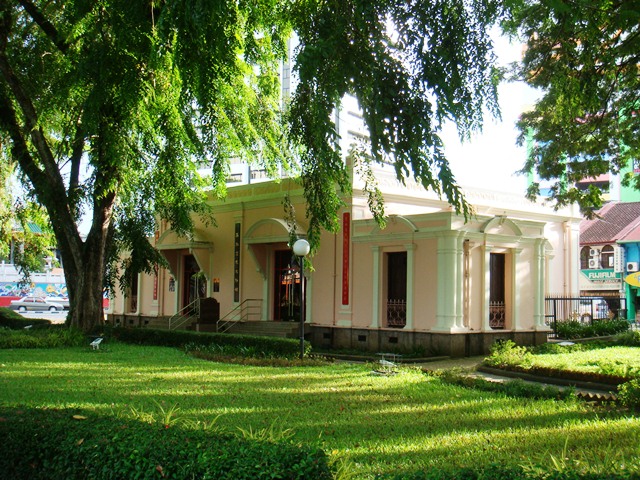 Thank you Google for this image but this building is unmistakable. It sits right on the waterfront and opposite another main attraction in Kuching, the recently refurbished Tua Pek Kong Temple.
When I was young I used to wonder what was in this building. We always drove by but we never went in. I used to think it was a prison for some odd reason

.
I took M there after some good old Tripadvisor research. It is now ranked 15 out of 67 things to do in Kuching. When I was doing my research, it was much further down the list. But it was our last few days in Kuching and the museum was close to home. So I bit the bullet and drove us there.
Upon our arrival, I was pleasantly surprised! I did not hold high hopes for it after visiting the Sarawak Museum. But the first thing you are treated to in this tiny museum is a short film clip. Following that is an exhibition so well maintained, explained and interactive that I found it hard to believe that the museum relied mostly on private funding (as informed by the caretaker). The caretaker really helpful and informative. He took us around the place and further explained the significance of some items to us.
Who knew that this tiny gem, right in the heart of the city held so much history. I would highly recommend this museum as it opens up a whole other dimension of Sarawak history from the POV of the Chinese immigrants.
Entry is free but there is a donation box there if you want to contribute.
So these are the two museums that we have visited. I think they are very different and are both worth the visit if you have the time. But really, Sarawak is all about adventure isn't it? Tomorrow I will write Part 3 of this series which will focus on the little slice of adventure we experienced. Till then,

.
Activities, Culture, Kuching, M, Must Eats, Sarawak, Sightseeing, Travel