Sightseeing and Activities to do in Kuching, Sarawak: Part 3
Hello! I am back with Part 3 of the Kuching sightseeing and activities series. In Part 2, I promised that I will touch on more…energy expelling activities. So lets get to it.
Sarawak as a whole is well known for its eco-tourism. But sometimes, you just do not have the time to travel to other cities in the state – which is what happened to us. So we settled for activities that were within the Kuching vicinity and would only take 1/2 day or 1 day.
1. Kayaking on Bengoh River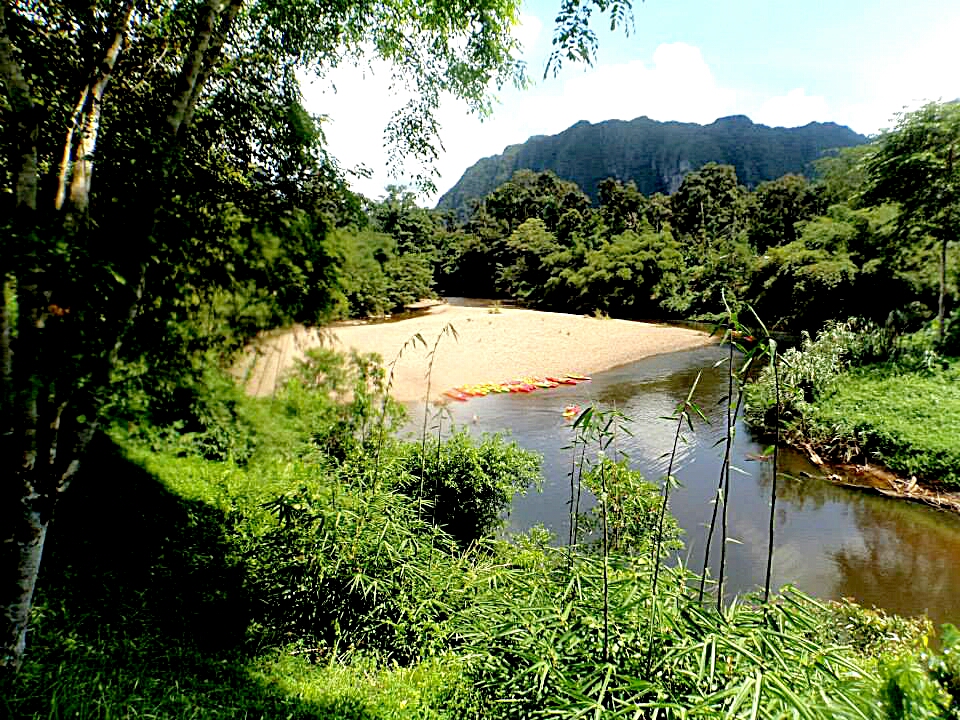 Excuse the blurred shot. I took this photo from a cliff-side and I am afraid of heights. It is a wonder I did not drop my phone and have it roll straight into the river. But the scene before me was too beautiful to not capture.
The meandering river is the Bengoh River and this was taken at our lunch stop. According to our guide this route is comparable to some of the great kayaking routes he has experience worldwide. I can't vouch for that, but it was indeed beautiful. Every minute was a sight to behold with the towering limestone mountains, lush green forests and clear calm water.

I should also add that no experience is necessary to take part in this activity .
My sister's boyfriend family arranged the trip through Kuching Kayak. The guides are great knowledgeable people who make you feel at ease as soon as you meet them. We were told on the day we went that there had been no rain for a few days. As such, the water was incredibly clear and calm. We got to make many pit stops as there was much to see and explore. Notable stops were an incredibly refreshing waterfall and a lagoon where we had a wee swim. Oh! Our group was also lucky enough to pick up a durian that was floating along the river.
The price is pretty good for what you get. Transportation can be arranged (at additional cost I think) but lunch in included in the meal you pay as are bottles of water.
Here are some tips lessons I learned from my trip.
Bring lots and lots of sunblock. SPF gazillion should do the trick.
Cover up as much as possible. I made the mistake of wearing a tank top and by the end of the trip, I looked like a cooked lobster. Yes, I burn very easily.
Bring a waterproof bag for your key items. If you can avoid bringing a bag then do that. You are allowed to leave your belongings (non-important) in the car.
You will need a spare set of clothes and a towel.
Bring Aloe Vera or any after-sun care substance. Because even after all that sunblock, you will likely need it.
I have recommended it to others and those that went have really enjoyed it! Even as a local, it is well worth doing with your fellow guests.
2. Semenggoh Wildlife Sanctuary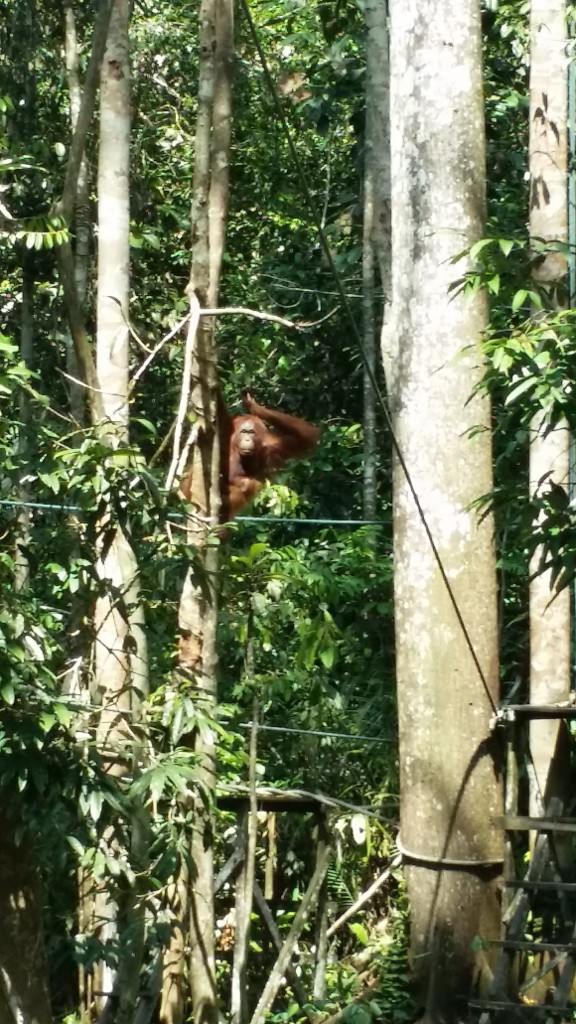 Orang Utan: "Hey you! Here to visit me?"
This is one of the must do's in Kuching. In fact, you can go kayaking and visiting the Orang Utans all in the same day! Just arrange it with the kayak operator beforehand.
So first thing first – there are 2 places within Kuching where you can see the Orang Utans. However, Semenggoh is where they are allowed to roam freely. Because of that Orang Utan sightings are not guaranteed. We were quite lucky when we went because even the alpha male paid a visit. He also got angry and we had to evacuate to another area immediately. This –>

, was literally my reaction when the alpha male broke a tree and headed towards the viewing platform. Do not worry though! It is safe as there are minders around who can anticipate it and will instruct you on what to do. As long as you keep calm and do not allow yourself to be perceived as a threat, all will be ok.
If you are considering visiting Semenggoh try and visit during the feeding times as you are most likely to see an Orang Utan then. There is one session in the morning and another in the afternoon. We chose to go for the afternoon session and arrived just after lunch. Try to be there early to secure a nice viewing spot especially if you are going to walking in. From the main gate it is about a 20 min walk to the viewing platform area.
Pricing is pretty standard, about RM20 for foreigners if I remember correctly. But if you choose to go to the afternoon session bear in mind that you may have to wait to buy your ticket (based on my experience)! The park is indeed open but the ticket operator will go on their lunch break. Without the ticket, you cannot enter the park or start your wee trek/drive in. I am not sure if they have a fixed lunch break but we got there about 1.00pm and they were on their break till 1.30pm. If you get there before the ticket operator's lunch break ends you will see a whole lot of people waiting at the counter to purchase them. Just hang around or start queuing up at the counter.
Unfortunately we have yet to make it to any of the national parks. We were back during the monsoon season and with the uncertain weather, we did not want to risk it. Hopefully we will make it to some next time we are in Kuching.
Next time, I will be writing about Malaysia's unofficial national sport – shopping! Keep an eye out if you like this sport too.