Tofu Burger with Kumara (Sweet Potato) Wedges Recipe
M and I started doing Meatless Monday's when we returned from our holiday. I have to say that we have been doing well. M has been doing exceptionally well in my opinion considering he is a steak loving man.
Since we started Meatless Monday's after dinner, M will complain of hunger and proceed to give me this look:

(right maybe not that exaggerated…). So I've had to get quite creative in an effort to make nice and filling meals on Monday's. Usually I trawl for recipes online. One day, I found this recipe here. There was tofu in the fridge and I thought it was worth a shot.
When I served it M looked skeptical. But by the end of the meal, he actually said he liked it! And he did not complain of hunger after to boot. Personally, I thought it was on par with a McChicken. Yea, they are that good to me. Try it for yourself .
I made some changes on the way, which will be noted below. Feel free to stick to the original.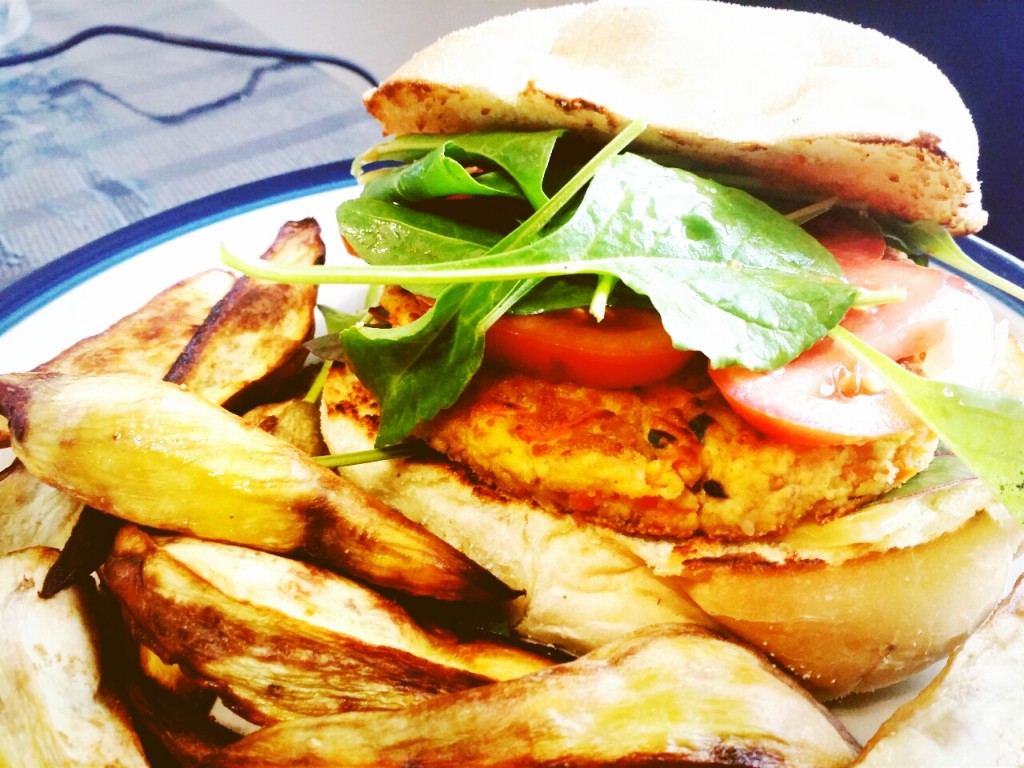 Tofu Burgers with Kumara Wedges Recipe
2015-08-20 04:13:55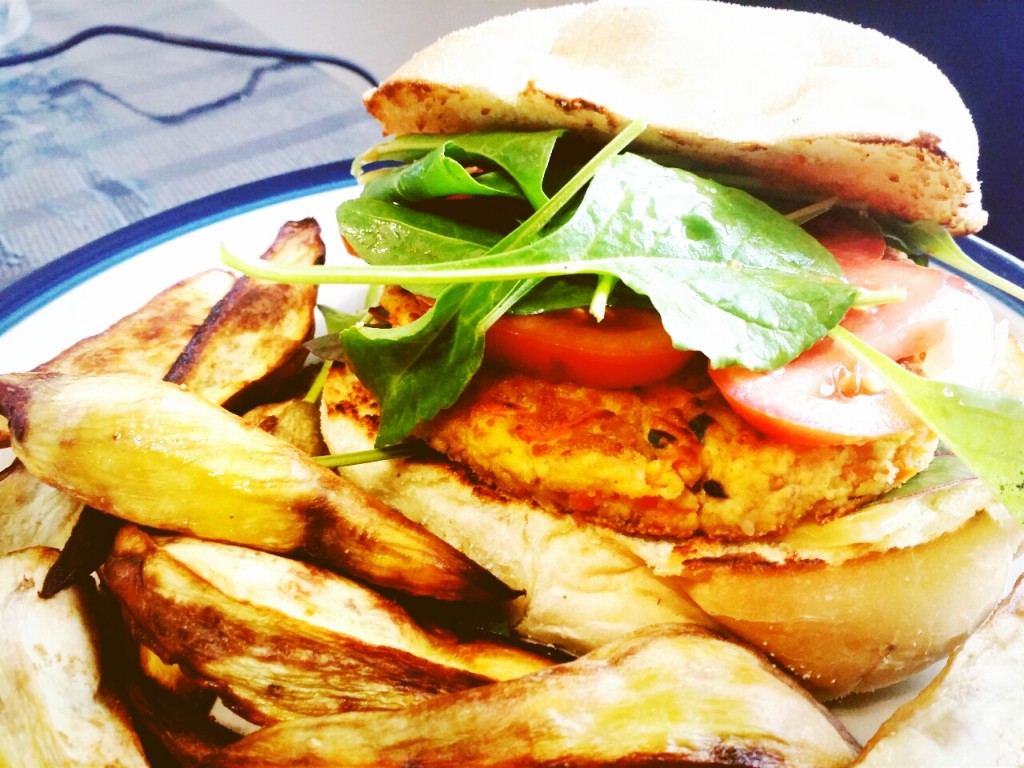 Ingredients
1 carrot, grated
bunch spring onions, sliced, plus extra strips to serve
1 garlic clove, crushed (I just finely chopped it)
3cm/1¼ inch piece ginger, grated (I omitted this as I didn't have ginger on hand)
400g block firm tofu, drained and crumbled
2 eggs, lightly beaten (I used 3 as the eggs I had on hand were small)
2 tbsp each sesame and vegetable oil (I didn't measure this and just added as needed)
Sweet chilli sauce
1/2 teaspoon Chinese Five Spice powder
1/4 teaspoon White Pepper
1/2 teaspoon Salt (if you like your food salty, add more)
1/4 cup breadcrumbs (wholemeal or white)
1/4 tsp White Sesame Seeds (optional)
1/4 tsp Black Sesame Seeds (optional)
Burger buns (however many you need)
Sliced cheese (I used Edam)
Salad leaves (I used baby spinach and baby silverbeet)
Sliced tomatoes
4 small Kumara (use any type and proportion it to your needs)
1/4 tsp Cumin powder
1/4 tsp Turmeric powder
1 Tbsp oil (I used rice bran)
1tsp Salt
Cooking Kumara Wedges
Preheat oven to 180℃. I used 'bake' mode.
Peel and cut kumara into wedges. Shake off any excess water.
Mix the wedges in a bowl with the oil, spices and salt.
Line a pan with tinfoil and arrange the wedges in one layer.
Put the pan into the oven.
Leave to bake then set about making the tofu patties.
Check periodically but it should take around 45 minutes.
Cooking Tofu Patties
Wash and pat dry tofu.
Mash the tofu into chunks in a mixing bowl.
Into the same bowl, add grated carrot, chopped garlic, sliced spring onions, ginger (if you are using it) and spices.
Mix all the ingredients together.
Lightly beat the eggs and add it to the mixture.
When combined, transfer the mixture into a food processor (I think a stick blender might do the job).
Slowly add breadcrumbs while processing the mixture.
You will see it become less sticky and start to hold its shape better – add more breadcrumbs if necessary. When it reaches this stage, add the black and white sesame seeds.
Shape the mixtures into 6 balls (this should make normal sized patties, you may wish to make more or less), set these aside.
Heat the pan up with equal portions of sesame and cooking oil (1stp and 1tsp should suffice if you're using a non-stick pan).
When the oil is hot, place the shaped mixtures – 2 or 3 at a time depending on size of the pan – and flatten them to desired thickness. It should be at least 1 inch thick.
After 3 minutes, check the patties, when it is browned flip over to the other side.
When ready, remove from the pan.
Repeat steps 16 to 19 until mixture is finished.
While the patties are cooking, toast burger buns lightly and wash the salad leaves.
By now all the patties should be ready and so should the kumara wedges!
Slice tomatoes and cheese.
Assemble the burger and add any sauces you like. Plate with wedges.
Noms it.
Notes
Make sure you process the tofu. I think a blender may do the job. You may just need to do it in batches and mix in breadcrumbs by hand later. The original recipe just says to mash it but it just isn't the same. When you process it the tofu becomes fine and combined with the breadcrumbs, it gives the patty a similar texture to your normal meat patty.
You can use potatoes for the wedges. You can also parboil the kumara/potato whole (skin off), cut into wedges and then toss it in a colander to get rough edges. After that do the same thing with the oil and spices. It will give you better crispy wedges.
This is not for everyone but I like to toast the buns in a frying pan. I will slice the bun, slather butter on both sides then pop it into the pan till I get this slightly charred look.
You may have some patties leftover. Fry it up and freeze for future use.
The Chai Ninja https://thechai.ninja/
Have a go and let me know if you think it is on par with a McChicken. Enjoy!