Viennese Sables – With a Twist
Do you like cookies? Well, I do. I have always loved cookies – especially butter cookies. My earliest memory of butter cookies were Danish Butter Cookies that were sold in a round blue tin. Just like this one here.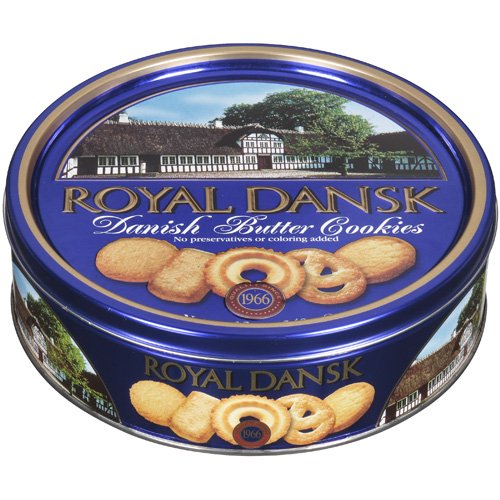 These were the bomb. As I grew up, my family started buying them less and less. I am not sure why but needless to say they have always been on my mind. My guess as to why my parents stopped buying them would be due to me and my gluttony of finishing half the tin on my own

.
One day, I came across this recipe for Viennese Sables on Eugenie Kitchen. The original recipe is AMAZING by the way. It looked easy enough and upon further Googling, I read from one of the links that these tasted pretty similar to the Danish Butter Cookies. I was sold and off I went to bake them.
To my surprise, it was superbly simple to make once you got the little tricks right (don't worry, I'll write some tips). These Sables were also quite similar to the Danish Butter Cookies! One day, I decided that I should experiment by adding a Malaysian twist to these Sables. After some brainstorming I came up with the idea of Pandan & Coconut Sables. It was a safe bet that would likely taste yummy!
I am glad to say that I was right! Or so I think. They were light and butter with a hint of Pandan. The combination with chocolate and dessicated coconut added depth to the flavour of the Sable. For some reason…it tastes like Cadbury Kek Lapis to me – but in biscuit form. Anyway, here is the recipe!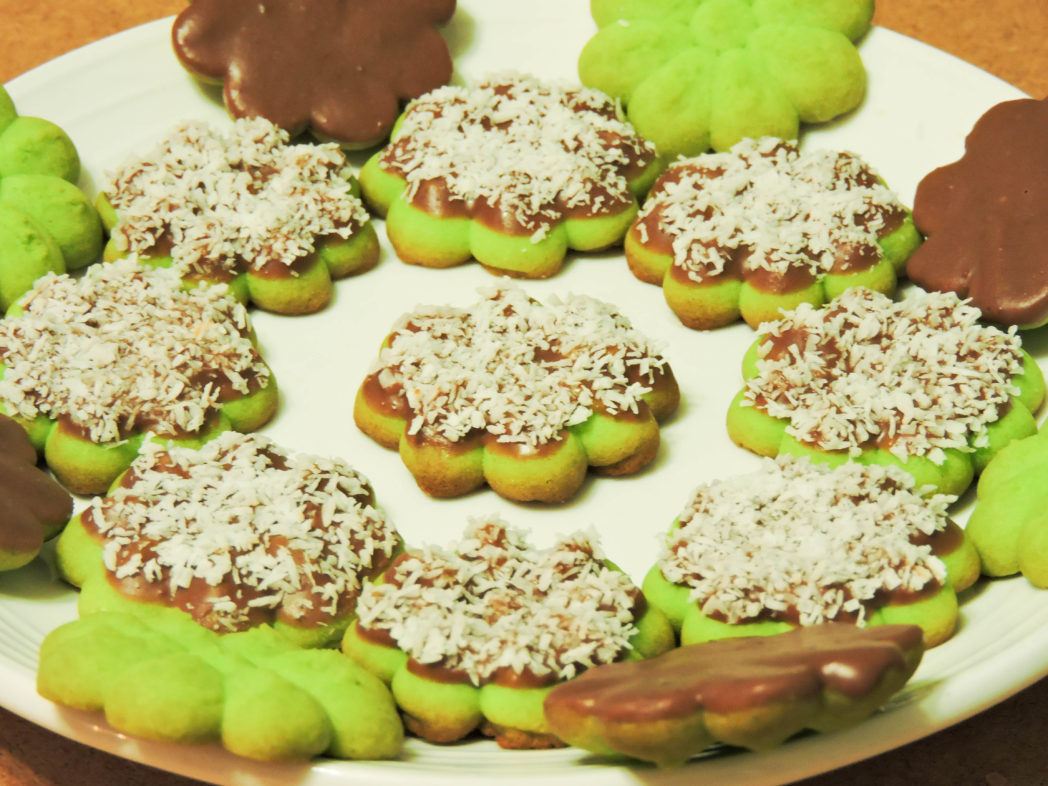 Pandan & Coconut Viennese Sables
2015-08-20 02:24:43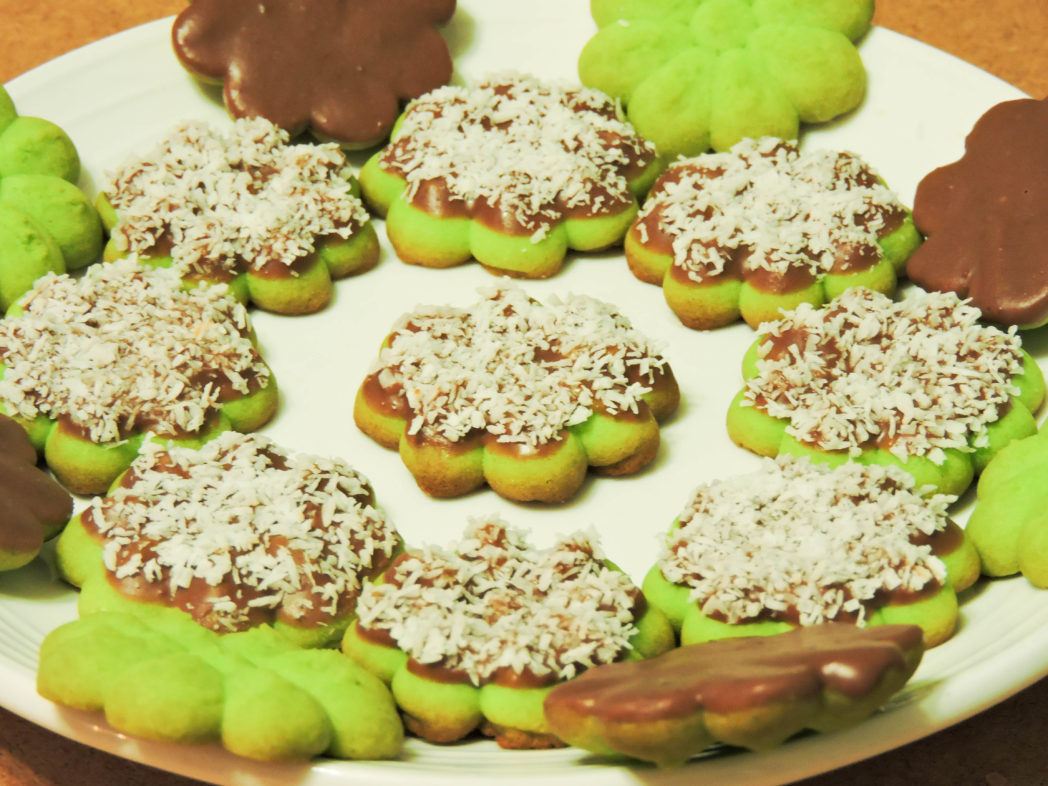 Ingredients
3/4 cup unsalted butter, softened (170g)
½ cup + 1 tablespoon icing sugar (78g)
2 teaspoon Pandan Essence
1/8 teaspoon salt
1 egg white of a large egg at room temperature (33g)
1 1/2 cups all-purpose flour (187g)
Melted chocolate of your choice (milk, semi-sweet, dark) for decoration, optional
Cooking oil (optional)
Dessicated coconut, optional
Making the Sable
Preheat oven to 180°C.
Whisk butter until smooth. The softer the butter the easier it will be to work with!
Then sift in icing sugar to the whisked butter. Continue whisking until light and fluffy.
Add in the egg white, pandan essence and salt - whisk until combined.
When combined, sift in flour and fold until smooth.
Lastly, pipe the cookies using a piping bag (use a star tip) or a cookie presser. I prefer the presser as lack in piping skills and allows me to produce uniformed flower shaped Sables.
When cookies are piped, bake in the preheated oven till the edges just start to brown - takes about 15 minutes in my oven.
When edges start to brown, remove from oven and cool on cooling rack.
If you want to decorate...
Melt chocolate of your choice in a bowl. You can use the microwave or a double broiler. Check out this link to learn how to melt chocolate. Repeat this step when you run out of chocolate.
The chocolate has to be quite fluid in order to avoid getting a very thick chocolate layer. If you find that your mixture is quite thick, stir in 1 teaspoon of cooking oil until a fluid consistency is achieved. Otherwise, skip to step 4. Set aside.
Prepare a bowl of dessicated coconut. Set aside.
Make sure Sables are fully cooled before proceeding! If cooled, dunk the Sable in the melted chocolate mixture face down if you have made them similar to mine. Otherwise, dunk the Sable to suit the shape you have piped/pressed it.
After dunking, hold it up for a few seconds to let the excess chocolate drip off.
When the chocolate stops dripping off, immediately coat the dipped area in dessicated coconut by dunking it into the bowl of dessicated coconut set aside earlier.
Return cookie to cooling rack to allow chocolate to set.
Notes
Make sure the egg white is at room temperature! Otherwise it may curdle up the butter and we do not want that.
The consistency of the mixture prior to adding flour is key. It should be slightly thicker than the consistency of heavy cream after whisking in the icing sugar. If it becomes quite thick aka butter starts to solidify, zap the mixture in the microwave for 30 seconds or start a double broiler. Trust me, this step comes in handy when baking in Winter. Once it is at that 'slightly thicker than heavy cream' consistency, remove from heat and continue the steps. You can only carry out this 'cheat' step before adding in the egg white at Step 4. Once you add in the egg white, DO NOT try to heat or place it over the double boiler as it may change the texture of the end product.
Adapted from Eugenie Kitchen
The Chai Ninja https://thechai.ninja/
Simple isn't it? The most time consuming part is decorating them. Thankfully, these Sables tastes great without the added chocolate or coconut so feel free to start munching as soon as you take it out of the oven

.
I am quite happy that these were a success. With Hari Raya around the corner, it is the perfect time to introduce all of you to a new Malaysian Fusion recipe that looks pretty festive to boot! For Malaysians' abroad, hopefully it reminds you of home (sort of). For those celebrating Hari Raya, would you add it to your cookie arsenal? Try it out and let me know! Till next time

Asian Fusion, Baking, Cookies, delicious, Easy, Fast Recipe, Hari Raya, Malaysian