Visiting Gulangyu, Xiamen
Hello all! I have been a busy bee this week because the baby sister is around. We have been spending time together doing all that sister time stuff. It has been great having her around and I can even have her help me do some filming for the Sarawak Kolo Mee post that will be up next (promise! ). In the mean time I thought I'd continue writing about our trip to China.
Remember in the last post how I said that we visited Gulangyu and that it was a nightmare? Well this is where you will learn all about it. On our first full day there we woke up bright and early and headed towards the ferry terminal. From our hotel (Bestel Hotel) this was within walking distance – about 5 to 10 minutes away?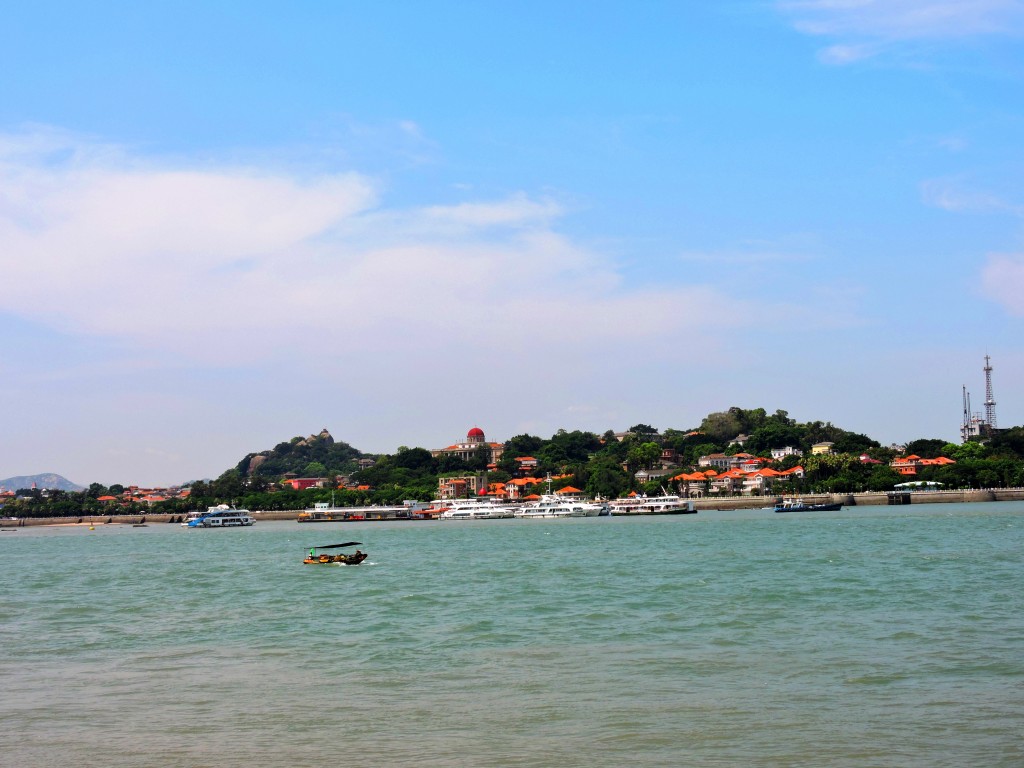 Gulangyu from the ferry terminal, so picturesque.
When we got to the terminal, from the moment we stepped out of the underpass, people started following us to get us to buy ferry tickets from them. Ferry is the only way to get to island. You could hire a speedboat too or if you are gamed, take the boats that ferry supplies to the island. After much avoiding, polite refusals and miming to get to the ticket counter, we found out that we could not actually buy the tickets at this ferry terminal

. Only people who lived in Siming district could buy the tickets from this terminal and that we would have to go somewhere else (using the bus) to buy the tickets. There was no tourist information counter nearby for us to verify the information so we took the 'when in Rome, do as the Romans do' approach. Bad move.
It was at this point that I wished we had mobile data so that we could verify the information. If we had done this before leaving the hotel we would have known exactly what to do because the locals that we followed did not know any better. Basically all the people hustling us were tour providers. So we went with one that spoke English and also because heaps of locals were buying from their group.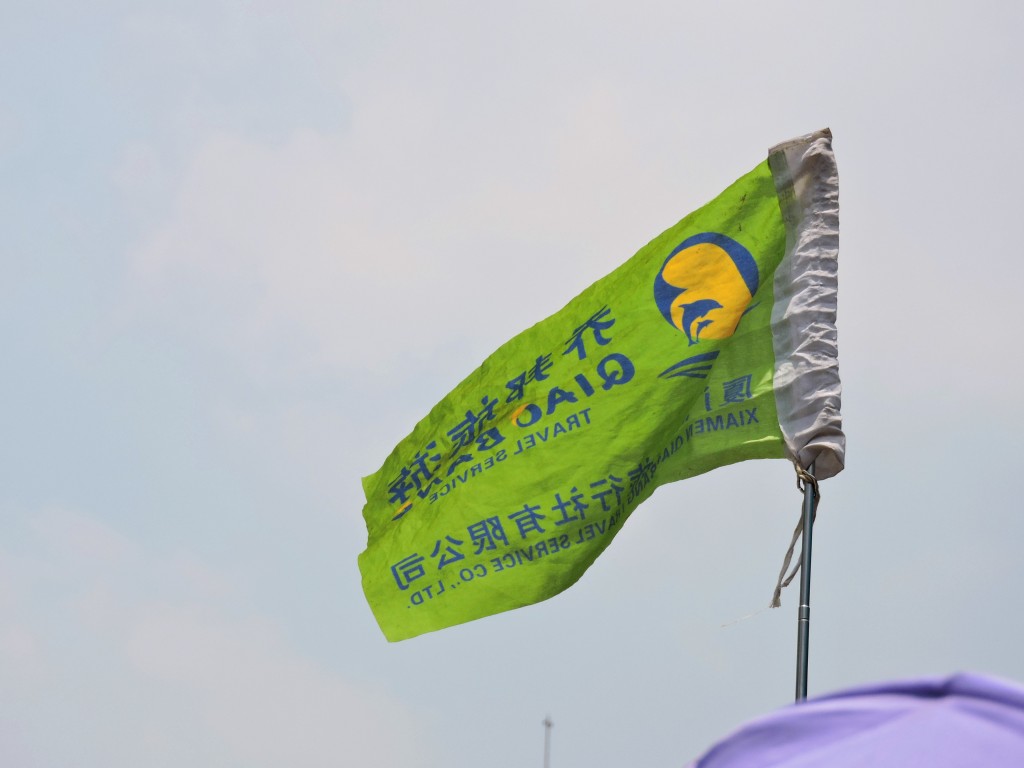 The tour group we joined.
After we bought our tickets, we had to wait an extra 20 minutes or so before we were scheduled to leave. That was cool. We sat around in the shade, witnessed an epic battle of words between security guards and a middle aged lady and took some photos. Finally it was time to leave. Here was dodgy sign No1 – the tour operator led us to another ferry terminal that was a 10 minute walk away. When we got there….it was more of a jetty than a terminal. When being asked the operator said that the ferry was taking us straight to the island. So we waited in the little shed house packed into it like a can of sardines. I think after 15 minutes of waiting for the ferry to actually arrive one of the other group members got annoyed and told the operator off for making us wait that long. His answer, "If you don't want your ticket there is someone else who would want it"

. But yea, there really was that many people fighting for a ticket there.
When the ferry arrived we happily got herded into it like cattle but soon we realized that it was not heading for the island. We were headed to HaiCang Ferry Terminal for a transit to Gulangyu

and we had to go through the whole packed into a sardine can thing again to get onto the next ferry. This was the point where we knew that we had been royally duped along with the other 60 people in our tour group. Bright side – we were quite near the village if we wanted to quit this journey. But no, mother said we must persevere and so we did.
After what seemed like forever we made it to the island! Wooohoooo!!! All I wanted was an ice block. We also left the tour group because the operator said that we could wander around on our own as long as we made it back to the jetty by 8pm (but this became 6pm, then 5pm etc). So off we went through a tunnel he pointed us towards.
This tunnel was a life savour from the heat.
This tiny 'Piano Island' was incredibly busy the day we went. It was a Sunday, it was school holidays and the heat was unbearable. But this clever tunnel cuts right through the island – how cool is that? The journey started getting better from here. If you look closely at the picture, there are arches along the sides of the tunnel. Some of those are homes to residents of the island or shop fronts selling a range of goods. I thought that was pretty cool and wondered what it would be like to live there. Maybe someone should turn their unit into an Airbnb if they move out….
Anywho! Once we exited the other end of the tunnel we were pretty much where all the commercial stuff was located. For a tiny island, there sure is a lot packed into it.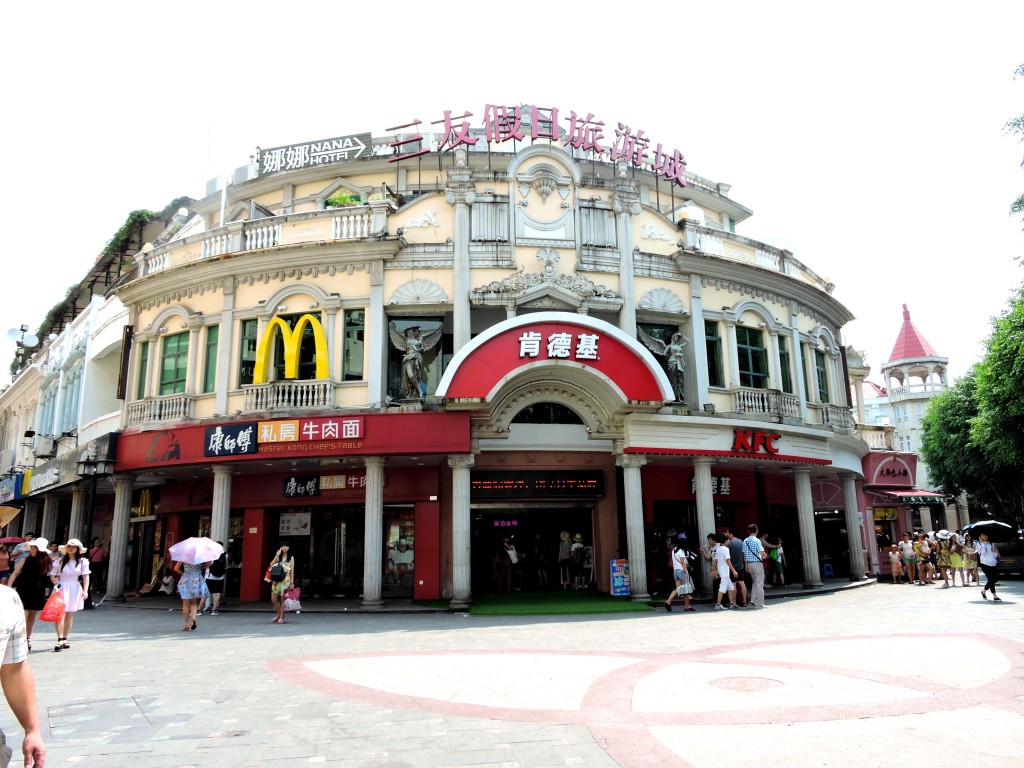 Beautiful architecture – once you look visually peel away the signboards.
The amount of food and souvenirs available was beyond me. What impressed me was the fact that there was not a single store that was empty. All the stores we walked by had at least 1 customer! Shows how many people were on the island that day.
Most of the snacks available are pretty Taiwan inspired IMO but then again…Xiamen is quite close to Taiwan… hmm. But I digress, the food looks similar to Taiwanese street food but they do have their own take on it. I didn't snap many pictures simply because I could not get a clear view. Here are 2 types of extremely popular street food that I got a good view of though.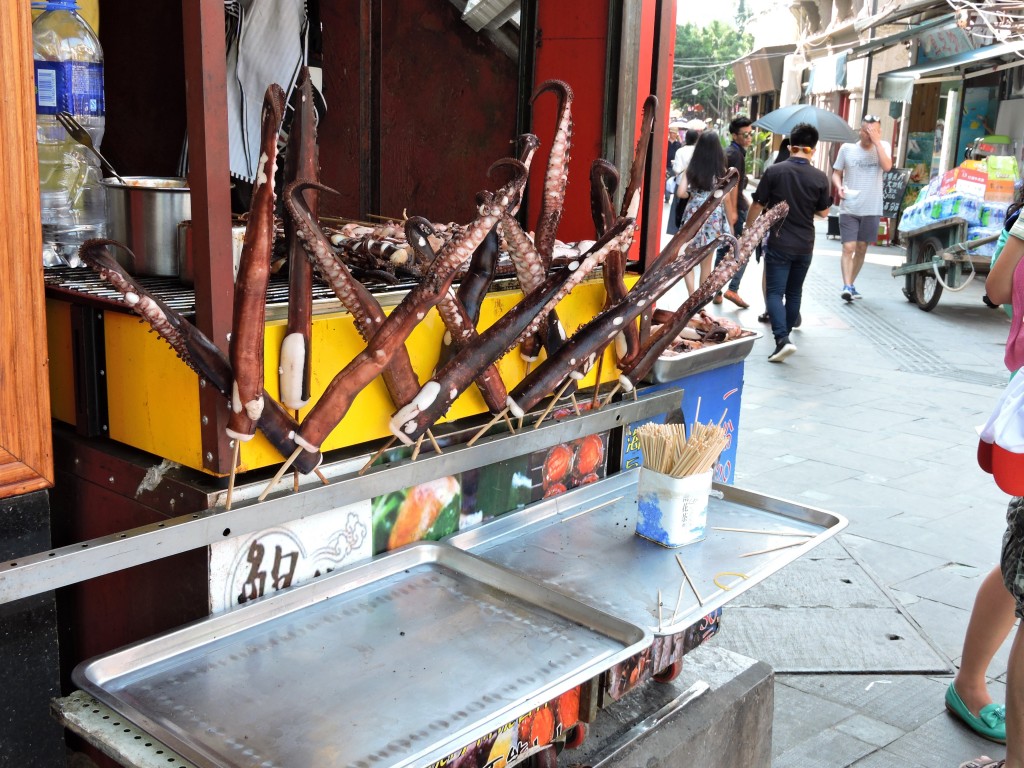 Grilled tentacles anyone?
I didn't get a chance to try the tentacles because I was tossing up between this and the most awesome snack I have ever come across thus far, pictured below.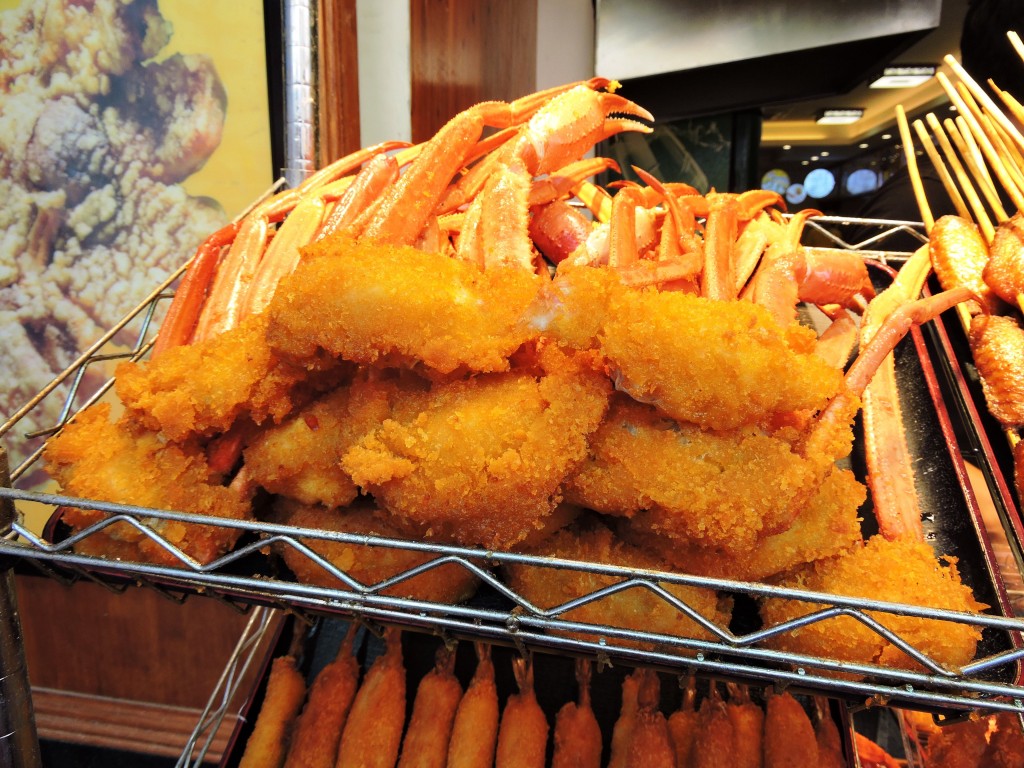 Glorious, glorious crab <3
Obviously I chose to have the most awesome snack. It was RMB25 (I think) but it was worth every cent. My taste-buds thanked me for making this choice but my cholesterol didn't.
Right, continuing with our journey. Our first stop was the Koxinga Statue. Along the way we also stopped by this lovely area which used to house the English Embassy.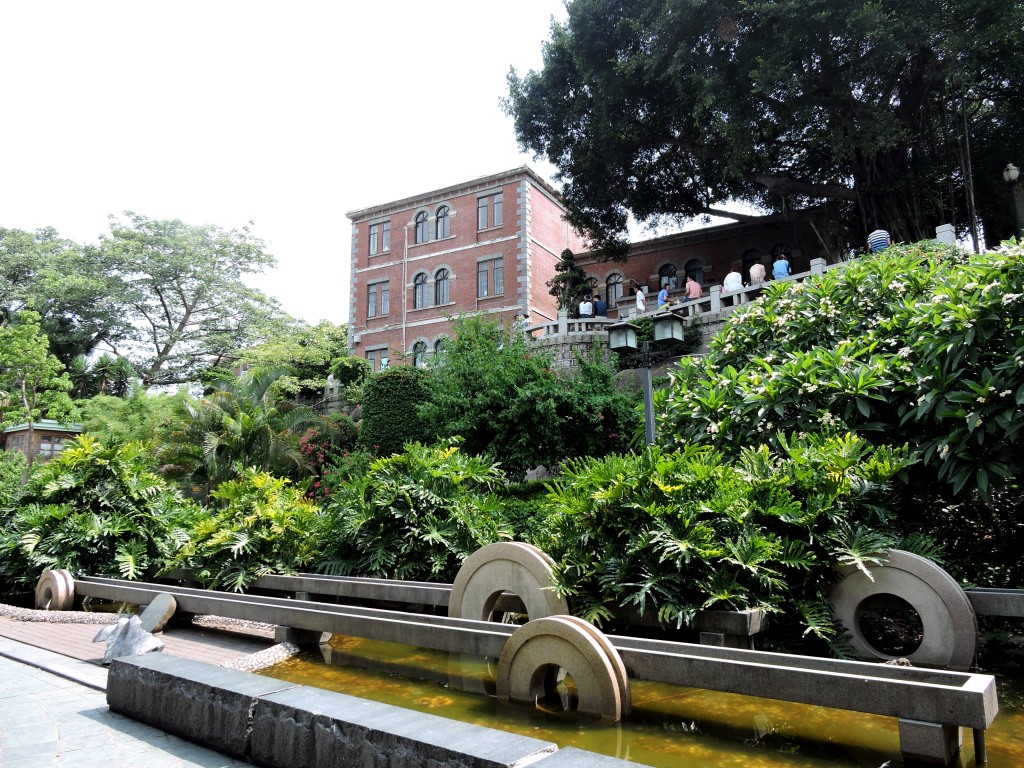 To be honest though…we stopped here because there was a public toilet nearby.

But this is a real handy tip to keep in mind: Go to the toilet when you see one. There aren't many public toilets around so erm yea.
After our wee refresher stop, we continued on with our journey. The scenery along the way was gorgeous because the trail was right by the waterfront.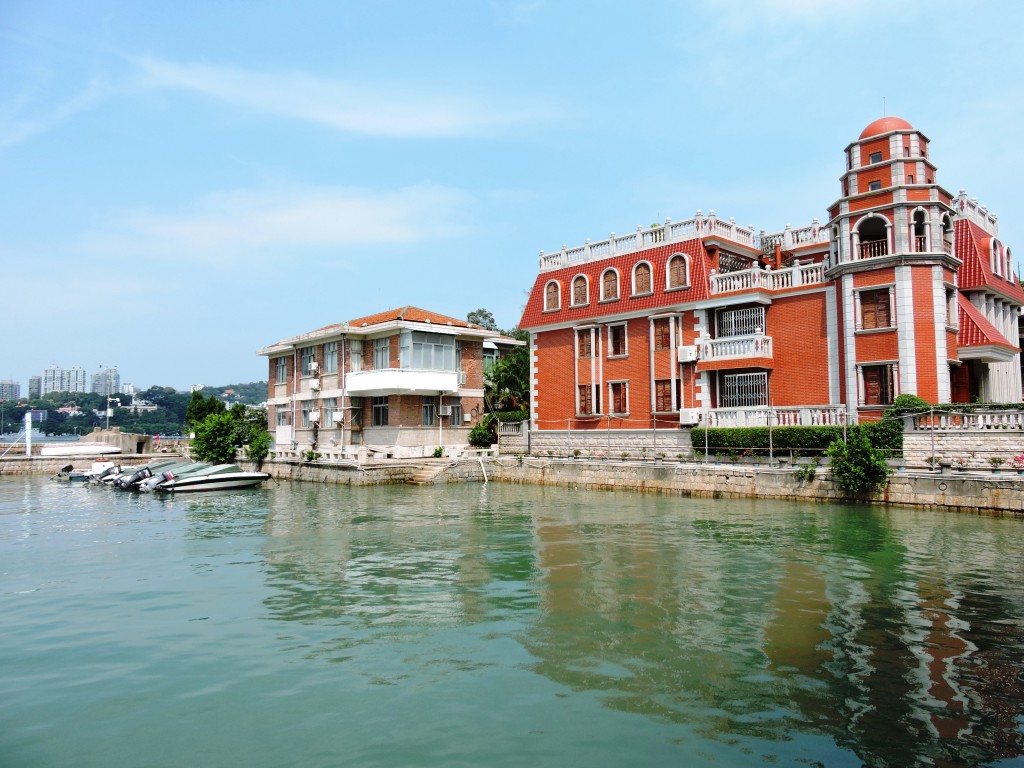 Pretty waterfront houses!

Waterfront Panorama.
The walk to the statue from the main commercial area was not very far and we soon saw our first glimpse of the magnificent statue.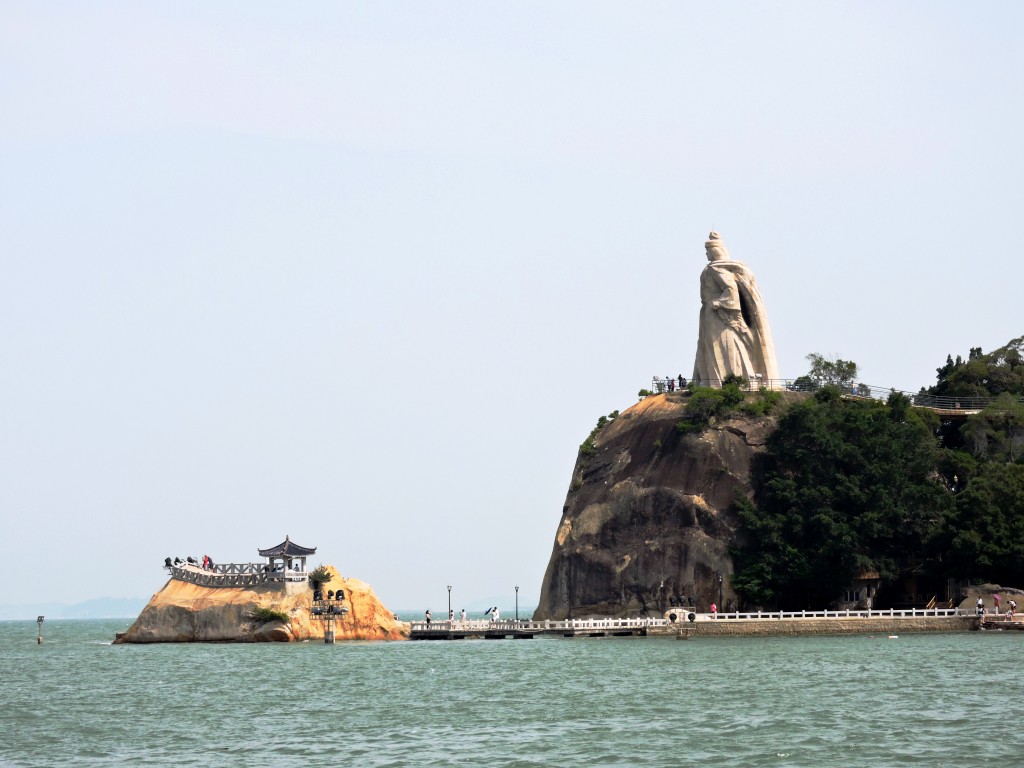 Koxingaaa!!!
Very impressive ae? I knew very little about Koxinga but learnt lots from this website. I am pretty sure the site is legit as the writer lives in the city but not too sure about how up to date it is. Great for learning more history type knowledge though.
The statue is located within a garden and you have to buy a pass to enter. We decided not to go in because of the heat and well…we could see the statue from where we were? Plus we weren't interested in anything else within the garden so buying the ticket was not quite worth it. Instead we continued walking around to take in the island scene while we decided on our next move.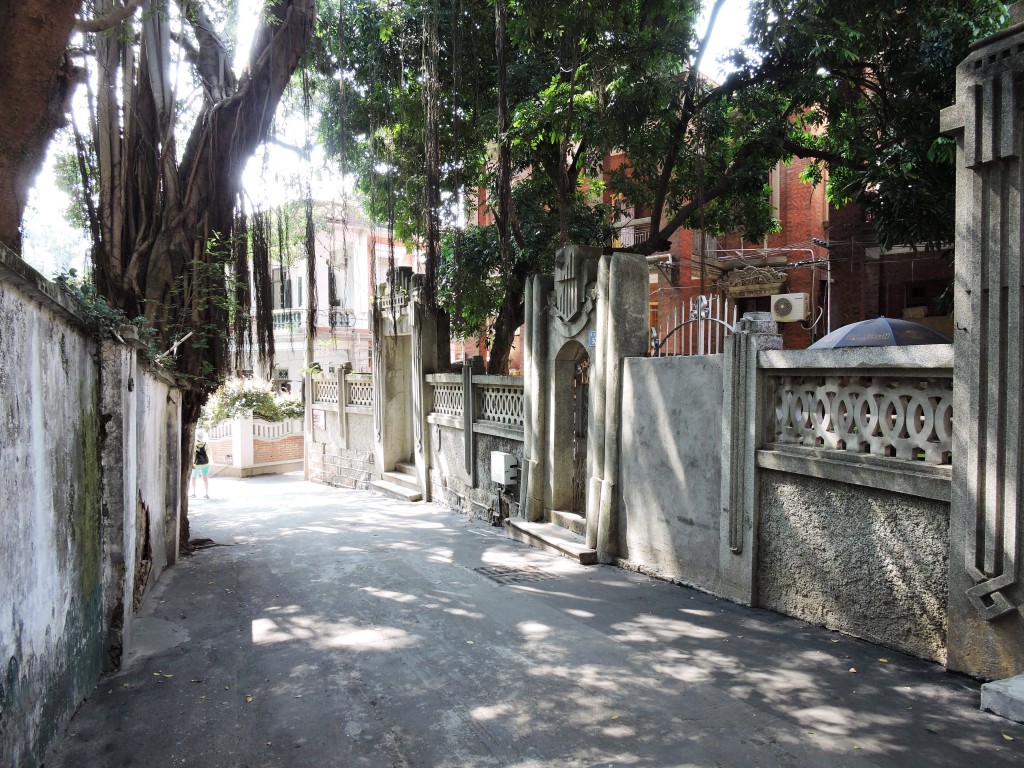 Residential streets lined with Banyan Trees.
I liked walking through the residential streets because it was a breath of fresh air from all the touristy stuff. Quaint streets, peaceful environment and lovely scenery all round. It is not a wonder many artists, musicians and writers used to flock here to do their work back in the old days. I wonder if they do now…
During our walk we got hungry and decided to head back to the island center. We passed by this park on our way and it was super cool! They had little bauble like things hanging off all the trees with wishes written on a piece of paper strung on them. Like this: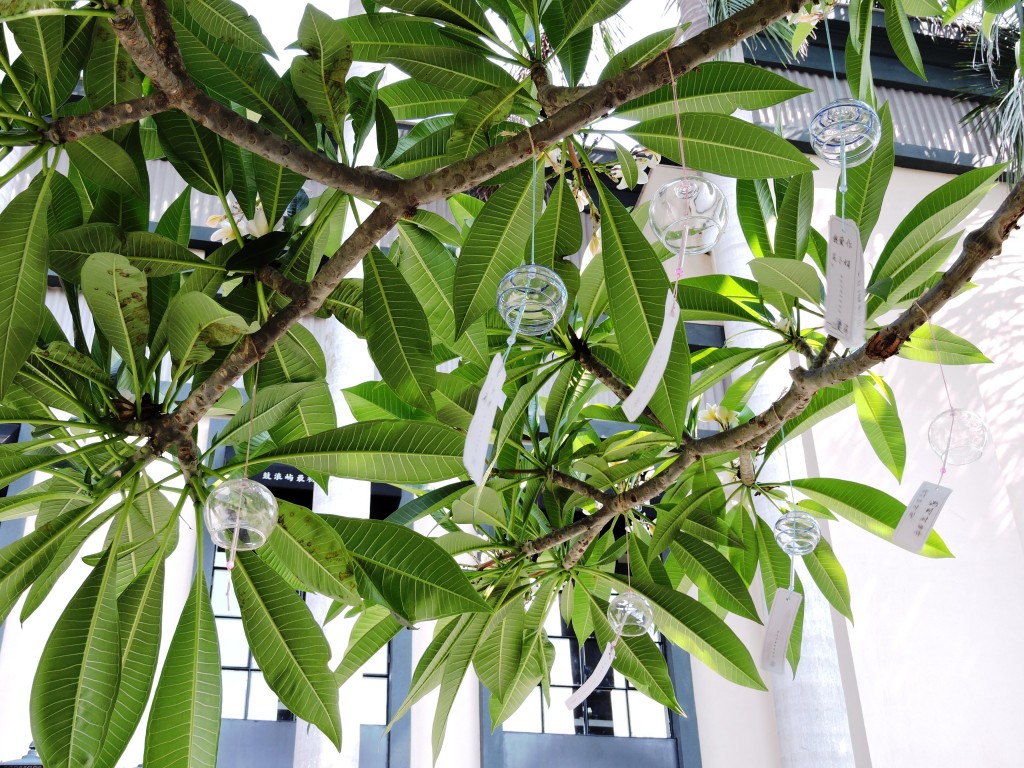 When the breeze blew, it was a very pretty sight – almost magical. I think that is the charm of the island really. Everything seems infinitely better there. Perhaps its the magical sea breeze, I don't know. Even the flowers looked better.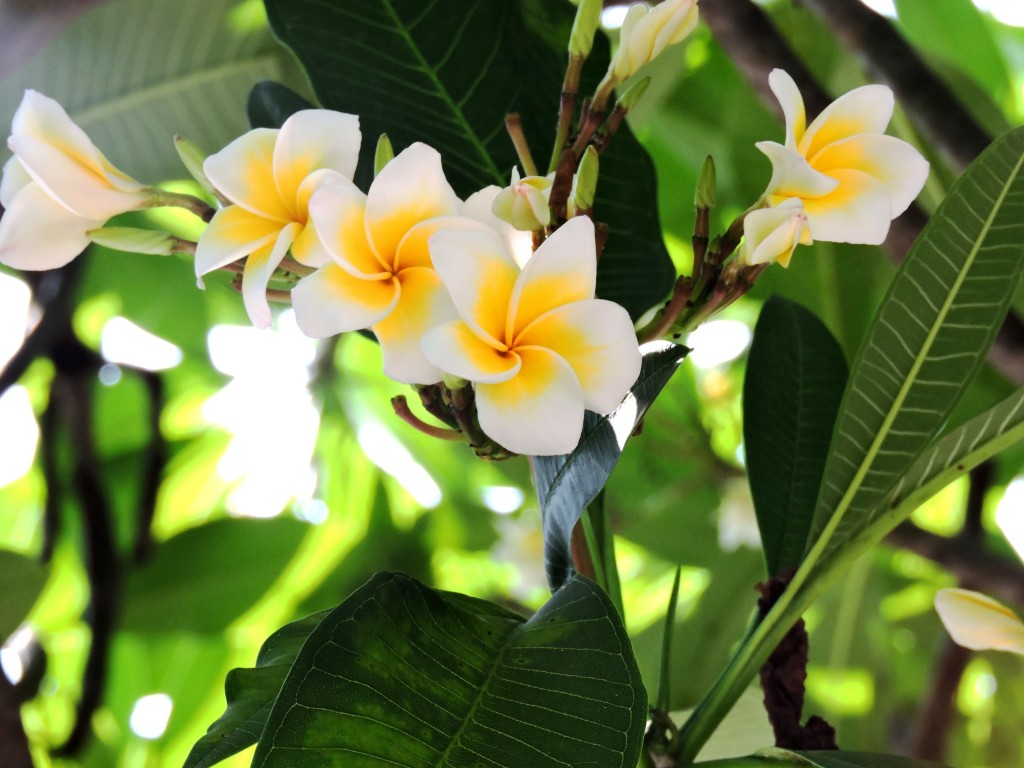 See what I mean? We quickly had a bit to eat and headed towards the Organ Museum. Organ like the instrument…not the body part. Oh, no photos of lunch cause it was very meh.
The Organ Museum is housed in a massive mansion known as the Bagua Mansion and it was very impressive. But the organ collection itself was even more impressive. I didn't think much of it but I was blown away. To think that a single man collected all these organs is mind blowing.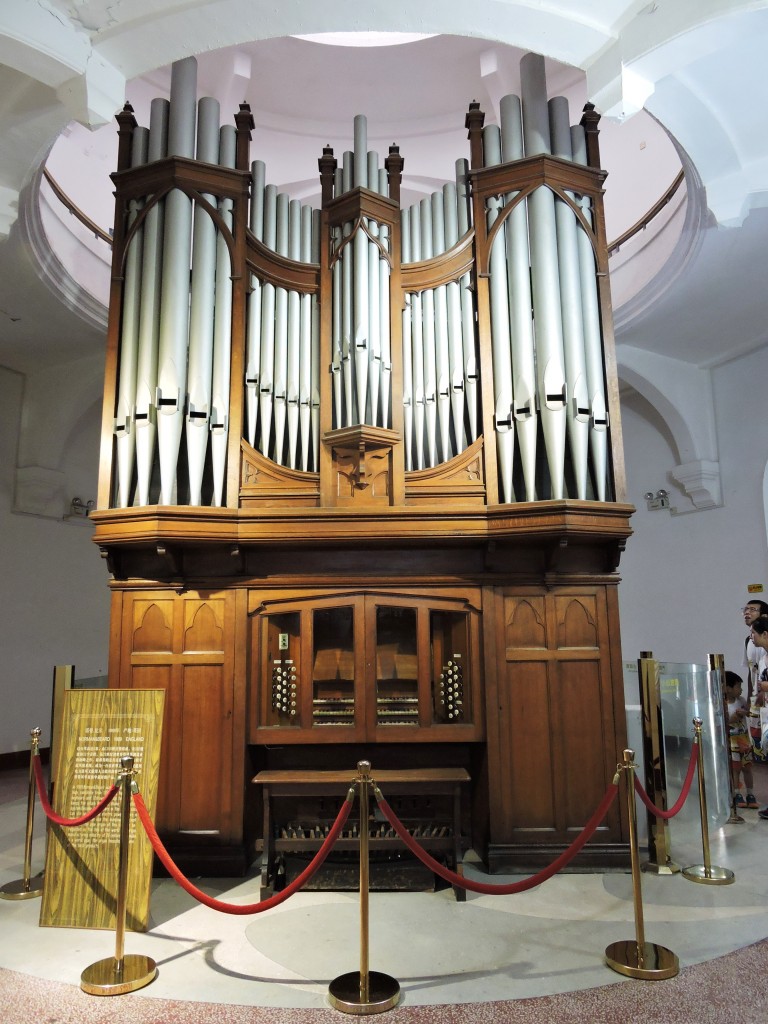 The biggest organ in the museum.
Can you imagine shipping this organ all the way from England?? It is massive. Here is a side-view of it.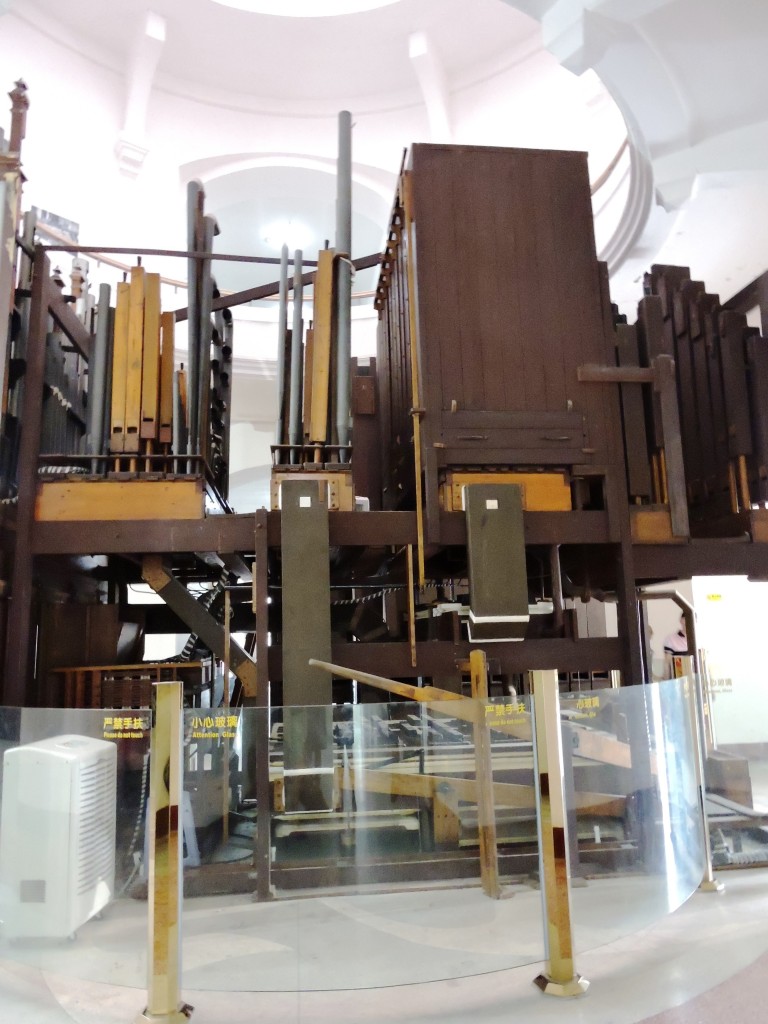 There is a built in staircase for access. How cool is that?!?! Don't ask me for details though. I do not have great knowledge about musical instruments. But yea, it was just really fascinating that one individual decided to dedicate his life to collecting organs. Some of them were from the 1800's so you can imagine how valuable they must be. The museum even housed the oldest Chinese Windpipe or maybe it was a flute….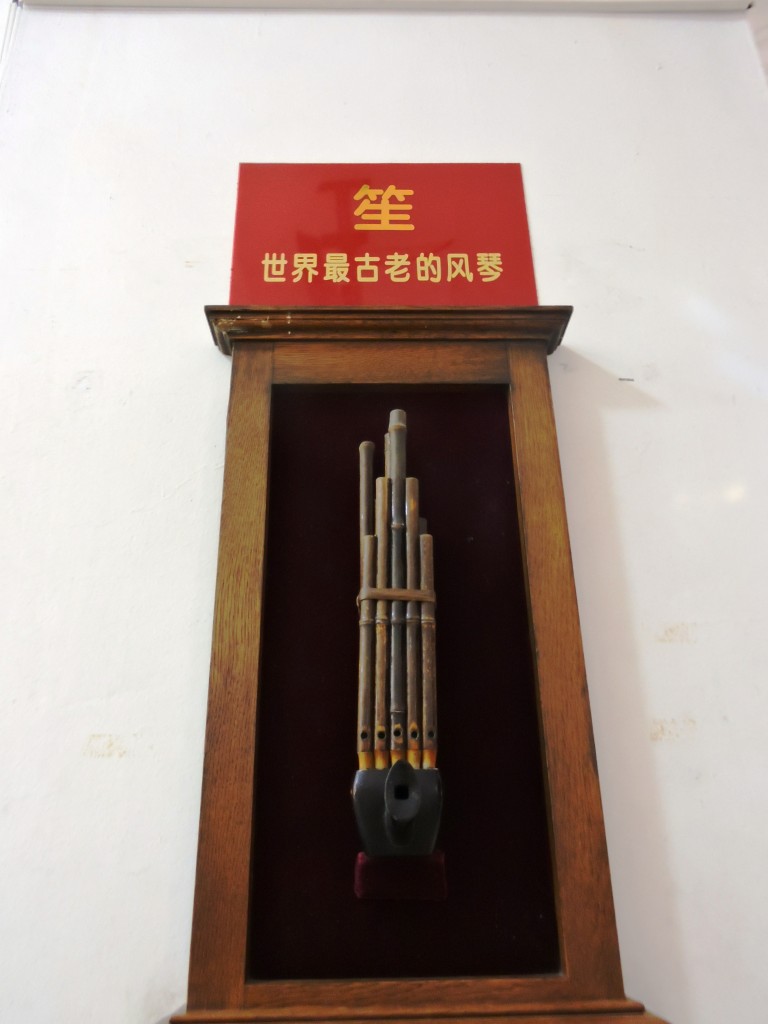 I can't read Chinese so please let me know if its a flute or pipe…
By this point, the heat was really taking its toll on us and we decided to head back. It was about 4pm by then so we had spent about 1/2 a day exploring the island. Looking back…I felt like we did more than this. Guess not? But I think we spent most of it just walking and enjoying the serenity of the island.
Of course we got back to the jetty and had to wait to get onto the ferry. During our wait had the opportunity to witness another fight. Not sure why we saw that many fights that day cause we never saw fights after this day – maybe the heat was getting to everyone. We waited about 30 minutes before getting on the ferry heading back to the main island.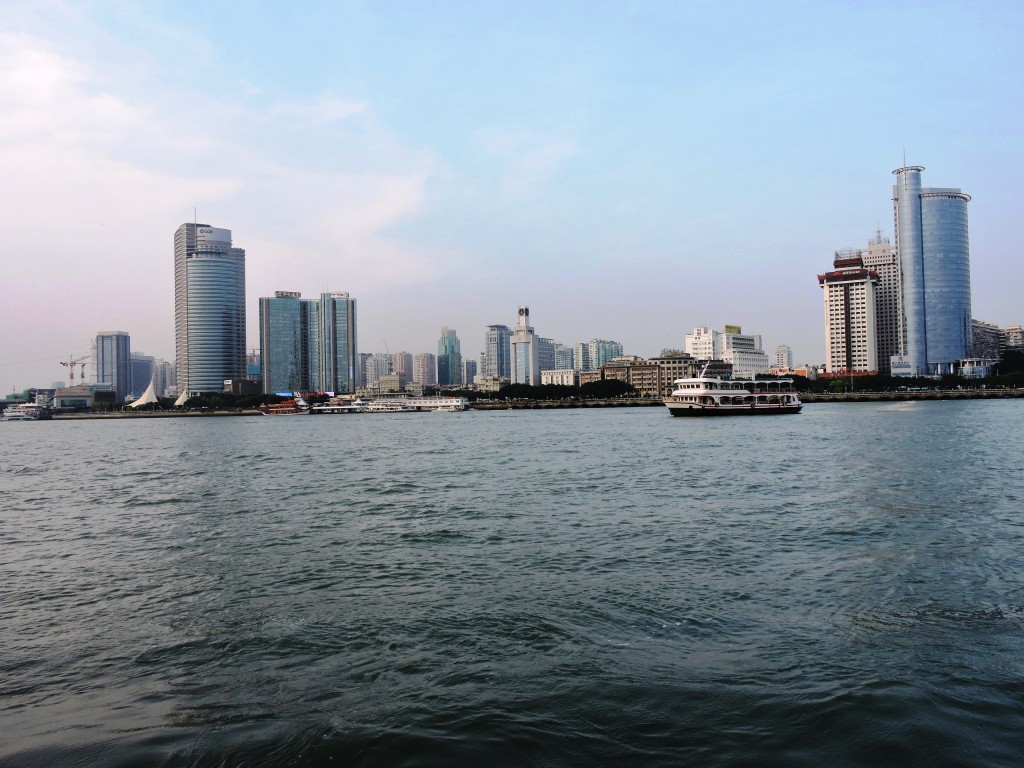 Back to the main island.
And here is another tip to bear in mind. Apparently it is a terrible terrible time to return to Xiamen Island around 4.30pm to 5.30pm. First of all, the ferry takes you to the Dongdu International Ferry Terminal that is a wee while away from the Siming area. So when you get there you will need to catch a cab back. BUT this is also the time where the taxi drivers are changing shifts and nobody wants to pick you up, unless you chance on one who happens to be heading to where you would like to go.
It took us about half an hour to catch a cab back. There are many illegal taxis waiting around if you don't mind haggling I suppose. Oh, another thing is that the yellow cabs there do not run by the meter. So no point flagging them down unless you are wanting to haggle.
But all in all it was an eventful trip to the island and I would love to visit again – when its cooler. I certainly learnt my lesson about looking up information on places to visit before we leave. FYI, Google does not work in China so prepare about search browser for use.
Hopefully this post provided you guys with some useful tips! It is definitely worth a visit. In fact I would recommend you spend a night there. There is plenty to see but due to time restriction we had to limit our trip. Do you guys have any other tips you would like to share? Comment below! Would love to hear your experience.
Till next time

.
Activities, China, Chinese, Culture, M, Sightseeing, Travel, Xiamen