Visiting our family village in Haicang, Xiamen
Hello! I am back to continue penning down our travel tales to Xiamen. Last time I wrote about Xiamen I wrote about our visit to the Fujian Tulou which were beautiful village clusters by the countryside. Our family village though, is the complete opposite. In fact you would probably not know you have stumbled upon a village if you walked pass it. Let me show you why: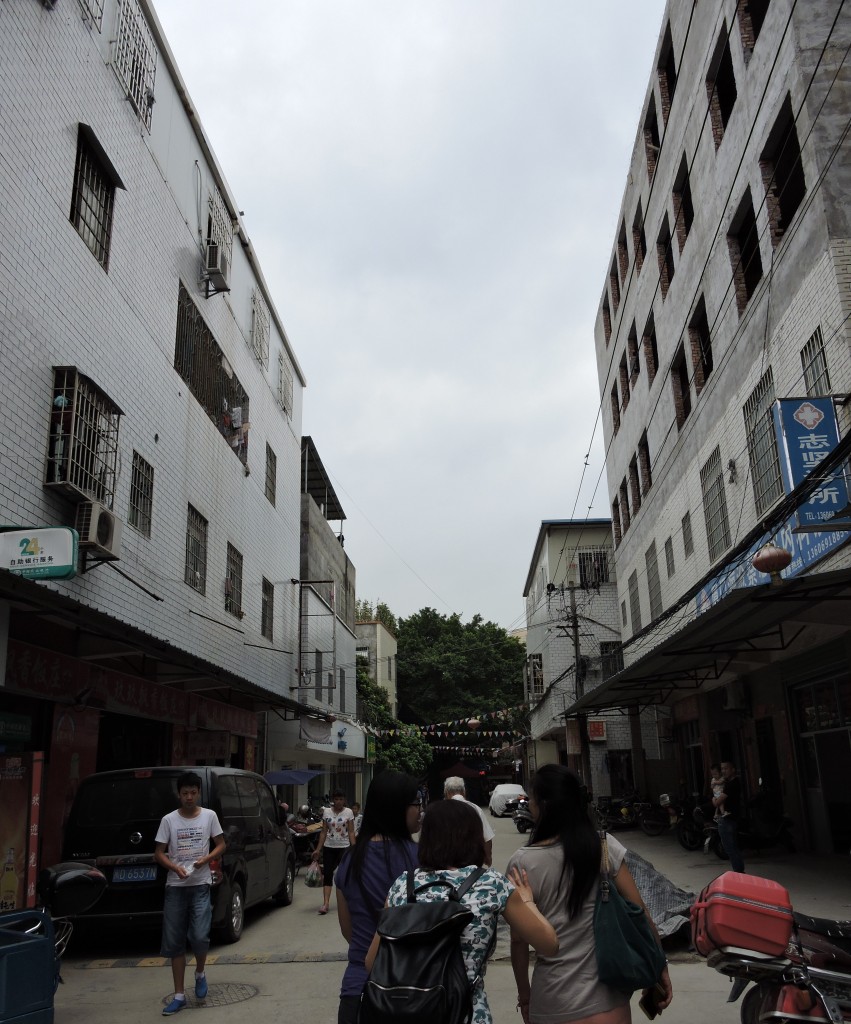 Looks just like any other street doesn't it? Well in suburban China that is. But this is actually the Chai family village so everyone here is supposed to have the surname Chai…hey….they can all be Chai Ninja too

. Can you believe that when we visited in 2000 it was all dirt roads and old styled homes?! The growth in the area is really amazing. It is always fascinating to visit because of its fast growing pace but the history and culture of the Chai's is still deeply rooted among the villagers. Who knows how much longer this will last as high-rise developments appear all around it; best to make the most of it!
Right, so back to our visit. Our relatives have always treated us extremely well whenever we visit. As usual they came to pick us up from the hotel on the day we were visiting and as soon as we arrived at the village, food started to appear at the table. We later learned that they also closed their restaurant for the day just because of our visit

. They are so giving of their time and money it is unbelievable. It was difficult not to feel touched by the effort they put into our visit.
Before we went exploring we had lunch at their restaurant. The amount of food was insane! Everything was so yummy with seafood so fresh it tasted like it was plucked right out the ocean….probably not the ocean but a tank definitely.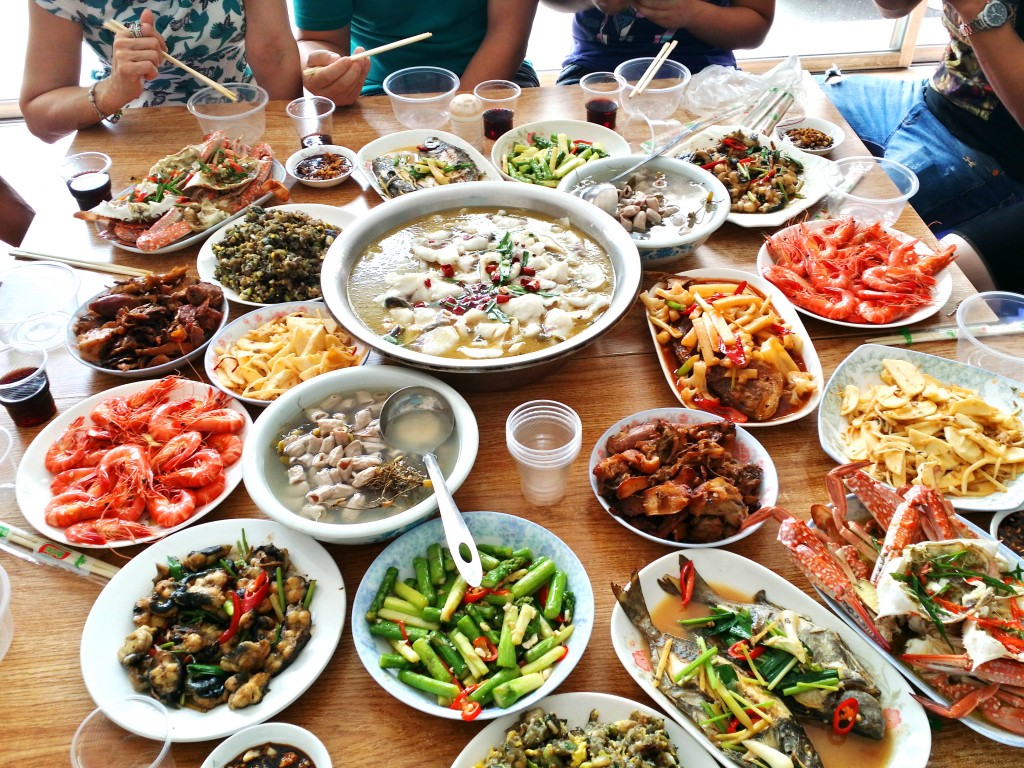 Look at all that seafood! The crabs and prawns were so juicy and sweet I don't think I could ever eat the tiny frozen prawns we get in NZ anymore. There was also oyster pancake (orh jian) but it looked more like oysters fried with eggs. Oh and they also cooked some Ginger Duck dish that was so yummy! I don't usually eat duck but I could not resist this dish. I have to recreate it one day…now all I need to do is complete a stake out by the river and catch one. Jks! I won't ever do that. Anyway my conclusion by the end of this meal was that Chai's are excellent cooks. Maybe it is a family thing . Yes, I am self-praising my own cooking abilities

.
After the big meal and some tea (they love tea!) we decided to go walk about. We headed to the Chai ancestral temple…at least that is what I believe it is called. On our way there we passed their market place and boy was it different to the markets in Malaysia. There were live chickens for sale and the fish were in big tanks….talk about fresh. Don't think I could ever survive buying goods and cooking them here. After awhile we arrived at the temple. Wedged between apartment blocks it was nice to see a bit of the old village.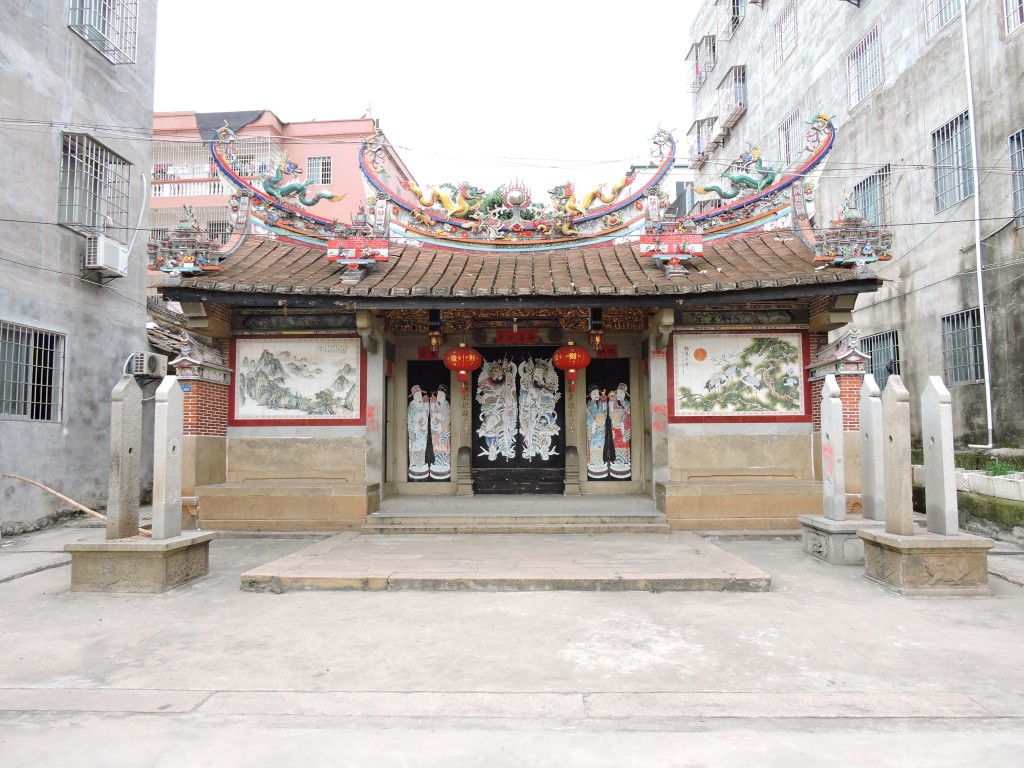 The secretary of the clan association arrived here soon after. Initially only the side doors were opened but the secretary opened the main door when he arrived. He said that the main door was only opened when important visitors came to pay their respects. I'm guessing we were the important visitors that day

– that made me feel pretty chuffed. But the visit here was very insightful. We got a full run down on how the Chai's ended up in this exact village by the secretary. I understood some of it but I think it goes something along the lines of a prince/general/someone important at Henan was displaced by War 1 which brought them southwards and then he had kids etc and another war happen then one if the kids came here and set up shop. Yea as you can tell my understanding was pretty low

. In my defense he was using big words and speaking fairly quickly. We took a recording though…maybe I should listen to it again. There was also an inscription on the temple wall about the history.

I can't read Mandarin so this is lost on me. If anyone can read this feel free to tell me what its saying. But from what I gather I am the 21st generation of my family line. Pretty impressive that there is someone recording all this up to this day. I wonder who will continue doing this when the older generation passes.
From the temple we headed towards the old home. This was the home where my granddad was born and lived in before they left China. The first time we went, there were big wooden doors a courtyard, crops drying in the sun and dirt floors – just like in the movie. Today, this is all that remains.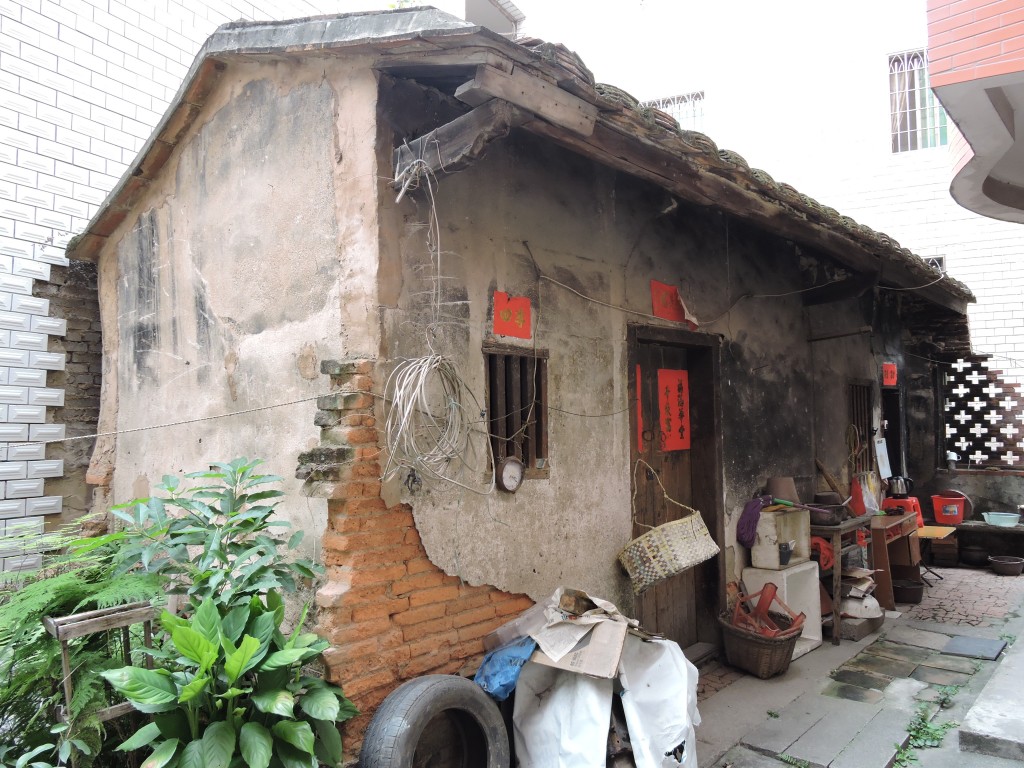 They took it down and build 3 story houses on all 3 sides. I think this bit had significant importance of being the bit of the house where my granddad stayed in or something of the like. The next time we return things will likely be very very different as the government is reclaiming the land for redevelopment. Some other bits they retained was the family well.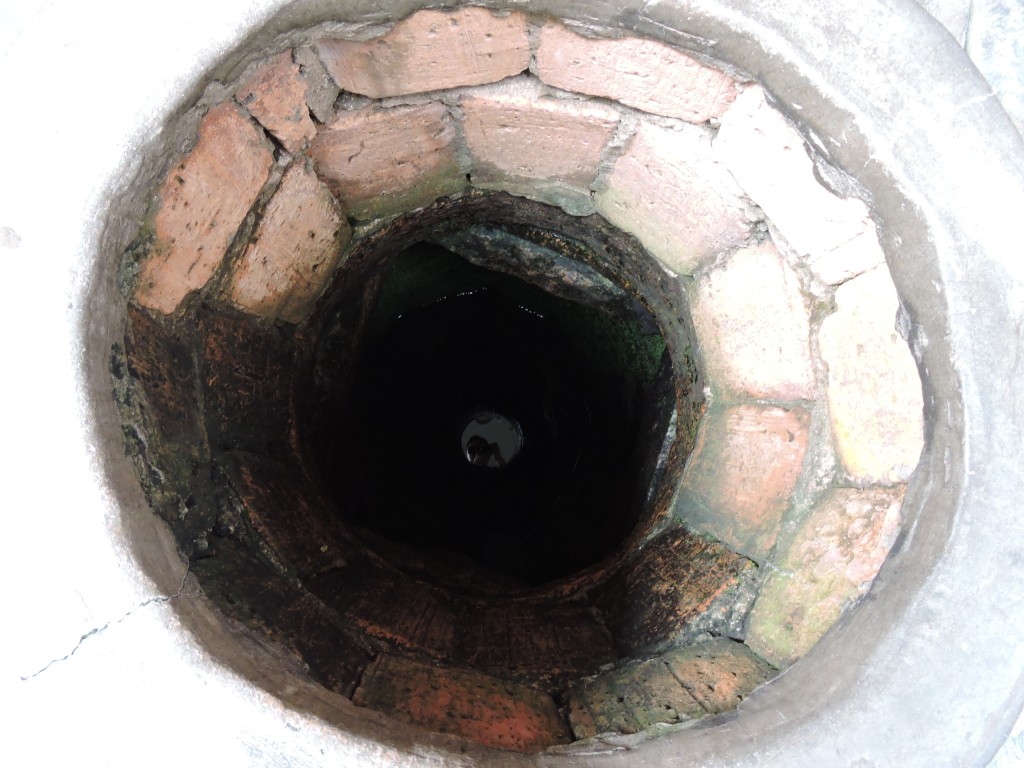 Deep well ain't it? I am not sure if they still use the well but the first time we went there they did! I remember there being a bucket and everything there for them to draw water from it. You see the bricks? Pretty sure those are new additions or that they made the wall higher. I remember being super afraid of falling in because there was no border around this gigantic hole in the ground. They also kept this stone lion.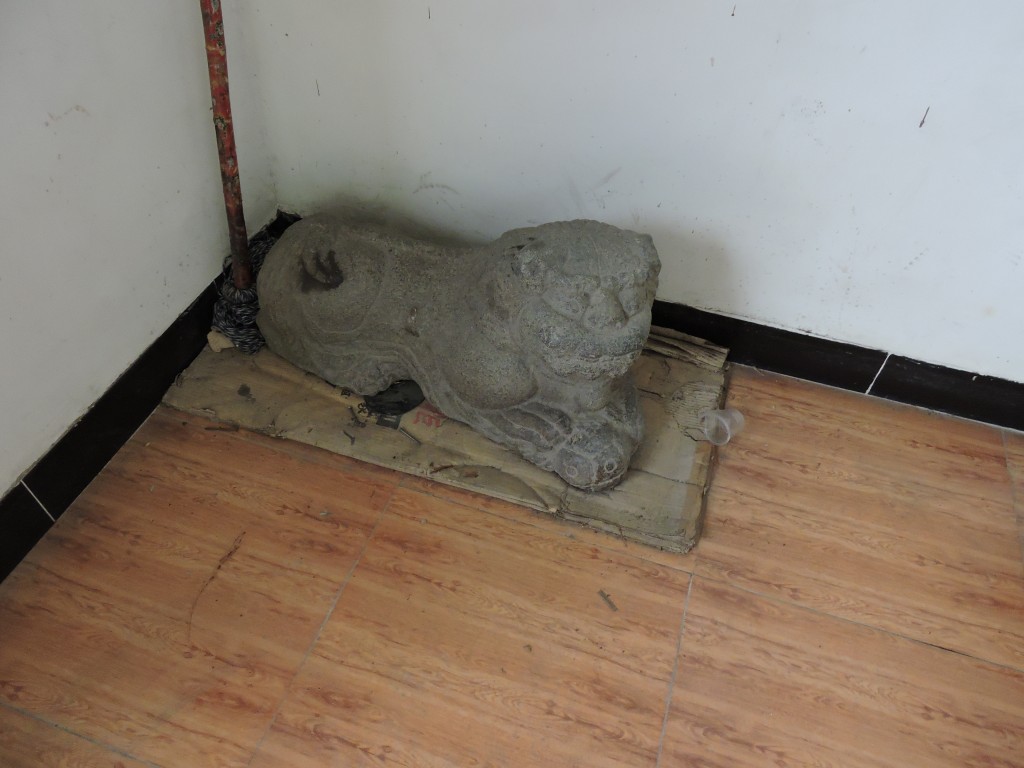 Nice and safe in the garage. There is meant to be a pair but I'm not sure what happened to it. Somebody stole it or it broke? Whichever way. This lion is very valuable hence why its locked up in the garage. We were told that my great-grandfather was a very strong man. He carried the pair of these lions back from another village, one on each shoulder. I cannot imagine anyone being able to do that and nobody knows how true the story actually is

. But M could not even lift this up. He tried. So did my dad. No luck either. After that we went for a walk around the waterfront and had coffee at Starbucks. I cannot find any photos of the sights we saw though #bloggerfail. But the waterfront was beautiful with a very big mall at the end. The administrative building was also very impressive looking. If I ever find photos of it, I will update this post.
We then had dinner at the restaurant again. It was an even bigger feast than lunch. I was in seafood heaven. I would fly to Xiamen just to eat seafood tbh.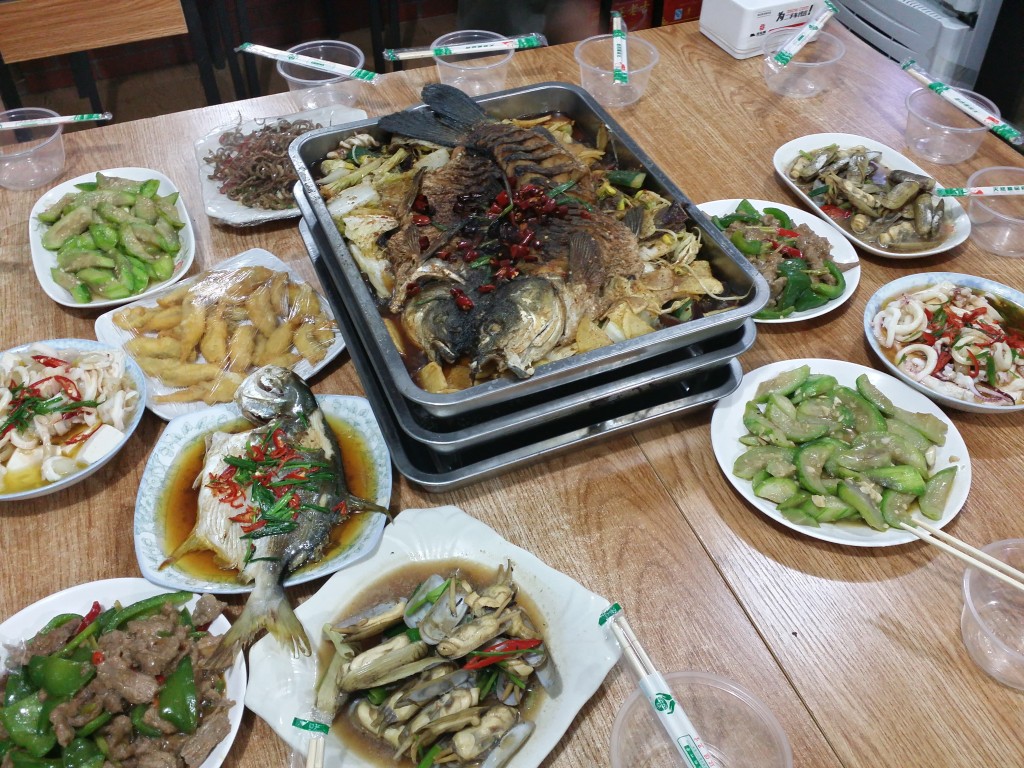 This was before they finished serving all the dishes. If I'm not mistaken the dishes missing from this picture were crabs, prawns and more oyster pancake. Oh! and fried rice too. They had these baby eels that were deep-fried like anchovies and they were so good I want to go catch some baby eels in the river now (at least I think that's where eels live). I am sorry baby eels but you tasted so good. Do you notice the plate of beef there? At lunch they kept asking me what type of meats do we usually eat in NZ cause they were worried M was not used to the seafood and I told them beef, lamb, chicken etc but we did eat seafood too, when its fresh. So when we saw the plate of beef at dinner we knew why

. Of course, dinner was excellent.
After dinner it was time to head back to the hotel. We had a great day just chilling there and learning the history of the Chai's. It was nice to learn more about our roots and see what it's like at the village. For all those who are able to trace your ancestral village, I would definitely recommend paying a visit! You learn things that you never knew before about your family. Who knows, you may even be some king's descendant!
I'll be back with a post on our last day in Xiamen soon. In the mean time, I would love to hear from you guys! Have you ever visited your ancestral village? What was it like? Let me know. Till next time,

.
China, Chinese, delicious, Family, M, Seafood, Sightseeing, Travel, Xiamen