A New Chapter Begins
Hello all!
Yes, I have been terrible at updating. 2 posts in 1 month. Gosh, is this what having a job does? Leaves you with no time to do anything else besides housework, groceries and preparing meals? Either I really am just terrible at multitasking or I have yet to find the right balance between life and work. Anywho, I really wanted to get this post up because February 2016 is about to bring a whole lots of changes. If you follow me on Instagram or Facebook, you would probably know about these changes already.
1. A new job
As I mentioned in one of my previous post, I have been temping over the Christmas period. So with the fixed-term coming to an end I decided to get back on the job hunt trail. In comparison to last year, there were so many more jobs available! That was a win for me. By this point I was prepared to move for a job even if it meant moving to a place so small most people would not know its existence. There was this job that caught my eye and I applied for it despite knowing that this may not be the best job I could get, for now. However the organization and what it stands for, is why I studied law – to help people achieve justice, not just those who can afford it but everyone. Besides there is always room for development in any job – you just have to create the opportunity.
Long story short, I was offered an interview and secured the job! So here I am faced with moving to a whole different city in 2 weeks time. Eek! It is incredibly exciting yet scary at the same time. There are so many unknowns at the moment I am not sure how to approach them. One of the biggest unknown is…where will I stay? Cause ya know, finding a flat is no easy task especially on such short notice. Then there is the matter of all my stuff

, there is simply too much. I guess I should not admit that I am a hoarder….no use denying it anymore considering the amount of stuff I have accumulated over the years.
Oh no…I just realized that I would have to start waking up at 7am too. Eek!
2. A new city
So where will I be moving to? The answer is: beautiful sunny Nelson. To be honest I was not sold on moving there at all. When we visited Nelson in the New Year, I was blown away by the beauty of the place but there was still something missing, perhaps the busyness of a big city? After we got back to Christchurch though, I thought about it and realized that life there would actually be pretty good. I did some further research and figured out that you basically have everything you need there, friendly faces, shops, a good lifestyle, easy access to national park and the North Island is just a ferry ride away. In comparison to other smaller cities in NZ, Nelson was definitely the pick of the bunch. It also helped that M seemed to like Nelson and will be having an interview with one of the firms in Nelson too. So really, it was a no brainer.
Here is a photo collage of Nelson from our trip that I posted on my Instagram to announce the move: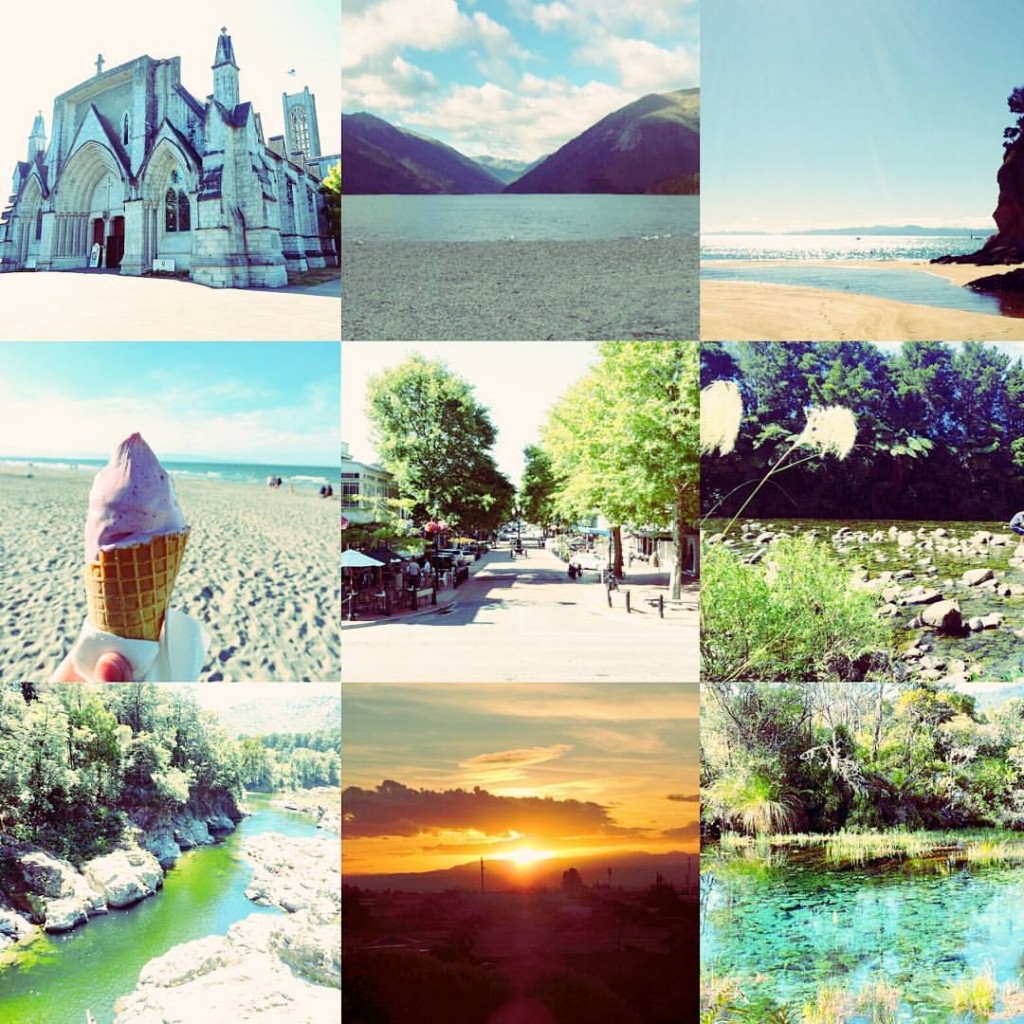 Isn't it a beauty?! To be honest, the fatty in me is supremely excited about the prospect of massive $5 real fruit ice cream cones all day everyday. Jokes, I'd be broke (and diabetic) if I did that. But yea this new adventure is going to be quite exciting and I can't wait to tell you all about it.
3. A new activity
This year me and M decided to take up a new activity – mountain biking. It is the first exercise activity that we are picking up together. Hopefully that means good things because I will have M to go on rides with me. We actually decided to pick it up after we went to Nelson and saw all the biking tracks there. We are super keen to explore them all once we are all settled down (and I improve on my braking skills).
Today we went for our first proper ride one a biking trail in North Canterbury. Here is a picture of me on a bike as evidence: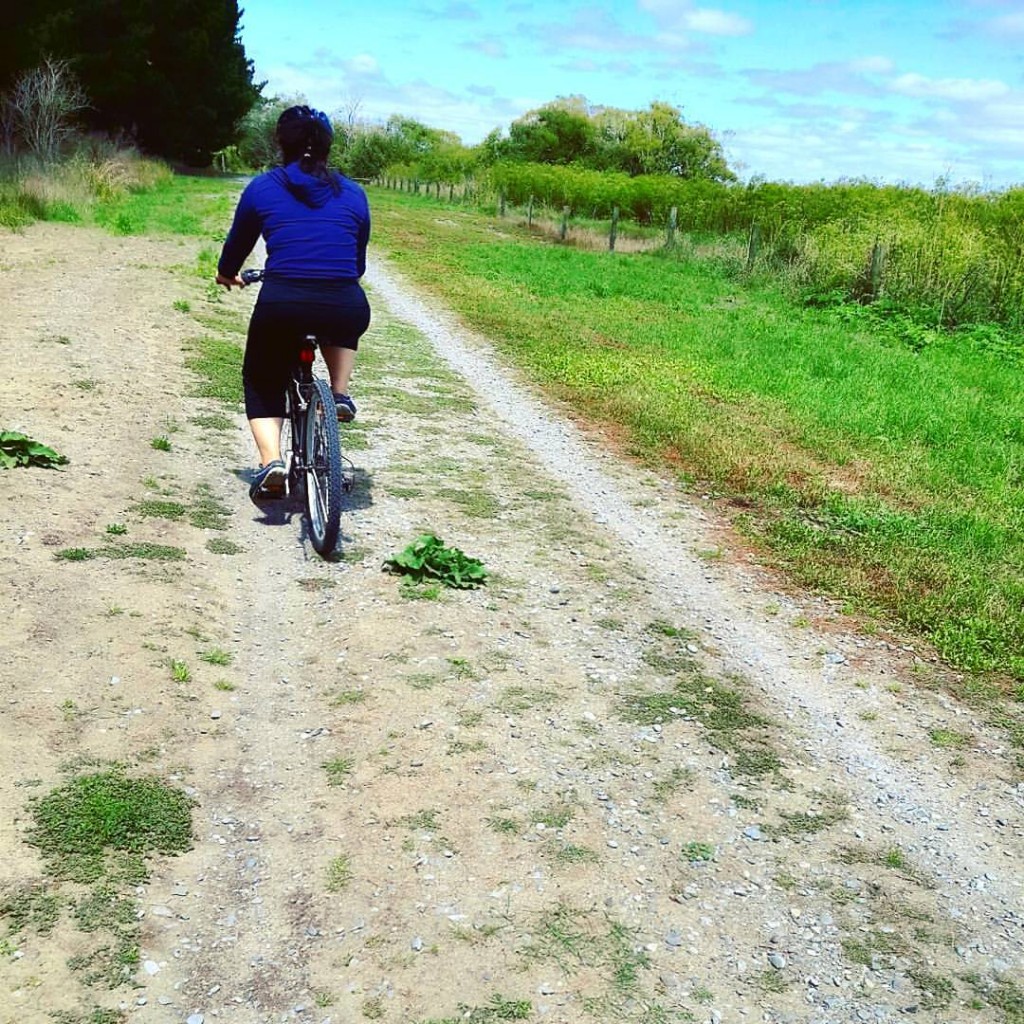 I can't say I am in love with it yet but it definitely beats walking or gymming. The wind in your face is really cooling and its just lovely to be out in the open smelling the fresh air plus the occasional whiff of manure since we are in NZ. Only thing is that, my bum is very sore from the bike. I also predict sore thighs and other unknown muscles in the morning. But for now I like it and I am pumped! Bring on more bike rides!
So yea, lots of new things are happening and I am grateful for it. Things can only get better from now on. Hooray to new beginnings! Till next time

.
Activities, Exercise, M, Moving, Reflection, Work