How to prep meals for working days
Hi everyone! It has been awhile hasn't it. After a long day at work I have very little motivation to do anything else. Oops. My bad for abandoning this blog. I'm trying to factor in blogging into my weekends but we are away so often that it is becoming a mission! Today must be the on of the few weekends that we have actually stayed put in Nelson so I thought I'd take the opportunity to write a post. This topic here is something I spent hours and hours researching after starting work. So really, I may as well save you all some legwork and share it here

.
Ok, when I say preparing meals I do not mean the perfectly portioned and cooked meals that I constantly see on the nutrition/fitness social media channels. If this is what you are looking for, I'm sorry to disappoint. I do actually mean potentially unhealthy or healthy food that you can prepare in advance so that when you get home at the end of a long working day, you can whip up a hearty and healthier than eating out meal in under 1 hour. It is so easy to just eat out if you know that it is going to take ages to cook a meal. So here are some things I have found to be useful to make cooking during the week easier.
1. Set aside one day of the week to do your grocery run and meal prep
Picking a day helps get me in the mindset that today I have to achieve all these things and once I do, I don't have to worry for the rest of the week. I find that this works in keeping the momentum going as standing in a kitchen for a couple of hours can take its toll.
Start with a good breakfast, look through the specials on offer at the places you shop and come up with a list of things to make. Decide if there is anything that you need to do before heading out eg. softening butter if you are planning to bake or kneading up some dough so that it can have proper rest time while your out.
After a grocery run its time to really get into the meal prep. Figure out what works for you but this is a typical rundown of what I do.
Wash and portion all meats.
Chop up herbs, onion, spices etc that is required for pre-marinated meats.
Start on make ahead meals.
If baking is on the plan, bake.
2. Pre-packed paste and sauces
These here are life-savers. If you can't give a toss about pre-marinating your meat then just go ahead and plan based on these ready pre-packed pastes. They are especially good for Asian meals cause lets face it, its difficult to find some of the spices required and expensive as well if you don't live in Asia. Here is the list of my go to pastes with picture for easy reference: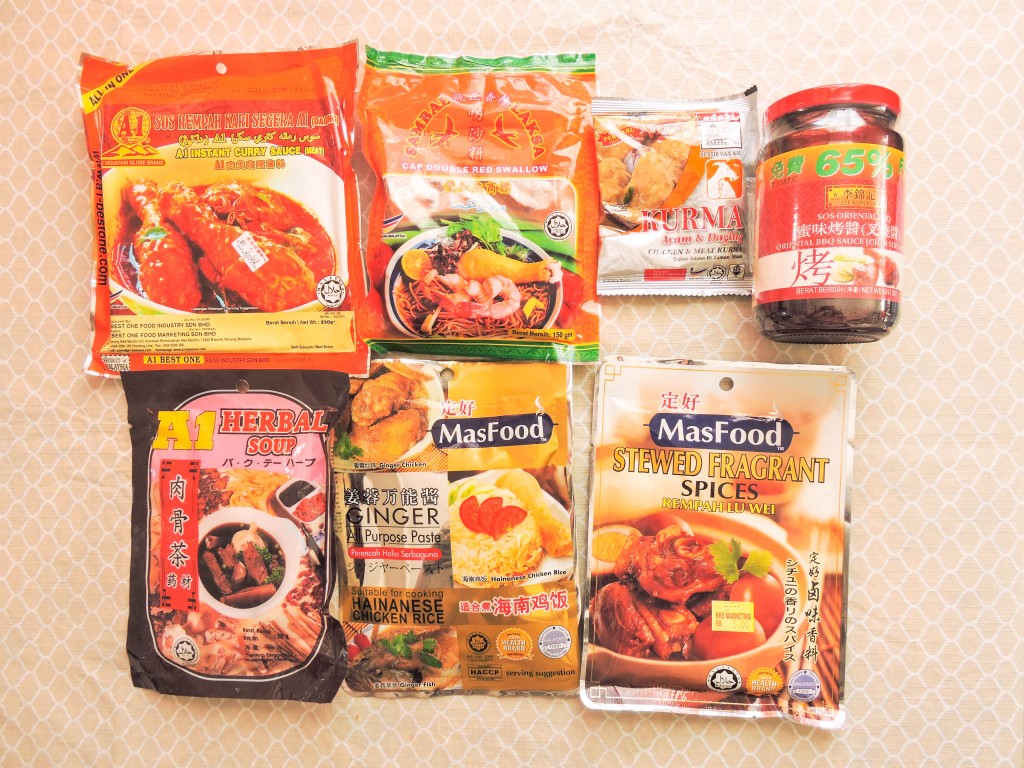 Top left to right: A1 Curry Paste, Red Swallow Sarawak Laksa Paste, Adabi Kurma Powder and Lee Kum Kee Oriental BBQ Sauce.
Bottom Left to right: A1 Herbal Soup, Mas Food Ginger Paste and Mas Food Stewed Fragrant Spice.
Most of these pastes are really good for one-pot meals. For example, the ginger paste is just awesome and allows you to make a pretty authentic chicken rice. Toss it into the rice cooker with your rice, stir it around periodically, place your chicken on the steamer compartment (if your rice cooker has that function) and voila – one pot easy chicken rice.
I am quite fortunate because I have a family member come over every so often so my stock hardly depletes. But most of these can be found at the local Asian stores. I think…..

3. Make ahead where possible
So the idea of this is to minimize the amount of work that will be needed to prepare a meal. Here are some of the popular make ahead meals in our flat: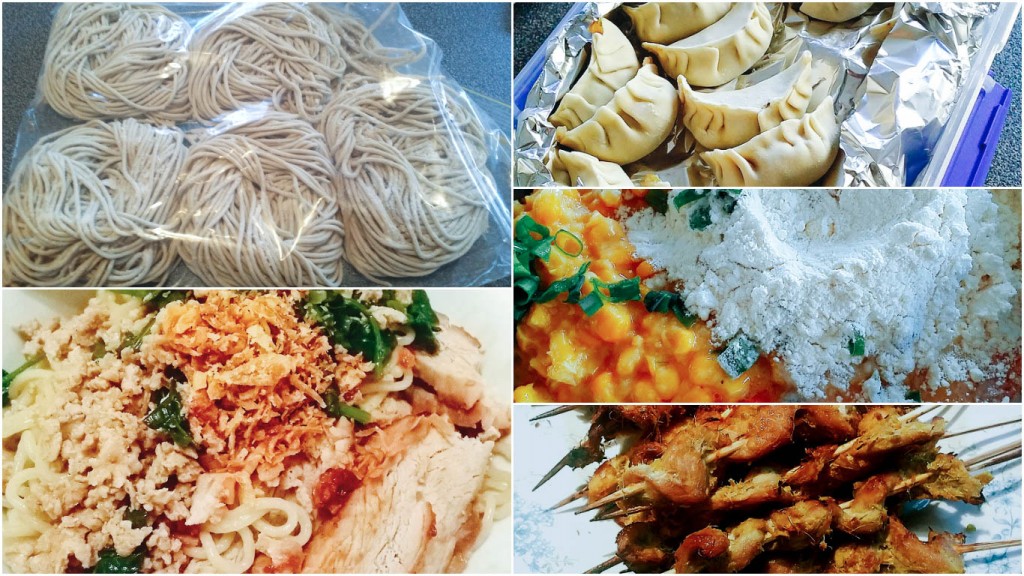 Top left, clockwise: Sarawak Kolo Mee, dumplings, sweet corn fritters and satay.
For those Sarawakians out there, we all know how time consuming it is to make Laksa and even more so Kolo Mee. But its ok, you can prepare most of them in advance!

For Laksa: On meal prep day just spend some extra time blanching the prawns, beansprout, chicken breasts and frying up the eggs – keep in the fridge. The night before you plan to have laksa place a couple of chicken frames and prawn head into a slow cooker with the paste in a spice bag and cook on low overnight. Turn off before heading to work and when you come home, blanch the rice vermicelli, reheat the soup and there you have your taste of home.
For Kolo Mee: I cannot buy fresh noodles here that compare to the ones at home, so I make my own! Here is the link to the Kolo Mee recipe I posted awhile back. The hardest bit is making the noodles. So what I do is make the noodles, and freeze it. I then pre-marinate a cut of pork with the Lee Kum Kee Oriental BBQ sauce and some garlic for the Cha Siu- pop it into the freezer or fridge depending on when you will be eating it. Then fry the shallots, pork rind (optional) and mince – refrigerate. If you have frozen your Cha Siu, defrost it the night before then pop it into the oven while you blanch your vege and boil the noodles. There is no need to defrost the noodles by the way! By the time you are done with all this, the Cha Siu will be ready and there you have it – yummy Kolo Mee on any day of the week.
So yea, I think you get the idea with this make-ahead thing ae? Let me know what your favourite make-ahead meals are! I'm always on the lookout for new recipes

.
4. Pre-marinate meats for the week
This here is another great way to prep especially for meals that you can just throw into the slow cooker. All you need to do is throw everything in a bag, shake it around and pop it into the freezer.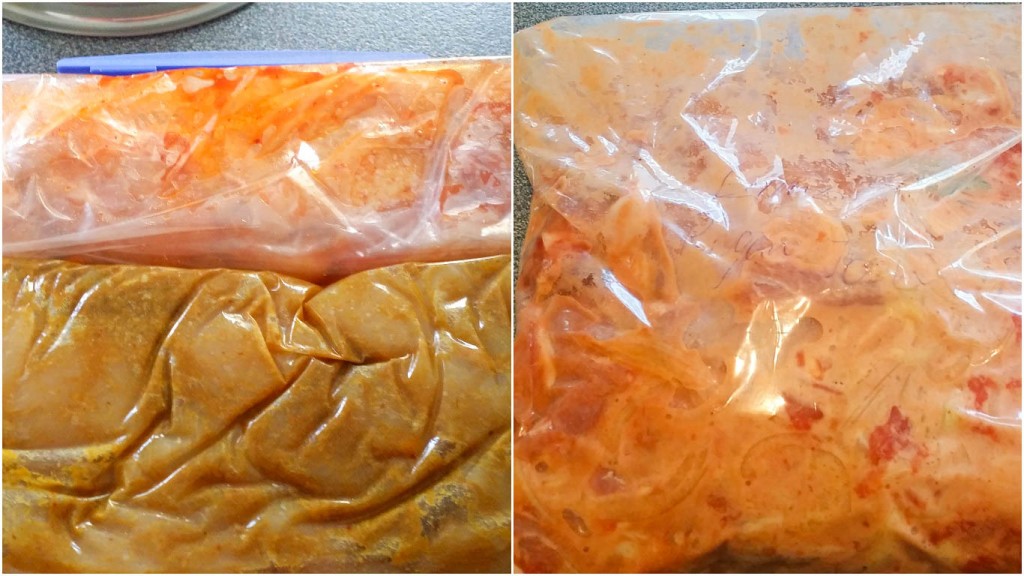 Ok it looks terribly unappetizing like this but what we have here is Kimchi Chicken, Satay Chicken and Lamb Rogan Josh. I label the bags as well for obvious reasons, trust me Rogan Josh does not taste nice when you add Gochujang (korean hot pepper paste) to it

. I particularly love this method because I can just dump the contents of the bag into a slow cooker and call it a meal once the rice is cooked. I also do the Western variety with involves chucking the contents of the bag into a roast pan with vege and about an hour later, dinner is served.
Sometimes you can even buy the meat pre-marinated direct from the supermarket! Even fish – this never fails to fascinate me that you can pick your fish, have them place it in an oven bag with your marinade of choice. All you gotta do is poke a few holes in the oven bag and bake. Yea, talk about making it easy. I do try to avoid it because you never truly know what goes in the marinade eg msg…. but I must say they do taste amazing.
So yea, since I started doing all the above we hardly ever eat out except the occasional weekend or TGIF treat. We also almost always have left overs so it becomes our lunch the next day

. As you can see my aim is clearly not clean eating but rather to ensure that we have a wholesome home-cooked meal at the end of a long workday.
I hope you guys find some use in these especially if you are about to enter the workforce. Trust me, with being an adult is expensive so your wallet will thank you if you eat at home more often. Let me know if you have any tips an tricks up your sleeves too! Would love to hear. Till next time

.
Affordable, Cooking 101, Fast Recipe, Make Ahead Meal, Working life