Shopping in Kuching, Sarawak: Part 1 – City Center
I often find people asking me "Do people in Sarawak still live in trees?". Usually they are just teasing me but sometimes….you can just tell that they aren't. Well just to clarify any doubts, we do not live on trees. In fact, Kuching is quite a concrete jungle that is only growing bigger and bigger.
Every year I go home, the number of new malls and developments are forever increasing. It is insane! But with that comes a wealth of choices. It would be entirely silly to mall hop when you are on holiday as some are just not worth wasting precious time on. Although if you consider shopping to be a sport (I do….

) then by all means shop to your heart's content. But if you are not into mall hopping, read on. I will tell you where are the best places to shop in Kuching and why.
Please note that these are my own opinions based on my own experiences.
1. Carpenter Street, India Street and Main Bazaar
Google these streets and prepare yourself. It is the old town in Kuching located right by the waterfront. There is now a new mall -Plaza Merdeka – smack in the middle of these 3 places.
India Street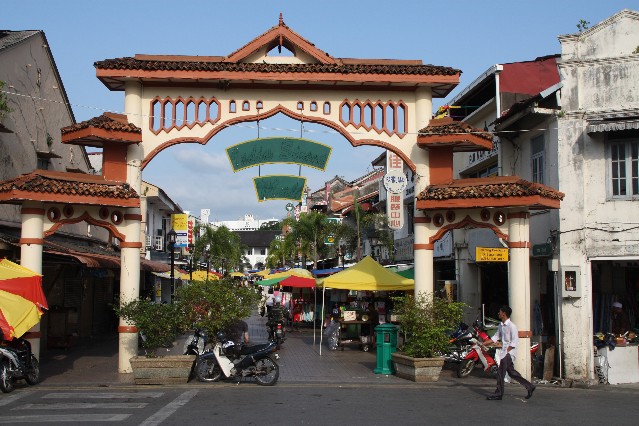 Thank you to whoever took this image, I found it on Google.
Here is where your senses will be assaulted with bright fabrics and the heavenly smell of spices as well as food. I remember coming here as a child to purchase fabric for our Chinese New Year clothes. Rolls and rolls of beautiful fabric stacked upon each other, waiting for the next person to come along to buy them. The fluid motions of the saleslady as she took out each roll to show you the intricate details before she draped it on you to estimate the amount needed and cut the measured amount with a single cut – it was glorious. Sure, you can buy material just about anywhere but the hustle and bustle of the place just makes the experience that much more memorable.
You will probably get hungry at some point of your shopping trip. Even if you aren't, I urge you to take a few moments away from the stores and walk down Lorong Khai Joo. It is also commonly known as 'Kua Cha Hang' aka Coffin Lane.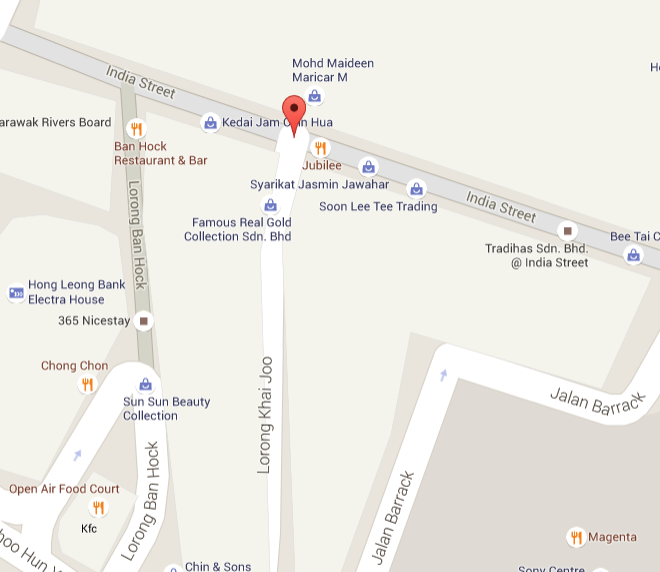 There is a treasure that await you here…. don't worry, I did not send you here for coffins. Unlike the yesteryear's where this lane was filled with people selling coffins, this is no longer the case. The gem that you are looking for here is a store called 'Chong Choon Biscuit Makers'. You will find an array of golden pastries waiting to be consumed. My personal favourite are the Yam Puffs!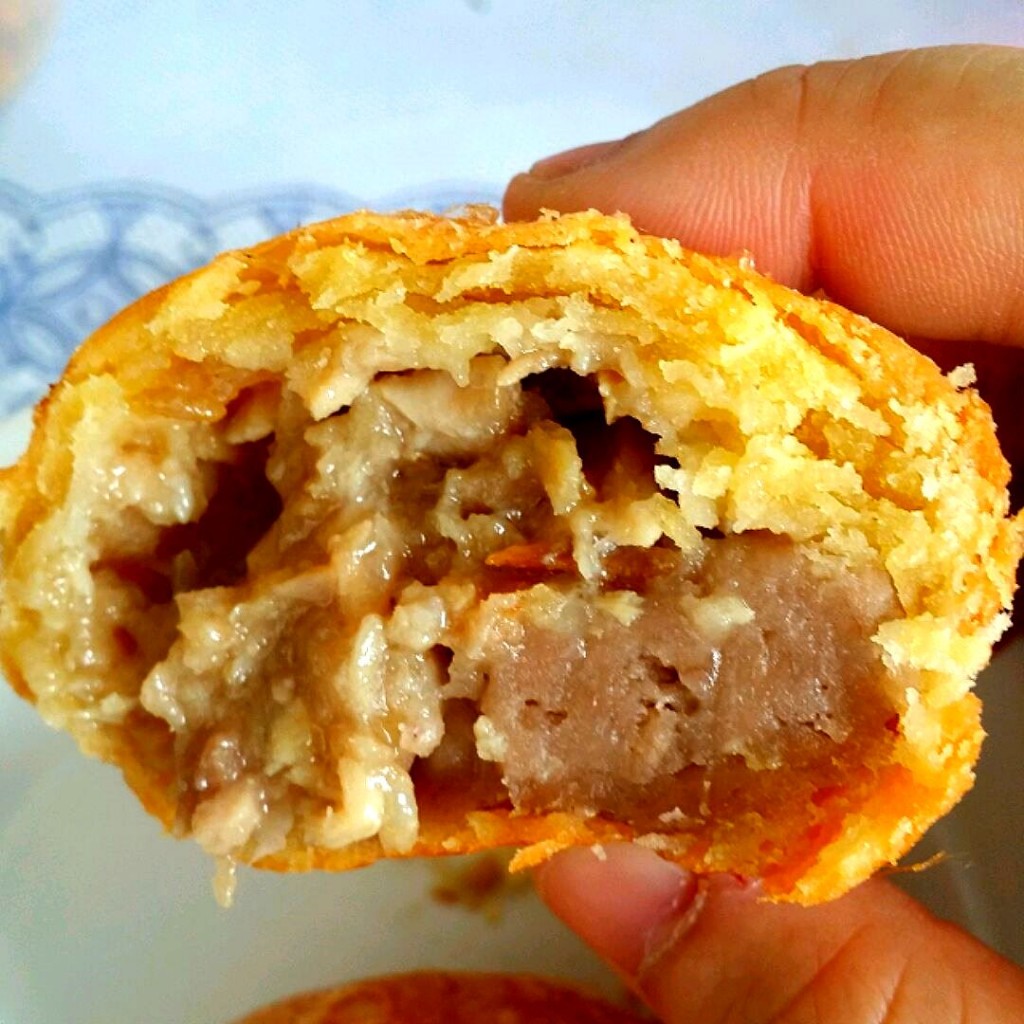 Yam Puff – Oh, what I would do to have one now….
Sometimes they sell out before they even make them! People tend to pre-order but on certain days they do have extra available, I hope Lady Luck is on your side when you decide to visit this store. If it is buy one of everything. It will be worth it.
There is also another food stop in the area known as 'Open Air Market'. I cannot remember the actual name of the store but they are famous. It is impossible to miss are it is a stall right at the corner of the market with stacks and stacks of steamers. Their claim to fame are their 'sio bee' (pork dumpling) and soybean milk. The steamed buns are pretty good too.
After a feed head back to India Street for more shopping, walk on until you get to Plaza Merdeka Mall. You can choose to stop here or come back at a later stage. No biggie if you miss this mall though. But if you continue walking, you will eventually get to the Main Bazaar/Carpenter Street area.
There is not too much shopping to be done at Carpenter Street. Most stores are goldsmiths – if you are looking to buy gold, this is the place to purchase. Here is also where you will find one of the most popular coffee shop in the whole of Kuching – 'Lau Ya Geng'. It is unmistakable as it is right opposite a small temple and will always be packed. Expect to wait for your food. The pork satay here is to die for. Another popular dish is the Fishball Soup.
After you meal here, check to see if there is a small cart outside the temple that is selling deep fried bananas, breadfruit and so forth. It will change your perception of bananas forever. Breadfruit is also a nice one to try if you never had it before.
Make your way towards the Main Bazaar and this is where you will find all your souvenir needs. You can bargain a little but only if you buy a fair bit. Some of the beadwork can be made to order as well if you have a few days to spare! They make an excellent gift and look very impressive framed up.
I always found souvenir shopping to be a little stressful and depressing. Living in NZ means that we have some of the strictest bio-security rules to ever exist. This means that wood and sizable clay products (vase, sculptures etc) are a big no no. Well, you can bring it in, declare it, have them potentially test it, find that something is wrong with it and then you either pay a fortune to have them treat it or have them discard it. The risk is too great imo. So here is a list of fail-proof souvenirs that I have brought back:
Pua Kumbu – traditional woven cloth
Keychains made from latex
Fridge magnets made from latex (I have managed to get some of the clay ones in as well)
Pearl bracelets (there is a man who sells them on the sidewalk)
Cat pepper shakers (made from clay but I have got them through customs)
Pepper sweets
Pepper – Sarawak White pepper is famous. In fact, I do not cook using any other pepper. It just isn't the same.
Beadwork
Right, this is getting a little too long. I think I will stop here and write about the modern malls in Part 2.

Activities, Cookies, Eating Out, Kuching, Malaysian, Sarawak, Sightseeing, Travel